For anyone looking to establish a strong foothold in Armenia's burgeoning mining sector, Karmod presents a golden opportunity that's hard to resist. With its extensive experience and unparalleled expertise, Karmod has curated an array of top-tier mining camp solutions tailored specifically for Armenia's unique terrains and requirements.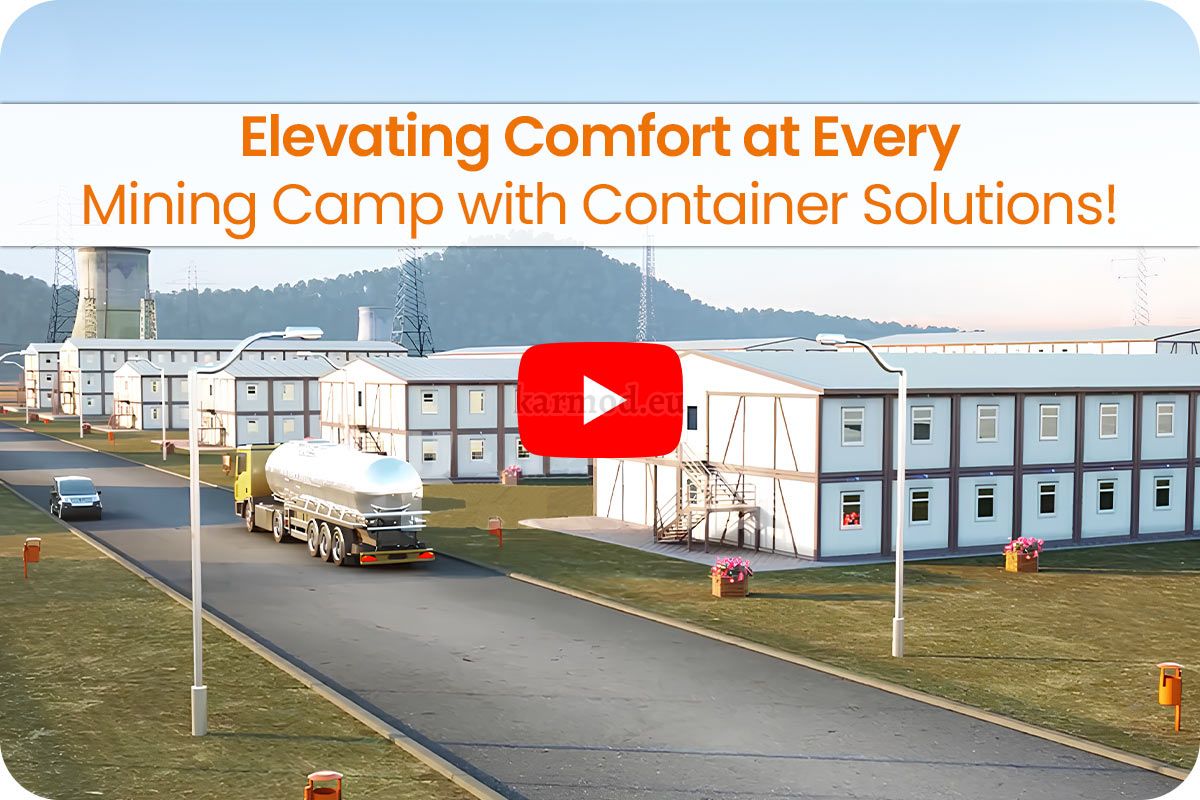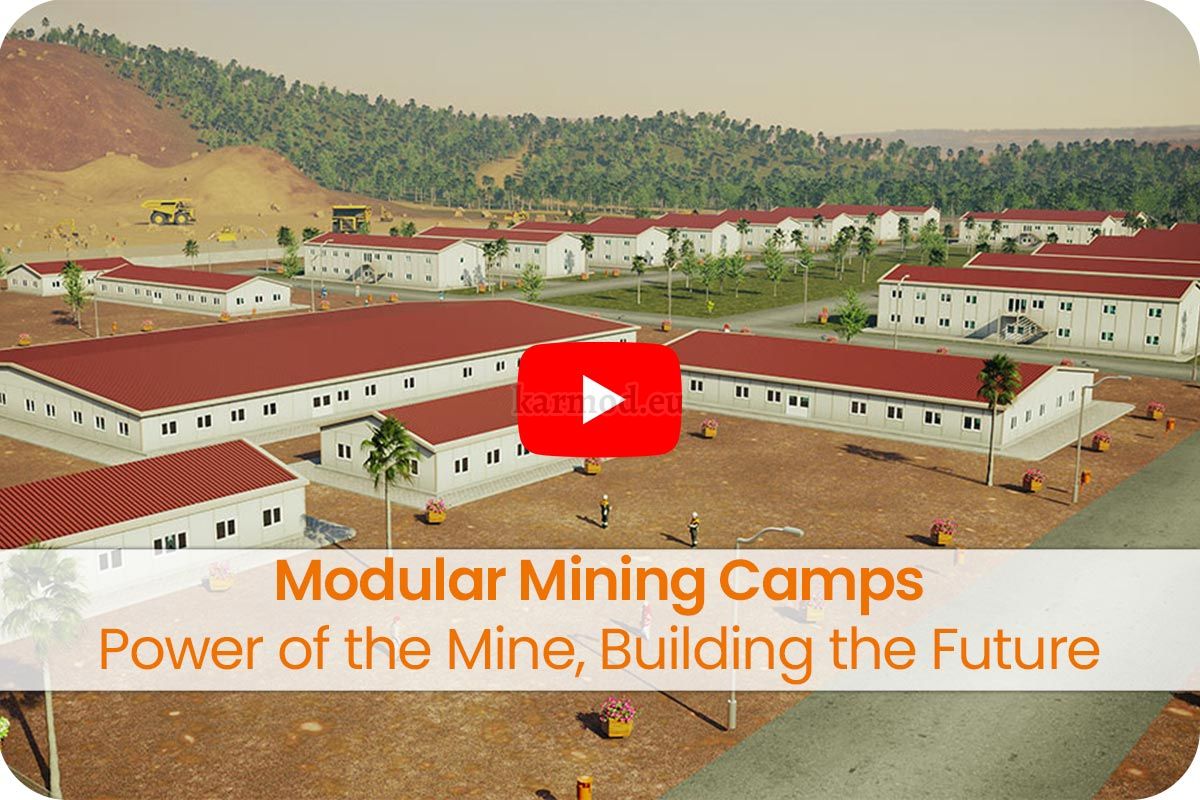 Armenia Portable Mining Camp: Mobility is the game-changer in today's fast-paced mining industry. Karmod's Armenia portable mining camp is designed with agility in mind. Crafted with precision and utilizing state-of-the-art technology, these portable camps can be set up, dismantled, and relocated with ease, ensuring mining operations remain as dynamic as the market demands.
Armenia Modular Mining Camp: The innovative concept of modular construction has revolutionized the traditional ways of building. Karmod, being a pioneer in this space, offers Armenia modular mining camp solutions that are not just quick to erect but also robust and long-lasting. They embody efficiency, scalability, and the futuristic vision of mining infrastructure.
Armenia Mining Camp Management: Behind every successful mining camp lies an efficient management system. With Karmod's Armenia mining camp management services, clients can rest assured of a seamless operation. From logistics to daily operations, Karmod's experienced team takes care of it all, ensuring the camp runs like a well-oiled machine.
Armenia Mining Camp Kitchen: The heart of every camp? The kitchen! Recognizing its significance, Karmod places special emphasis on designing state-of-the-art Armenia mining camp kitchens. Equipped with modern amenities and designed to cater to a large workforce, these kitchens ensure that the camp's inhabitants are well-fed and energized for the challenges ahead.
Armenia Mining Camp for Sale: The grand offer - Karmod's Armenia mining camp for sale is a proposition that offers unparalleled value. Not just a structure, but a comprehensive solution that includes top-notch facilities, safety features, and the assurance of Karmod's quality and service.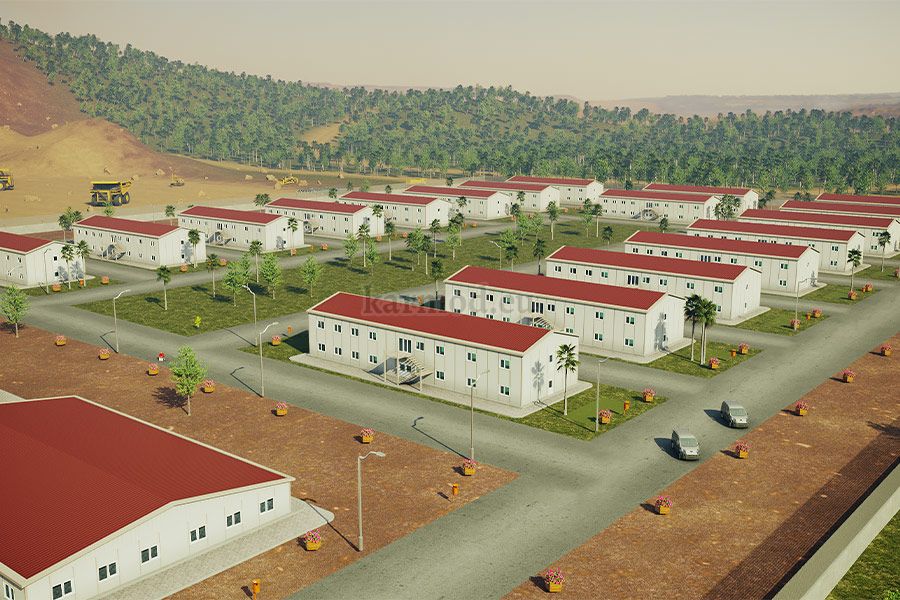 In the picturesque landscapes of Armenia, where mining prospects shine bright, partnering with Karmod ensures you're equipped with the best in the business. After all, in a domain as demanding as mining, why settle for anything but the best? Secure your future with Karmod's exclusive Armenia mining camp offerings and let your mining venture in Armenia reach stellar heights.
Luxurious Mining Camp Accommodation in Armenia
In the picturesque landscapes of Armenia, where mining sites are scattered amidst nature's bounty, a comfortable retreat after a hard day's work becomes a necessity. Karmod recognizes this need and offers luxurious mining camp accommodations that redefine comfort and elegance. These aren't just rooms; they're a haven for the weary miner.
Every Karmod mining camp accommodation in Armenia is a blend of modern aesthetics with functional designs. The interiors are meticulously crafted, providing ample space and ensuring that each miner feels at home. High-quality materials ensure that the accommodations are not only visually appealing but also durable against Armenia's diverse climatic conditions. Moreover, special attention is paid to the beds, ensuring every miner gets a restful night's sleep. With attached bathrooms fitted with modern fixtures, and windows that offer a panoramic view of Armenia's majestic landscapes, miners get the luxury they deserve.
Masterful Construction of Armenia Mining Camp Buildings
When it comes to the construction of mining camp buildings in Armenia, Karmod's craftsmanship shines through. Every structure stands as a testament to Karmod's commitment to quality and innovation. With a deep understanding of Armenia's geological and climatic nuances, Karmod designs buildings that are resilient and robust.
Utilizing advanced construction techniques and materials of the highest standards, Karmod ensures that every Armenia mining camp building is built to last, even in the harshest of conditions. But it's not just about durability; aesthetics play a crucial role too. Karmod's team of architects and designers work tirelessly to create structures that are visually appealing, blending seamlessly with Armenia's natural beauty. From the foundation to the roof, every aspect of the construction process is overseen with a hawk's eye, ensuring perfection at every stage.
In a sector as dynamic as mining, where operations can be challenging, Karmod's masterful construction provides the peace of mind every mining company seeks. After all, a strong, durable, and beautiful structure is not just a building; it's a statement of intent, a commitment to excellence, and with Karmod's Armenia mining camp buildings, excellence is guaranteed.
Elevate Your Expectations with Karmod's Mining Camp Design in Armenia
When envisioning the future of mining camp designs in Armenia, one brand consistently sets the benchmark higher than any other: Karmod. With a dedicated approach to innovative solutions and an unmatched commitment to excellence, Karmod has redefined what one can expect from a mining camp.
Innovative Modular Camp Solutions: At the heart of Karmod's designs lies the modular camp approach. This isn't just about fitting parts together; it's about creating a cohesive, functional, and comfortable environment quickly and efficiently. Whether you're establishing a new mining site or expanding an existing one, Karmod's modular solutions ensure a seamless integration every time.
Tailored to Your Needs: Recognizing that every mining operation has its unique requirements, Karmod doesn't believe in a one-size-fits-all model. Instead, their team of architects and designers engage in a collaborative process, understanding the intricacies of your operation, and designing a camp that's a perfect fit.
Sustainability in Design: With an increasing emphasis on sustainable operations, Karmod integrates eco-friendly materials and energy-efficient solutions into its designs. This not only reduces the environmental footprint but also translates to cost savings in the long run.
Safety First: No design is complete without prioritizing safety. Karmod's mining camp designs are constructed with the highest safety standards in mind, ensuring that workers can retreat to a secure environment after a long day.
Unmatched Excellence: Karmod, Your Premier Choice for Armenia Mines
For those in the mining industry in Armenia, the name Karmod resonates with trust, quality, and unparalleled expertise. But what truly sets Karmod apart in the Armenian mining landscape?
Decades of Experience: With years of hands-on experience, Karmod understands the nuances and challenges of the mining sector. Their vast knowledge base ensures that they are not just vendors but partners in your mining journey.
State-of-the-art Facilities: From conceptualization to execution, Karmod employs the latest technologies and machinery. This commitment to technology ensures precision, timely deliveries, and structures that stand the test of time.
Client-centric Approach: At the core of Karmod's operations is an unwavering commitment to client satisfaction. Feedback is not just welcomed; it's actively sought, ensuring that every project reflects the client's vision and requirements.
Unwavering Commitment to Quality: In a sector where quality can't be compromised, Karmod's relentless pursuit of excellence ensures that every structure, whether a kitchen, accommodation, or office, meets the highest global standards.
To sum it up, for mining operations in Armenia looking for excellence at every step, Karmod remains the undisputed choice. From modular camp designs to end-to-end solutions, Karmod embodies unmatched excellence in the world of mining camps.