Immerse yourself in a seamless fusion of functionality and comfort with Karmod's exquisite mining camp offerings in Azerbaijan. As a frontier in delivering top-notch modular solutions, Karmod unfolds a realm of modern-day mining camps engineered to withstand the dynamic and challenging mining environment. Here's a dive into the distinctive features of these highly-sought after mining camps: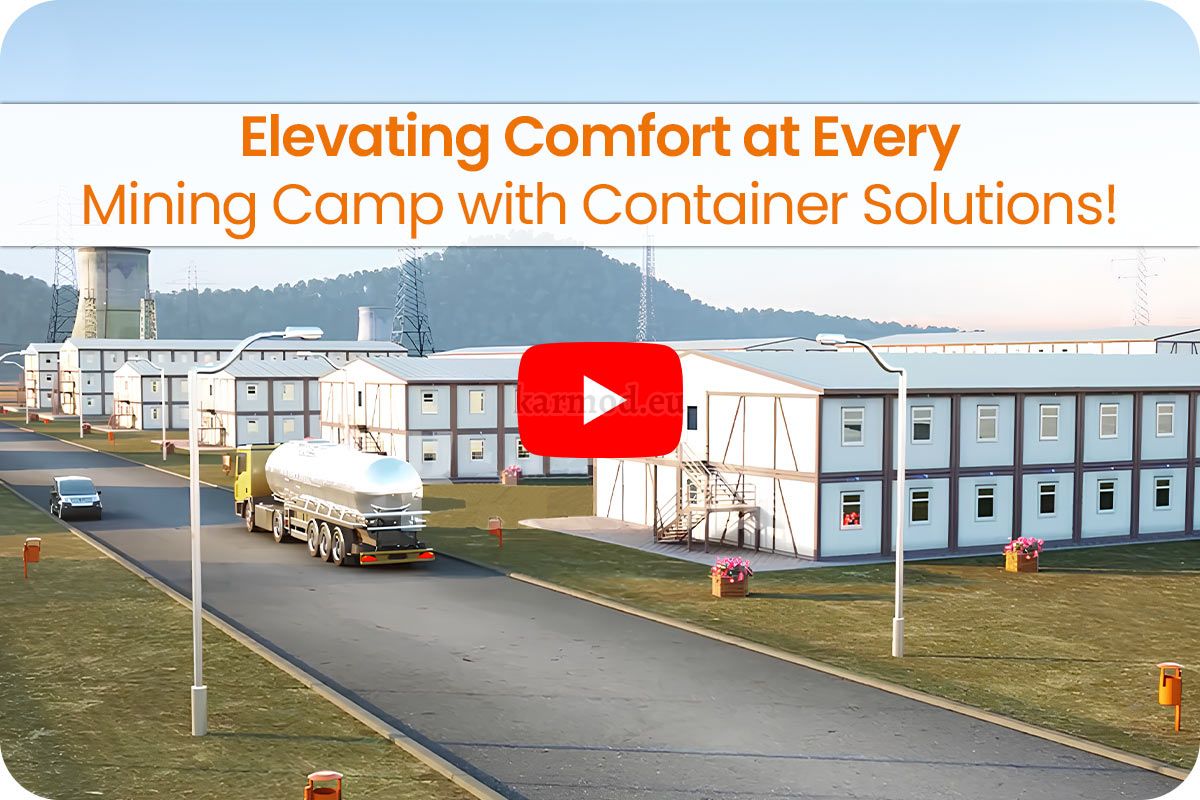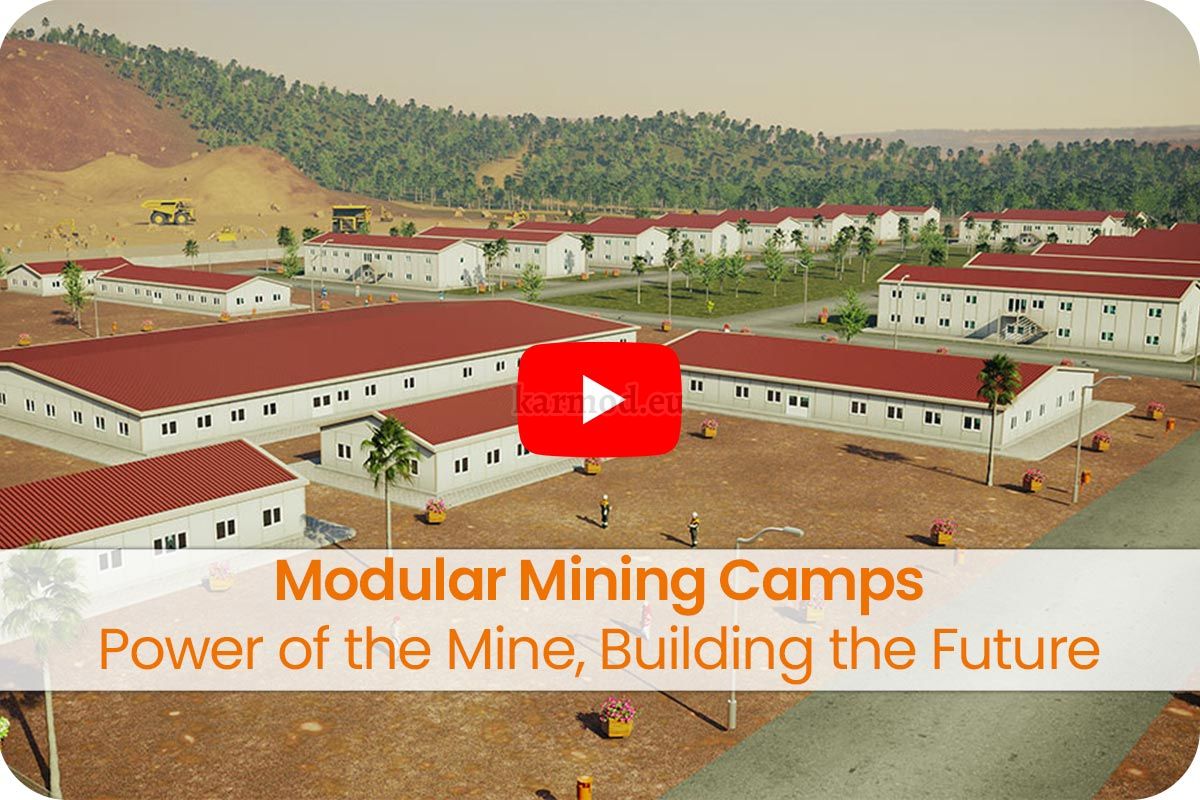 Adaptable Modularity:

Dive into a world of Azerbaijan modular mining camp solutions with Karmod. Each module is a marvel of engineering, designed for quick deployment and ease of scaling. The modularity ensures your camp can grow alongside your mining operations, demonstrating a future-ready approach.

Unbeatable Comfort:

Mining can be demanding, but your stay doesn't have to be. Experience unparalleled comfort with well-ventilated, spacious living quarters, and state-of-the-art Azerbaijan mining camp kitchens. Every aspect is crafted to provide a home-away-from-home experience.

Efficient Camp Management:

Propel your operations to new heights with intuitive Azerbaijan mining camp management solutions. Karmod's innovative management systems are a driver of operational efficiency, ensuring smooth day-to-day operations amidst the demanding mining backdrop.

Portable Convenience:

Mobility is king in the ever-evolving mining sector. With Azerbaijan portable mining camp units, relocation is a breeze. The design facilitates easy transportation and reinstallation, ensuring your operations remain agile and adaptable to changing project needs.

Investment Assurance:

When you invest in a Karmod mining camp, you're not just buying structures; you're securing a reliable, long-term habitat for your workforce. With the exclusive Azerbaijan mining camp for sale offer, now is the opportune time to secure a mining camp that is a hallmark of durability and quality.

Comprehensive Service:

With Karmod, you are not just a client; you are a valued partner. Enjoy a comprehensive range of services from initial planning, through to installation and post-sale support. The goal is to ensure your mining camp is up and running efficiently, with minimal downtime.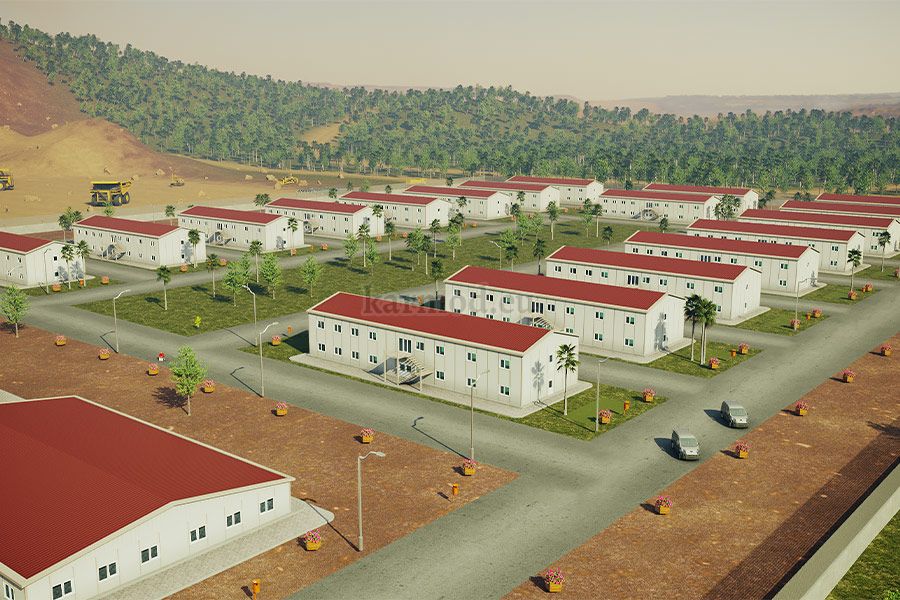 Karmod's mining camps in Azerbaijan are not merely structures; they are a promise of quality, efficiency, and comfort. This exclusive offer is a gateway to elevating your mining operations while ensuring the well-being and satisfaction of your workforce. With Karmod, you are not just investing in a mining camp; you are investing in a legacy of quality and operational excellence.
Luxurious Mining Camp Accommodation in Azerbaijan
In the heart of Azerbaijan's rich mineral terrain, Karmod rises above the norm to provide mining camp accommodations that redefine luxury and comfort. Here, every structure is a blend of practical design and a lavish living experience. The rooms are not just built but meticulously crafted to offer a serene retreat after a hard day's work. The interior design radiates a warm, cozy aura while maintaining a modern aesthetic appeal. It's a place where every miner would long to retire to, after a toilsome day at the mines. The high-end amenities provided within the camp embody a standard that's unparalleled. Every facility within the camp's premise, be it the recreational areas or the Azerbaijan mining camp kitchen, is tailored to provide an enriching experience that caters to the physical and mental wellness of the inhabitants.
Beyond just the aesthetics, the architectural excellence ensures that the mining camp accommodation stands robust against the test of times and the harsh weather conditions typical to mining sites. It's an abode that exudes warmth, safety, and luxury, setting a benchmark in the realm of mining camp accommodations.
Masterful Construction of Azerbaijan Mining Camp Buildings
Karmod's expertise in modular construction shines brightly in the heart of Azerbaijan. The construction of Azerbaijan mining camp buildings is a narrative of masterful engineering, precision, and adherence to the highest standards of quality. Every module is a product of innovative design that speaks volumes of Karmod's dedication to providing lasting solutions to the mining sector.
The framework employed in the construction process is sturdy, ensuring the mining camp buildings withstand the test of nature's wrath, providing a safe haven for the workforce. The impeccable construction doesn't just stop at being robust, but extends to being aesthetically pleasing and functional. The layout of each building is thoughtfully planned to ensure optimal utilization of space, ample natural lighting, and ventilation.
In the domain of constructing durable and reliable mining camp buildings, Karmod stands as a beacon of unmatched excellence. The emphasis on quality control right from the procurement of materials to the final assembly assures that every structure erected under the banner of Karmod resonates with durability, comfort, and safety. It's not just a construction, but a long-term investment towards creating a conducive and comfortable working environment for the diligent miners working tirelessly to propel the mining industry in Azerbaijan.
Elevate Your Expectations with Karmod's Mining Camp Design in Azerbaijan
Venturing into the rich, mineral-laden landscapes of Azerbaijan presents an enticing yet challenging proposition. The need for robust, efficient, and comfortable housing solutions within the mining sectors is undeniable. Enter Karmod, the epitome of groundbreaking mining camp design that's tailored to meet and surpass the expectations of modern-day miners.
Exquisite Design: Karmod's mining camp design is a quintessence of architectural ingenuity and modern aesthetics. The designs encapsulate a fine balance of form and function, embodying a welcoming ambiance while ensuring a high degree of functionality. Each structure within the camp, be it the living quarters, the Azerbaijan mining camp kitchen, or the recreational areas, are crafted to promote a sense of well-being and community among the workforce.
Modular Innovation: In aligning with contemporary construction trends, Karmod employs modular camp designs ensuring swift construction without compromising on quality. The Azerbaijan modular mining camp structures epitomize efficiency, facilitating rapid deployment, and easy expansion to adapt to the evolving needs of the mining operations.
Sustainable Practices: Integrating eco-friendly practices, Karmod's mining camp designs incorporate sustainable materials and energy-efficient systems. This not only minimizes the ecological footprint but also significantly reduces operational costs.
Safety Compliance: Adhering to international safety standards, every structure within the mining camp is engineered to withstand the harsh conditions synonymous with mining environments.
Unmatched Excellence: Karmod, Your Premier Choice for Azerbaijan Mines
Karmod has established a solid reputation as a vanguard in delivering superior mining camp solutions in Azerbaijan. The brand's commitment to quality, innovation, and customer satisfaction positions it as the premier choice for Azerbaijan mines seeking to invest in enduring, comfortable, and efficient housing solutions.
Customized Solutions: Tailoring to the unique requirements of each mining project, Karmod delivers bespoke solutions that align perfectly with operational needs. Their expert teams engage in thorough consultations to understand the intricacies of each project, ensuring the final product resonates with the client's vision.
Quality Assurance: Every construction phase undergoes stringent quality checks to ensure the mining camp buildings are durable, safe, and comfortable. This unwavering commitment to quality underscores Karmod's standing as a trustworthy partner for your mining camp needs.
Experienced Team: Boasting a team of highly skilled architects, engineers, and field experts, Karmod guarantees a seamless process from design inception to final installation, ensuring every Azerbaijan mining camp is a hallmark of excellence and reliability.
Competitive Pricing: Karmod strikes a remarkable balance between cost and quality, offering competitive pricing models without compromising on the superior standard of their mining camp solutions.
This blend of unmatched excellence, personalized solutions, and a robust portfolio of successful projects cements Karmod's position as the go-to solution provider for mining camp construction in Azerbaijan. Through continuous innovation and a client-centric approach, Karmod is not just meeting the industry standards but setting new benchmarks in the realm of mining camp solutions.