In the thriving and dynamic landscape of mining, Karmod stands out with an exceptional offer for those seeking to establish a base in Benin. Don't just make a working space; create a thriving environment with a Benin portable mining camp that mirrors efficiency and comfort. Each Benin modular mining camp is a reflection of innovation paired with functionality, a signature of Karmod's commitment to excellence.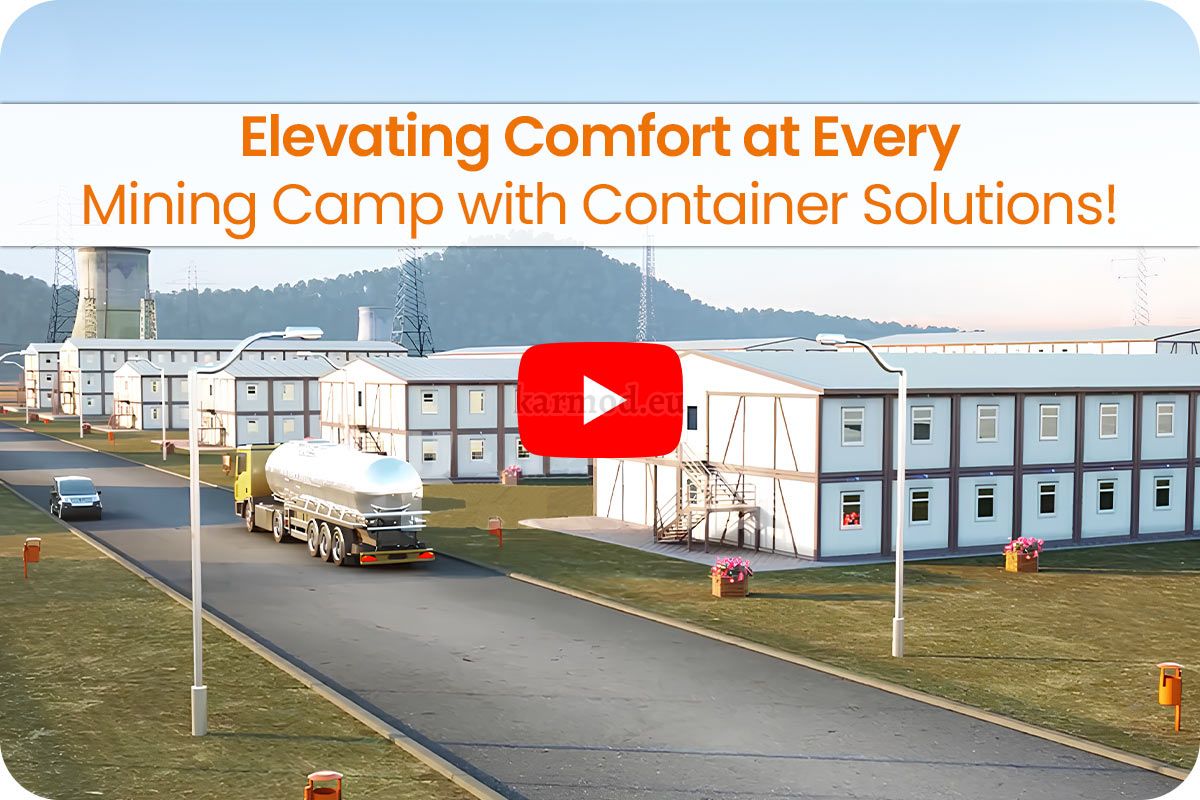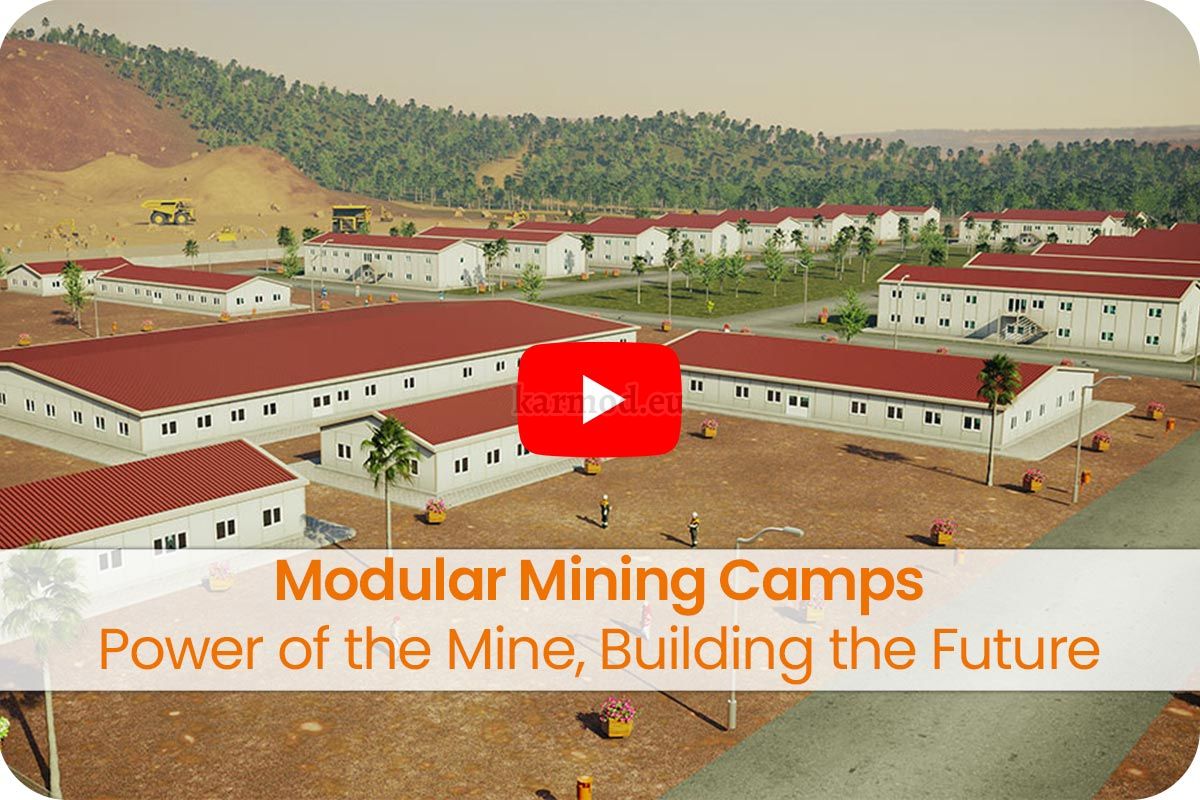 Portable and Convenient: A Benin portable mining camp offers unmatched ease and efficiency. Designed for convenience, it ensures that your mining operations are always at the forefront, backed by robust accommodation and working spaces that move with you.
Modular Innovation: The Benin modular mining camp is a testament to Karmod's innovative approach. It is thoughtfully designed to ensure maximum functionality and flexibility. Modular units mean easy expansion and adaptation to the evolving needs of your mining operations.
Efficient Management: Simplify the complexity of mining camp management with Karmod's solutions. With a dedicated team, Karmod supports your Benin mining camp management, ensuring seamless operation and allowing you to focus on what truly matters – efficient and productive mining operations.
Designed for Comfort: Beyond functionality, every Benin mining camp kitchen is crafted for comfort and convenience. Keep your team satisfied with a kitchen that meets all their needs, ensuring their well-being and productivity in the challenging mining environment.
Seize the Opportunity: The time is now to take advantage of Karmod's exclusive offer. A Benin mining camp for sale is a gateway to enhancing your mining operations, ensuring not just profitability but also the well-being and satisfaction of your team.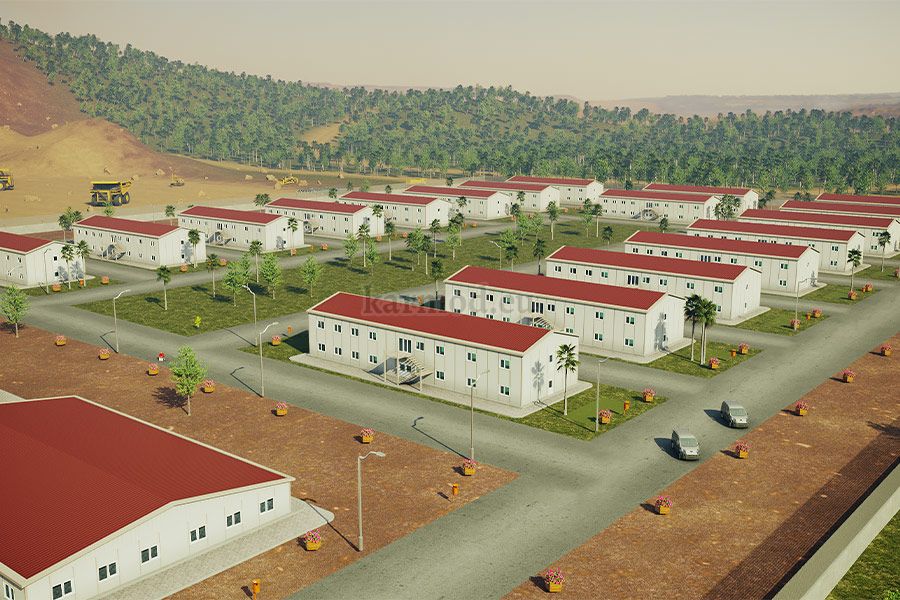 With Karmod, elevate your mining operations in Benin. Benefit from comprehensive solutions, from the initial setup to continuous management, ensuring your mining camp in Benin is a beacon of efficiency, safety, and comfort. Trust in Karmod's expertise and commitment to excellence, making it the premier choice for your Benin mining camp needs. Secure your future success with Karmod's unparalleled mining camp solutions in Benin. Own your mining future, today with Karmod.
Luxurious Mining Camp Accommodation in Benin
In the bustling world of mining, luxury and comfort are often placed on the back burner. Not with Karmod. Experience the blend of opulence and practicality with luxurious mining camp accommodation in Benin, ensuring that your workforce stays as comfortable and content as possible. The accommodation units come with all the modern amenities ensuring a home-like atmosphere amidst the harsh mining environment. These are not just places to rest after a long day but a space to rejuvenate and refresh, ensuring every day starts on a vibrant note.
Every inch of the living space is designed keeping in mind the comfort and convenience of the inhabitants. From the sleeping areas to the communal spaces, attention to detail ensures a harmonious living environment. Your team will experience the luxury of comfort and the comfort of luxury in the heart of a mining site, enhancing their productivity and satisfaction. With Karmod's luxurious mining camp accommodation in Benin, make a statement of care and commitment to your team, ensuring their well-being is a priority, reflecting positively on productivity and morale.
Masterful Construction of Benin Mining Camp Buildings
When it comes to the construction of mining camp buildings in Benin, Karmod leaves no stone unturned in ensuring durability, safety, and excellence. The masterful construction of Benin mining camp buildings is a testament to Karmod's unwavering commitment to quality and innovation. The buildings are designed to withstand the test of time and elements, offering robust and reliable structures that serve as a solid foundation for your mining operations.
Karmod utilizes cutting-edge technology and materials to construct mining camp buildings that meet international standards of safety and efficiency. The construction process is seamlessly managed by a team of experts who bring years of experience and insight to the table, ensuring every building stands as a beacon of excellence and reliability. Karmod's masterful construction promises not just buildings but long-lasting partnerships built on the pillars of trust, excellence, and satisfaction.
Choose Karmod for luxurious mining camp accommodation and masterful construction of Benin mining camp buildings, and take a step towards enhanced comfort, safety, and efficiency in your mining operations in Benin.
Elevate Your Expectations with Karmod's Mining Camp Design in Benin
Imagine a mining camp where every detail is meticulously crafted to ensure maximum efficiency, safety, and comfort. With Karmod's mining camp design in Benin, you don't have to imagine anymore. Karmod's exceptional design principles guarantee not just robust structures but also the enhancement of overall operational efficiency and workforce wellbeing.
Advanced Design Principles: The advanced design principles employed by Karmod provide a blend of comfort and functionality. The modular camp design means easy transportation and installation, reducing the lead time and ensuring your project stays on schedule.
Innovation and Technology: At the heart of Karmod's mining camp design in Benin is a commitment to innovation and the use of cutting-edge technology. This translates into mining camp accommodations that stand the test of time and harsh weather conditions.
Eco-Friendly Solutions: Environmental responsibility is a key consideration in Karmod's design process. Green technologies and sustainable materials ensure a minimal environmental footprint while delivering optimal performance.
The Karmod experience transcends the ordinary, elevating your expectations and setting a new benchmark for excellence in mining camp design in Benin.
Unmatched Excellence: Karmod, Your Premier Choice for Benin Mines
Why settle for anything less than excellence when it comes to your mining operations in Benin? Karmod stands out as your premier choice, offering unmatched excellence in every aspect of mining camp construction and design.
Comprehensive Solutions: Karmod delivers comprehensive solutions that cover every aspect of mining camp management, from the construction of sturdy buildings to the set-up of efficient and hygienic mining camp kitchens.
Global Experience, Local Expertise: With its global experience and local expertise, Karmod understands the unique challenges and requirements of Benin mines, offering tailor-made solutions that meet and exceed expectations.
Commitment to Safety: Safety is non-negotiable for Karmod. Every construction adheres to international safety standards, ensuring the welfare of your workforce is never compromised.
Make the right choice for unmatched excellence and unparalleled performance. Choose Karmod, your partner for superior mining camp solutions in Benin, and witness a significant enhancement in operational efficiency, workforce satisfaction, and overall project success.