Unveiling an unparalleled opportunity for mining enterprises in Bosnia and Herzegovina, Karmod is offering exclusive mining camps for sale. Built to perfection with the finest materials and advanced construction techniques, these camps are designed to cater to the complex and demanding conditions of mining sites.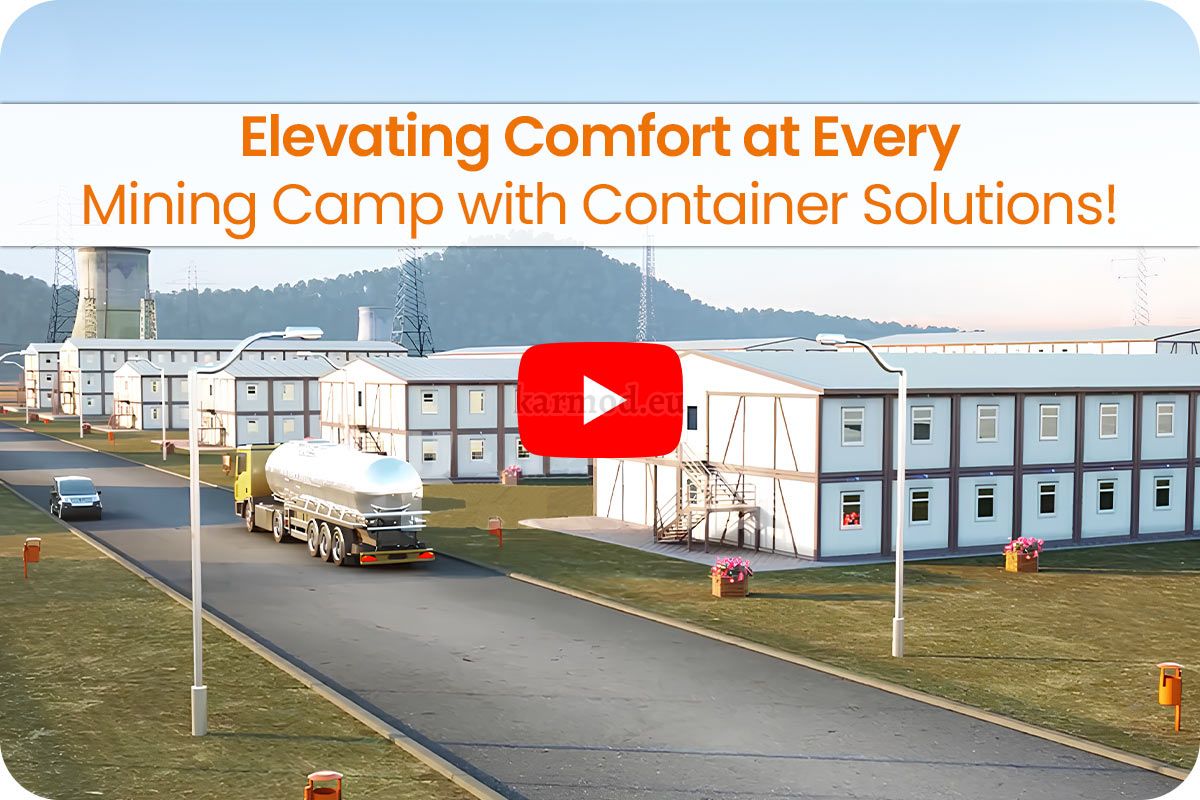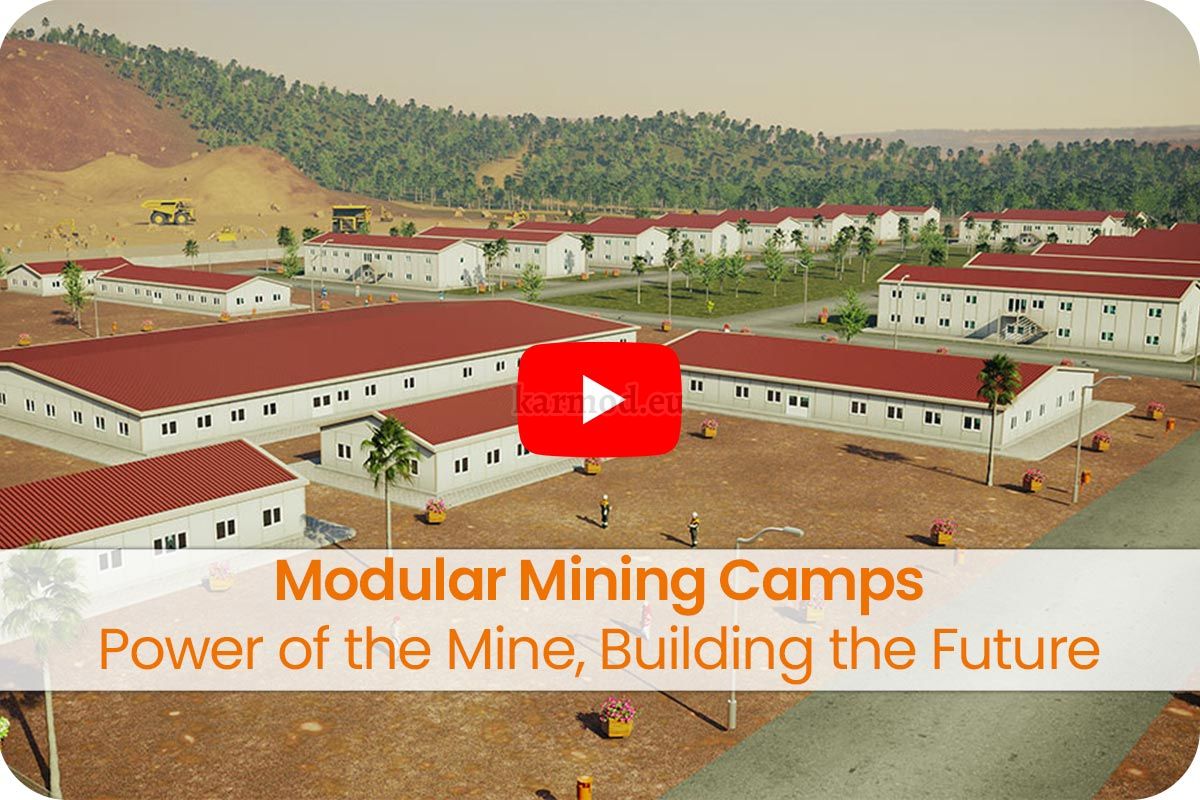 Bosnia and Herzegovina Portable Mining Camp: The portability factor of Karmod's mining camps makes them a highly sought-after solution. They can be easily transported and assembled on-site, making operations seamless and cost-effective.
Bosnia and Herzegovina Modular Mining Camp: Modularity is at the heart of Karmod's design, ensuring scalability and flexibility. As your mining operations expand, so can your camp with the addition of modular units, ensuring a consistent working environment.
Bosnia and Herzegovina Mining Camp Management: Karmod goes beyond just providing structures; it offers comprehensive camp management solutions. From planning and assembly to maintenance, the experienced team at Karmod ensures smooth operation of your mining camp.
Bosnia and Herzegovina Mining Camp Kitchen: Every mining camp features well-equipped kitchen facilities, ensuring the wellbeing and satisfaction of your workforce. Proper nutrition and hygienic food preparation are made easy with the modern kitchen setups.
Bosnia and Herzegovina Mining Camp for Sale: This exclusive offer is a chance to invest in a long-term, reliable solution for your mining operation. Owning a Karmod mining camp means investing in quality, functionality, and the highest level of industry standards.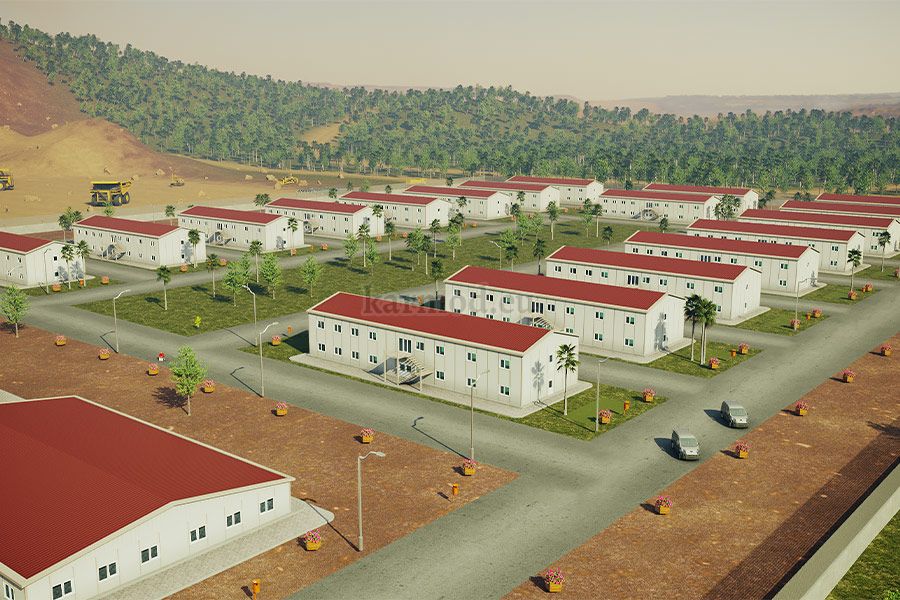 With Karmod, you are not just acquiring a physical structure; you are investing in a well-thought-out living and working environment for your mining personnel. The meticulous design, robust construction, and innovative features of these mining camps make them the ideal choice for serious mining operations seeking to enhance efficiency and improve the living standards of their workforce. This is not just an offer; it's an invitation to elevate your mining operations to a realm of unmatched operational excellence and employee satisfaction. Get in touch with Karmod to explore this exclusive offer and take a solid step toward a successful, well-managed mining endeavor in Bosnia and Herzegovina.
Luxurious Mining Camp Accommodation in Bosnia and Herzegovina
In the heart of Bosnia and Herzegovina's mining sectors, Karmod is revolutionizing the standard of on-site accommodations with its luxurious mining camp offerings. The dreary image of conventional mining camps is now a thing of the past as Karmod brings forth an era of comfort, convenience, and luxury, all bundled into its modern mining camp accommodations. The design seamlessly blends functionality with comfort, ensuring that the workforce can relax and rejuvenate after a hard day at the mines. The spacious living quarters, modern amenities, and aesthetic design elements reflect a home away from home ethos, ensuring that the personnel are well-rested and motivated for the challenges that mining operations entail. From comfortable bedding to recreational areas, every aspect of the living space is meticulously crafted to provide a comfortable and enjoyable living environment for the miners.
Masterful Construction of Bosnia and Herzegovina Mining Camp Buildings
Karmod's reputation for masterful construction shines bright in the harsh terrains of Bosnia and Herzegovina's mining regions. The construction of mining camp buildings by Karmod is a testament to their unparalleled expertise and the pursuit of excellence. The use of high-quality materials and cutting-edge construction technology ensures that the mining camp buildings can withstand the harshest conditions while offering a safe, secure, and comfortable living and working environment. Each structure is built to comply with the strictest safety and quality standards, making them a reliable choice for serious mining operations. The well-ventilated, insulated buildings provide a respite from the extreme outdoor conditions, while the robust construction ensures longevity and durability, even in the face of harsh mining environments. The architectural ingenuity coupled with the robust construction makes Karmod's mining camp buildings a hallmark of excellence and reliability in Bosnia and Herzegovina's mining sectors. Investing in Karmod's masterfully constructed mining camp buildings is an investment in quality, safety, and operational efficiency for mining enterprises looking to achieve long-term success in Bosnia and Herzegovina.
Elevate Your Expectations with Karmod's Mining Camp Design in Bosnia and Herzegovina
Step into a new realm of modern, functional, and aesthetically pleasing mining camp designs with Karmod. When it comes to establishing a mining camp in Bosnia and Herzegovina, the blend of innovative design and practicality that Karmod brings is unparalleled. Here are some compelling reasons why Karmod's design stands out:
Modular Construction: The modular camp construction allows for a rapid, hassle-free setup and scalability according to the needs of the mining operation. This flexibility ensures mining projects remain on schedule and within budget.
Advanced Amenities: Beyond just shelter, these camps provide advanced amenities ensuring the workforce has access to everything needed for a comfortable stay. From fully equipped kitchens to recreational areas, the holistic approach to design is evident.
Safety Compliance: Ensuring the safety of the personnel is a top priority. The construction adheres to all the safety standards, providing a secure environment for the workforce.
Environmental Consideration: Environmental sustainability is interwoven into the design, reflecting an eco-friendly approach through energy-efficient structures and waste management systems.
Customizable Layouts: The layouts are customizable to cater to different operational needs, be it an office space, housing, or a medical facility within the mining camp.
With Karmod, elevate your expectations and experience a mining camp design in Bosnia and Herzegovina that's meticulously crafted for success, comfort, and safety.
Unmatched Excellence: Karmod, Your Premier Choice for Bosnia and Herzegovina Mines
In the competitive mining sector of Bosnia and Herzegovina, aligning with a name that exudes excellence and reliability is imperative. Karmod emerges as the premier choice for establishing mining camps with a promise of unmatched excellence. Here's what sets Karmod apart:
Long-standing Experience: With years of experience in the field, Karmod's expertise in delivering top-notch mining camp solutions is unquestionable.
Innovative Solutions: The innovative solutions extend beyond just accommodation, covering a wide range of mining camp needs including management offices, dining facilities, and other essential structures.
Quality Assurance: The quality of materials and construction is never compromised, ensuring a lasting solution that withstands the harsh mining conditions of Bosnia and Herzegovina.
Customer-Centric Approach: Karmod works closely with its clients to deliver solutions that are tailored to meet the unique requirements of each mining project.
Cost-Efficiency: Offering a balance between quality and cost-efficiency, Karmod ensures that mining operations get the best value for their investment.
Aligning with Karmod for your mining camp needs in Bosnia and Herzegovina means aligning with a legacy of excellence, reliability, and unmatched customer satisfaction.