Embarking on a mining endeavor in the heart of Africa? Karmod invites you to seize an exceptional opportunity in Cameroon – a nation abundant in mineral resources. Transform your mining operation with the remarkable advantages of Karmod's solutions, uniquely tailored for the African terrain.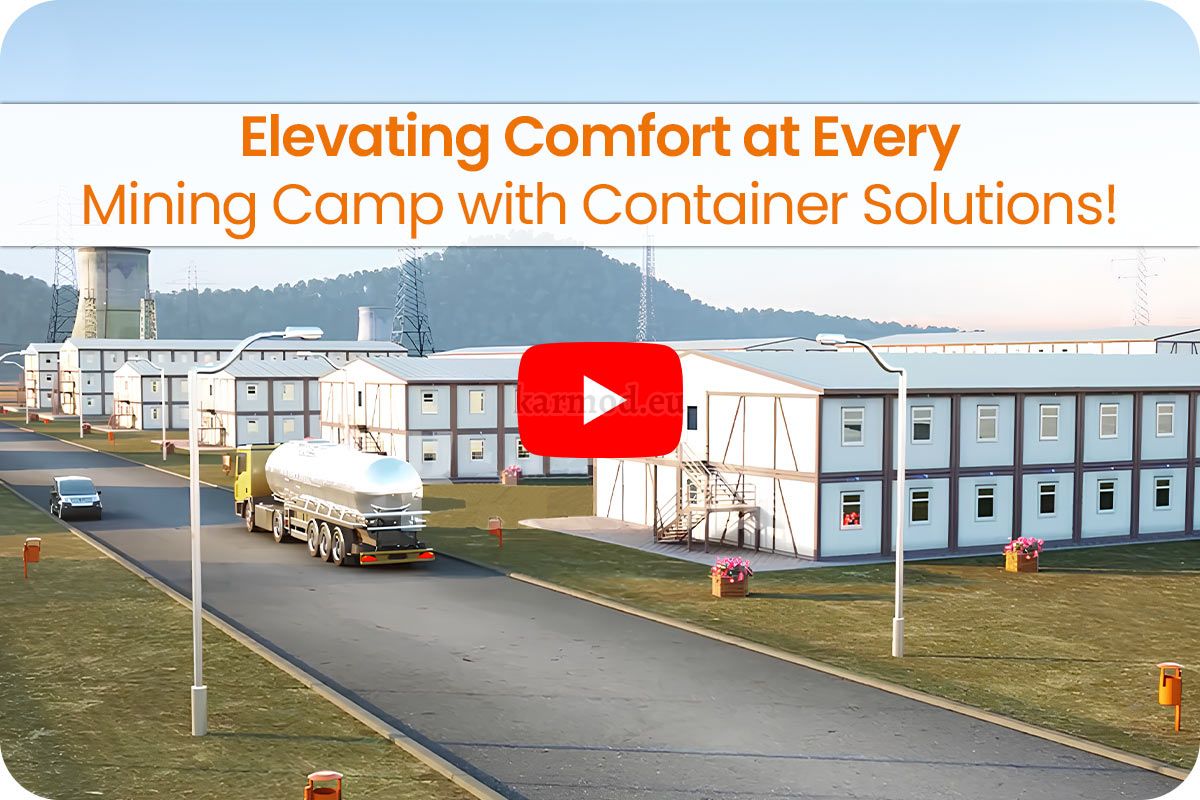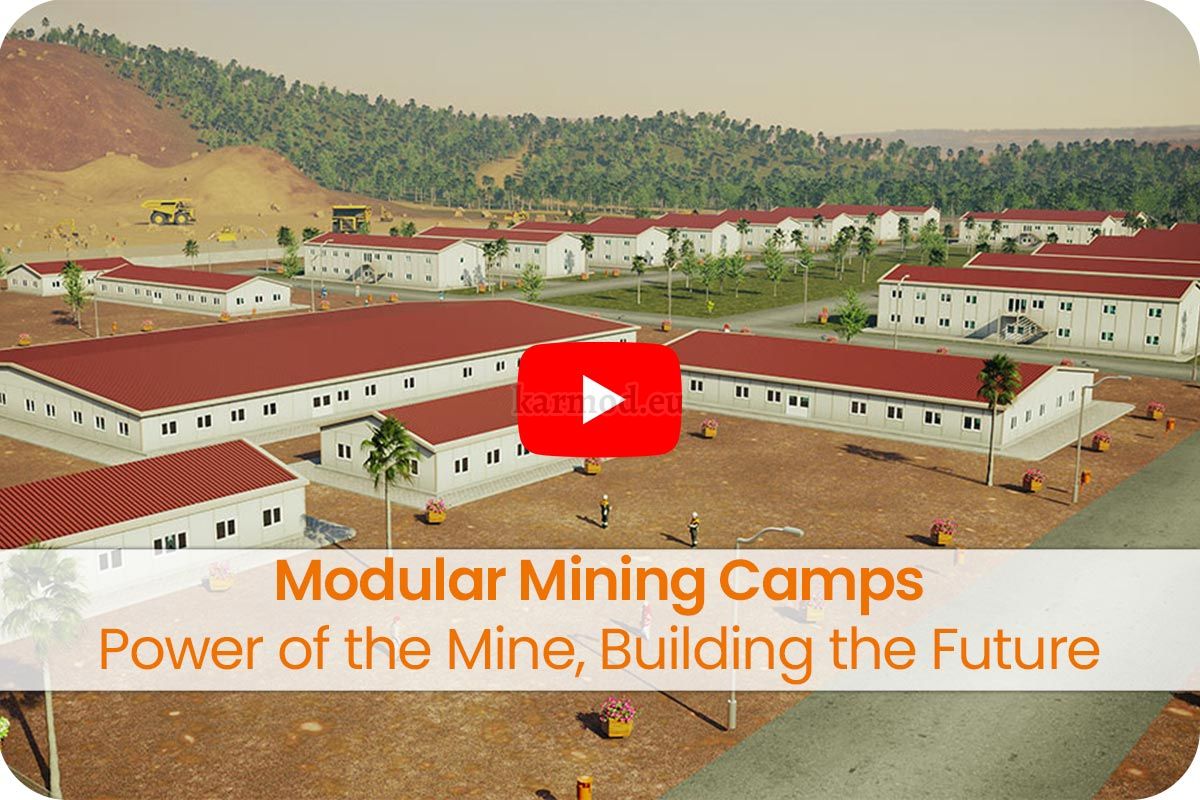 Cameroon Portable Mining Camp: Explore the freedom and flexibility of Karmod's Cameroon portable mining camp. Portable doesn't mean compromising on comfort or safety. Every unit is designed to provide secure, comfortable, and efficient living and working spaces, easily transported to adapt to your changing needs.
Cameroon Modular Mining Camp: At Karmod, innovation meets functionality in the Cameroon modular mining camp. These camps are a testimony to Karmod's expertise in creating spaces that are not only highly functional but also adaptable. Modular camps ensure that you can expand or modify the setup as per your operational requirements, ensuring continuous and seamless operations.
Cameroon Mining Camp Management: Effortless and efficient – that's how Karmod envisions Cameroon mining camp management. With Karmod's proven strategies and systems, rest assured that every aspect of your mining camp operates like a well-tuned engine, freeing you to focus on the core mining activities.
Cameroon Mining Camp Kitchen: Nutritious food is the fuel for high productivity, and Karmod understands this well. The Cameroon mining camp kitchen solutions by Karmod ensure that your team always has access to well-equipped, hygienic, and efficient kitchen facilities, contributing to their well-being and overall project success.
Cameroon Mining Camp for Sale: And here lies your golden ticket! Karmod is offering the Cameroon mining camp for sale, making it easier than ever to establish your robust presence in Cameroon's mining sector. With Karmod, you are not just purchasing a camp; you are investing in reliability, efficiency, and the unmatched quality that Karmod is celebrated for globally.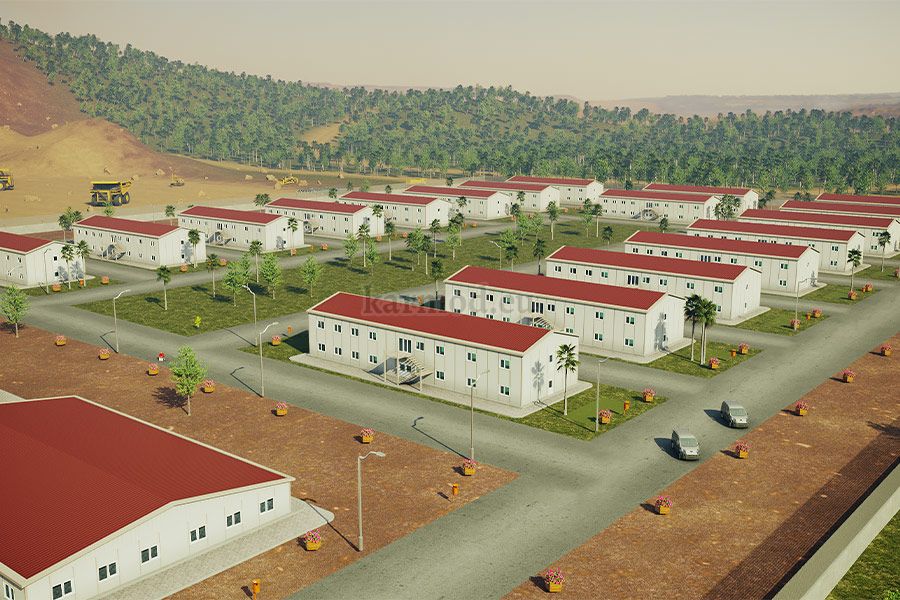 Embrace the future of mining operations with Karmod's superior and comprehensive solutions. Elevate your mining endeavors in Cameroon with robust, innovative, and cost-effective mining camp solutions from Karmod. Opt for excellence, choose Karmod, and let your Cameroon mining journey flourish under the umbrella of unmatched quality and innovation. Your success in Cameroon's mining landscape starts and thrives with Karmod.
Luxurious Mining Camp Accommodation in Cameroon
In the prolific terrains of Cameroon, where mineral wealth abounds, ensuring the comfort and well-being of your dedicated team is paramount. Karmod steps in to redefine the standard of luxurious mining camp accommodation in Cameroon. Imagine accommodations where every detail is meticulously crafted to offer unparalleled comfort and convenience while ensuring the robustness and security essential for remote mining locations. Karmod seamlessly blends luxury with practicality, ensuring that after a demanding day, your team retreats to accommodations that rejuvenate and refresh, ensuring peak productivity and morale. Beyond just shelter, Karmod's luxurious mining camp accommodations in Cameroon are havens of comfort and rest, essential for the demanding mining environment.
Masterful Construction of Cameroon Mining Camp Buildings
When it comes to the construction of mining camp buildings in Cameroon, masterful craftsmanship, durable materials, and innovative design are non-negotiable. With Karmod, experience the epitome of masterful construction of Cameroon mining camp buildings. Each building is a testament to Karmod's unwavering commitment to quality, safety, and longevity. Advanced construction techniques ensure that each building can withstand the harsh conditions while offering optimal functionality and comfort. The construction process is streamlined for speed and efficiency, ensuring your mining operations are up and running in record time. Karmod stands as the beacon of excellence in the construction of Cameroon mining camp buildings, setting the gold standard in quality, innovation, and reliability. Trust Karmod, where masterful construction meets unmatched excellence, propelling your mining operations to towering heights of success and sustainability.
Elevate Your Expectations with Karmod's Mining Camp Design in Cameroon
In the resource-rich landscape of Cameroon, elevate your expectations with Karmod's innovative and tailor-made mining camp designs. Karmod transcends the typical, offering mining camp designs that amalgamate functionality with unmatched comfort and luxury. Each modular camp is crafted with attention to the minutest details, ensuring that your team operates at optimum efficiency without compromising on comfort. In a world where every second counts, the swift and seamless construction of Karmod's modular camp ensures that your mining operations in Cameroon get off to a flying start. The design is not just about the physical layout but also encompasses advanced features for seamless operation, energy efficiency, and environmental sustainability, underscoring Karmod's commitment to excellence and innovation.
Swift Construction: Time is invaluable, and with Karmod, expect your mining camp to be operational in record time.
Innovative Design: Each modular camp is a testament to Karmod's innovation, offering optimal use of space, advanced facilities, and contemporary designs.
Sustainability: Environmentally friendly materials and energy-efficient designs underscore Karmod's commitment to sustainability.
Step into the future of mining camp design with Karmod, where every expectation is not just met, but consistently exceeded.
Unmatched Excellence: Karmod, Your Premier Choice for Cameroon Mines
In the competitive terrain of mining in Cameroon, choosing Karmod is choosing unmatched excellence. As a leader in the field, Karmod's reputation is anchored on delivering top-notch quality, unrivaled comfort, and operational efficiency in mining camp construction. The emphasis is not just on creating structures but crafting environments that enhance productivity, well-being, and satisfaction.
Quality Assurance: At Karmod, every building echoes the commitment to world-class quality and durability.
Custom Solutions: Karmod provides bespoke solutions, ensuring that every need is meticulously addressed for your Cameroon mining camp.
Continuous Support: Karmod's relationship with clients transcends the completion of construction, offering unwavering support and service.
Make Karmod your premier choice for Cameroon mines and experience the difference that is rooted in commitment, excellence, and unmatched expertise. Propel your mining venture to new horizons with Karmod, where every expectation is a stepping stone to exceeding further.