In the heart of the mineral-rich landscape of Côte d'Ivoire, the demand for comprehensive and convenient mining camp solutions is escalating. The rush for gold, diamonds, and other precious resources has led to an urgent need for robust and efficient Côte d'Ivoire portable mining camps.
Karmod steps up to this call, offering an exclusive and unmatched deal that enables you to own your mining camp in this region of unbounded potential. The Karmod's Côte d'Ivoire mining camps for sale come with a promise of top-notch quality, unmatched durability, and ultimate comfort, ensuring a seamless operation of your mining activities.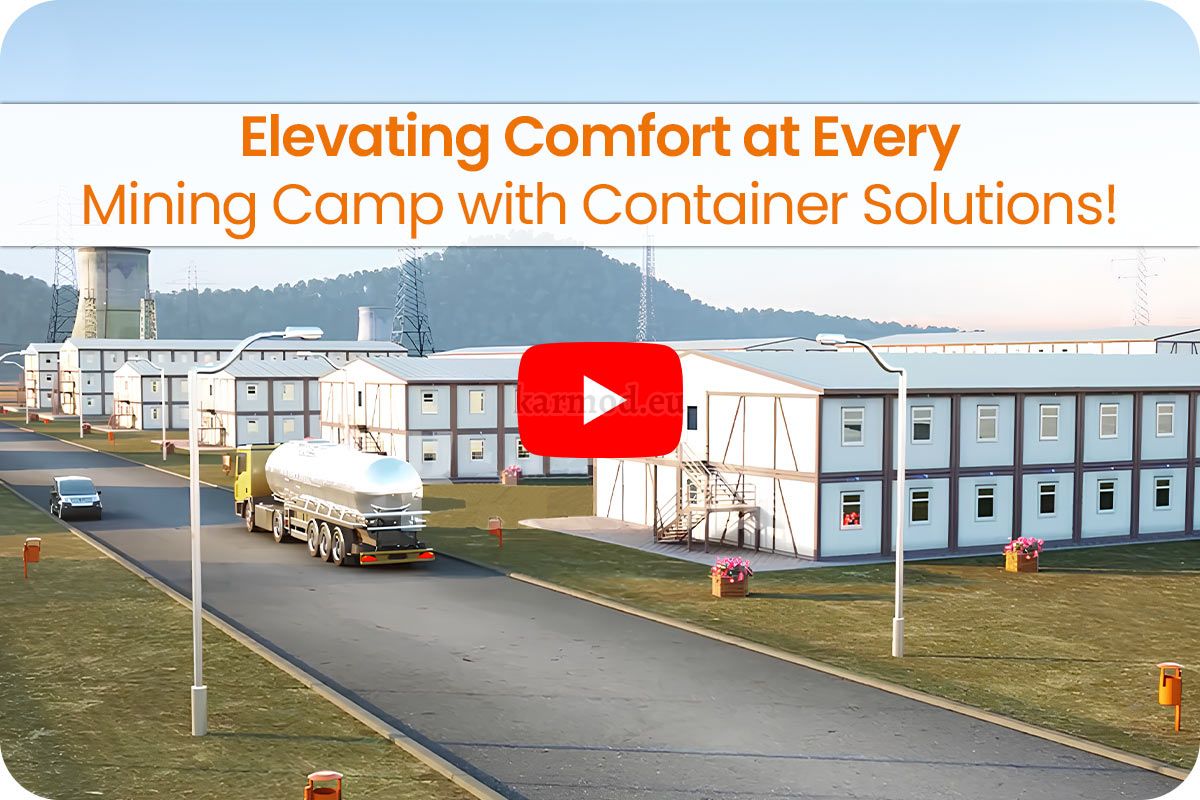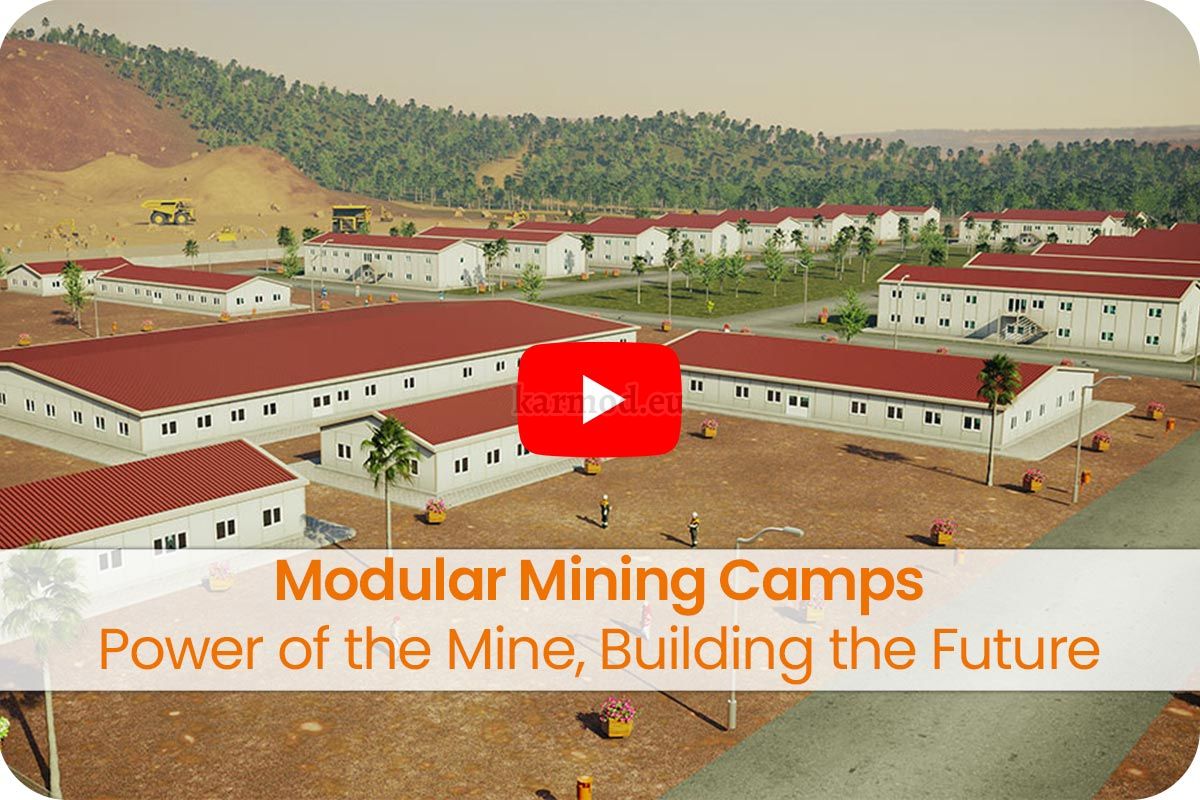 Côte d'Ivoire Modular Mining Camps: Karmod specializes in the design and construction of Côte d'Ivoire modular mining camps. These camps are engineered with precision, ensuring every inch is utilized optimally to provide utmost comfort and efficiency. Modular design ensures swift construction, allowing you to set up your camp in record time.
Superior Camp Management: Delve into effortless Côte d'Ivoire mining camp management with Karmod. The meticulously designed spaces ensure organized and efficient camp operations, enabling you to focus solely on your mining activities. Karmod's innovative designs ensure your camp runs like a well-oiled machine, contributing significantly to the success of your mining endeavor.
Cutting-Edge Camp Kitchen: Prioritize the well-being of your team with Karmod's state-of-the-art Côte d'Ivoire mining camp kitchen. Enjoy the installation of modern, fully-equipped kitchen facilities ensuring your team is energized and ready for the day's work.
A Lifetime Investment: Opting for Karmod's Côte d'Ivoire mining camp for sale is not just a purchase; it's a lifetime investment. With unrivaled quality and design, these camps stand the test of time, offering unwavering support to your mining operations year after year.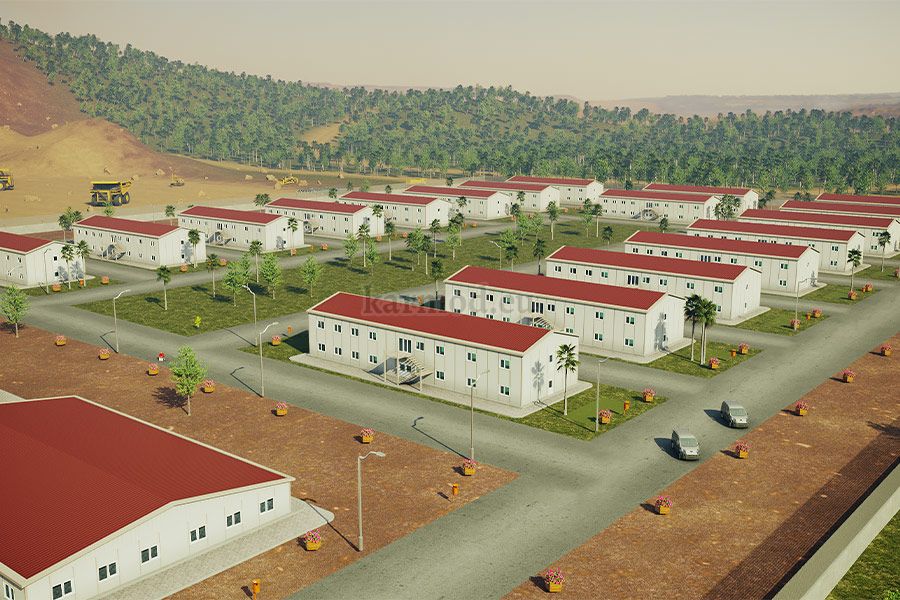 Emerge as a front-runner in the Côte d'Ivoire mining sector with Karmod by your side. Own your own state-of-the-art mining camp and set the stage for a highly successful and uninterrupted mining operation. Don't miss this golden opportunity. Make a choice for excellence. Choose Karmod. Your gateway to unparalleled mining success in Côte d'Ivoire.
Luxurious Mining Camp Accommodation in Côte d'Ivoire
Luxury and comfort in a mining camp? Absolutely. Karmod transcends the ordinary, delivering a luxurious mining camp accommodation experience in Côte d'Ivoire. Providing a home away from home, Karmod ensures that every worker feels valued and taken care of, enhancing overall productivity and morale. The company's attention to detail, high standards of quality, and commitment to the welfare of your team set it apart in the industry.
In Karmod's top-of-the-line accommodation facilities, your team will enjoy well-appointed and spacious living quarters, complete with modern amenities and facilities. From comfortable beds to ample storage space and exceptional sanitary facilities, every aspect is thoughtfully designed to provide utmost comfort. This focus on luxury and well-being ensures your team is well-rested and ready to face the challenges of each new day in the mining fields of Côte d'Ivoire.
Masterful Construction of Côte d'Ivoire Mining Camp Buildings
In the robust mining industry of Côte d'Ivoire, the construction of your mining camp buildings plays a critical role in ensuring the smooth and efficient operation of your mining activities. Karmod stands as a beacon of excellence in this realm. With masterful construction techniques, innovative designs, and a relentless commitment to quality, Karmod delivers mining camp buildings that are not only robust and durable but also tailored to meet the specific needs of your operations.
Every mining camp building constructed by Karmod in Côte d'Ivoire is a masterpiece of engineering and design. Utilizing cutting-edge technology and materials of the highest quality, Karmod ensures that your mining camp buildings can withstand the harsh conditions of the mining environment, offering enduring performance and reliability. The use of modern, sustainable construction methods also means that your mining camp buildings are eco-friendly, reinforcing your commitment to environmental responsibility.
Elevate your mining operations in Côte d'Ivoire with the luxury, comfort, and masterful construction provided by Karmod. Trust in their unmatched expertise and dedication to deliver mining camp solutions that stand as a testament to quality, innovation, and excellence. With Karmod, experience the peace of mind that comes from knowing your mining camp accommodations and buildings are in the hands of the industry's best. Your path to unparalleled success in the mining industry of Côte d'Ivoire begins with Karmod.
Elevate Your Expectations with Karmod's Mining Camp Design in Côte d'Ivoire
In the realm of mining camp design in Côte d'Ivoire, Karmod emerges as a vanguard of innovation, functionality, and comfort. The company's cutting-edge designs seamlessly blend robustness with elegance, ensuring that mining camps are not just functional but also comfortable environments for the workforce.
Innovation: Karmod's designs are a beacon of creativity and modernity in mining camp design, ensuring a perfect balance between work and relaxation for the miners.
Safety First: With Karmod, anticipate a design that prioritizes the safety and security of the workforce, with features that mitigate risks and enhance emergency response.
Sustainability: An emphasis on eco-friendly materials and designs underlines Karmod's commitment to environmental sustainability, a vital consideration in today's world.
Modularity: Experience the ease of modularity with Karmod's modular camp designs, ensuring convenience and flexibility in setting up and altering the camp layouts.
Karmod's mining camp designs stand out, promising a blend of innovation, safety, and sustainability that is unmatched in the industry. It's time to elevate your expectations and opt for Karmod's superior mining camp design in Côte d'Ivoire.
Unmatched Excellence: Karmod, Your Premier Choice for Côte d'Ivoire Mines
When it comes to ensuring the utmost excellence in mining operations in Côte d'Ivoire, Karmod stands unrivaled. Here's why Karmod is your premier choice:
Comprehensive Solutions: From mining camp management to creating a comfortable kitchen environment for the staff, Karmod delivers a comprehensive suite of solutions for Côte d'Ivoire mining camps.
Quality Assurance: With Karmod, rest assured of unparalleled quality in construction, materials, and design, guaranteeing the longevity and robust performance of your mining camp facilities.
Client-Centric Approach: Karmod consistently places the client at the forefront, ensuring tailor-made solutions that perfectly align with your specific requirements and objectives.
Global Expertise: Leverage Karmod's global expertise and experience to enhance the efficiency, safety, and comfort levels of your mining operations in Côte d'Ivoire.
Position your mining operations for unrivaled success with Karmod, a synonym for unmatched excellence in the mining industry of Côte d'Ivoire. Trust in Karmod to exceed your expectations, delivering mining camp solutions that stand as a benchmark of quality, innovation, and superior performance. Your journey to unparalleled success in the vibrant mining sector of Côte d'Ivoire is paved with the excellence of Karmod.