In the Dominican Republic's blossoming mining industry, Karmod emerges as a beacon of innovation, excellence, and reliability. A crucial offering from Karmod is the exclusive Dominican Republic portable mining camp. Engineered with precision and a keen understanding of the industry's unique needs, these portable mining camps prioritize functionality, comfort, and durability. Discover a space where advanced technology meets superior design, ensuring every mining operation's seamless efficiency and success.
Dominican Republic Portable Mining Camp: Karmod's portable mining camps redefine mobility and efficiency. Every unit is meticulously designed to offer maximum comfort and practicality, ensuring that every operation runs smoothly and effectively.
Dominican Republic Modular Mining Camp: Go beyond traditional structures with Karmod's modular mining camps. Experience the future of mining camp accommodation, where modularity meets unmatched quality and design, offering flexibility and convenience without compromising on comfort or safety.
Efficient Mining Camp Management: Efficient management is crucial for the success of any mining operation. Karmod's comprehensive Dominican Republic mining camp management solutions ensure that every aspect of your mining camp runs seamlessly, prioritizing efficiency, safety, and the well-being of all occupants.
State-of-the-Art Mining Camp Kitchen: A well-fed team is a productive team. Karmod's Dominican Republic mining camp kitchens are equipped with modern amenities, ensuring that every meal is nutritious, delicious, and prepared under the highest standards of hygiene and safety.
Dominican Republic Mining Camp for Sale: Seize this exclusive opportunity to own a top-tier mining camp in the Dominican Republic. Karmod's Dominican Republic mining camp for sale offers you a ready-to-use, fully equipped, and functional mining camp, ensuring that your mining operations kick off without a hitch.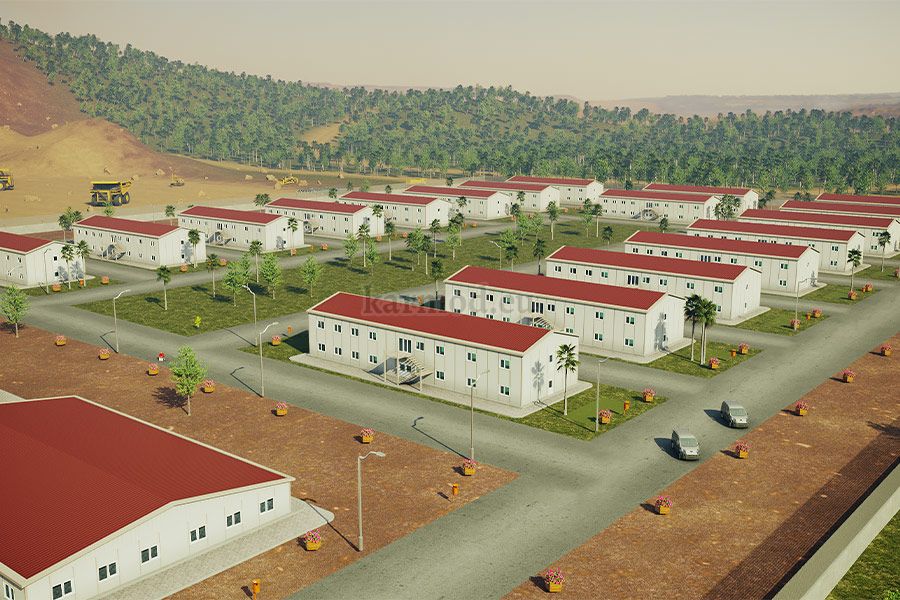 In every aspect, from the state-of-the-art Dominican Republic mining camp kitchen to comprehensive mining camp management, Karmod stands as your reliable partner. Ensure the success, efficiency, and safety of your mining operations in the Dominican Republic with Karmod – where excellence is not just promised, it's delivered. Choose Karmod and step into a world where every detail is crafted for your success.
Luxurious Mining Camp Accommodation in Dominican Republic
In the heart of the Caribbean, the Dominican Republic showcases Karmod's luxurious mining camp accommodations that perfectly blend comfort with functionality. Embraced by the country's breathtaking natural beauty, Karmod's Dominican Republic mining camps provide not just a place to rest, but a haven of relaxation and rejuvenation after a long day's work. These accommodations epitomize luxury and comfort, ensuring every worker feels valued, respected, and taken care of. With modern, spacious, and well-ventilated interiors, each unit promises an environment where workers can truly relax and feel at home. The well-thought-out design guarantees optimal space utilization, ensuring every inch works towards the inhabitants' utmost comfort and convenience. Karmod's luxurious mining camp accommodation in the Dominican Republic transcends traditional housing solutions, delivering an unrivaled living experience for every worker in the mining industry.
Masterful Construction of Dominican Republic Mining Camp Buildings
Beyond the luxurious accommodation, Karmod takes pride in the masterful construction of the Dominican Republic mining camp buildings. Employing cutting-edge technology and innovative construction methods, Karmod guarantees robust and durable structures that withstand the test of time and elements. Each building is a testament to Karmod's unwavering commitment to quality, safety, and excellence. The utilization of premium materials ensures the longevity of each structure, offering unrivaled stability and security for every occupant. Additionally, the construction process is seamlessly executed to ensure timely project completion, allowing mining operations to commence as scheduled. With Karmod, experience the perfect fusion of expert craftsmanship, advanced technology, and innovative design, culminating in the superior construction of Dominican Republic mining camp buildings. Trust Karmod for structures that not only meet but exceed expectations, guaranteeing the seamless operation of every mining camp in the Dominican Republic.
Elevate Your Expectations with Karmod's Mining Camp Design in Dominican Republic
When it comes to top-tier mining camp design in the Dominican Republic, Karmod stands out, consistently exceeding industry standards and client expectations. Our innovative and meticulously planned designs ensure not only operational efficiency but also a comfortable and safe environment for all camp occupants.
Innovative Design: Karmod's unique designs seamlessly blend aesthetic appeal with practical functionality. Our modular camp layouts prioritize both space efficiency and comfort, ensuring that every square inch serves a purpose without compromising on the luxury and convenience that every worker deserves.
Sustainability: In our commitment to environmental sustainability, our designs include eco-friendly features that minimize the carbon footprint of each mining camp, reinforcing our responsibility towards preserving the Dominican Republic's stunning natural landscape.
Technology Integration: Our designs integrate cutting-edge technology for enhanced safety, comfort, and operational efficiency, underscoring our dedication to pioneering advancements in the mining camp industry.
Choose Karmod and elevate your expectations in mining camp design in the Dominican Republic.
Unmatched Excellence: Karmod, Your Premier Choice for Dominican Republic Mines
For unmatched excellence in every aspect of mining camp solutions in the Dominican Republic, make Karmod your premier choice.
Comprehensive Solutions: From planning and design to construction and management, Karmod offers a full spectrum of services ensuring your Dominican Republic mining camp operates seamlessly and efficiently.
Quality Assurance: With a relentless commitment to quality, Karmod guarantees robust, durable, and high-standard buildings that stand as a beacon of excellence in the Dominican Republic mining sector.
Client-Centric Approach: At Karmod, every project is executed with the client's unique needs and specifications at the forefront, ensuring tailor-made solutions that align perfectly with your expectations and operational requirements.
With Karmod's unmatched excellence, make a choice for superiority and reliability in all your Dominican Republic mining camp needs. Elevate your operations and ensure the welfare of every worker with Karmod's unparalleled expertise and innovative solutions.