The world of mining operations is fast-paced and rigorous. For those exploring the abundant resources in DR Congo, the need for an efficient, comfortable, and practical living space is paramount. Enter Karmod, a beacon of excellence in the mining industry, offering an exclusive chance to own your DR Congo mining camp with a sale now on!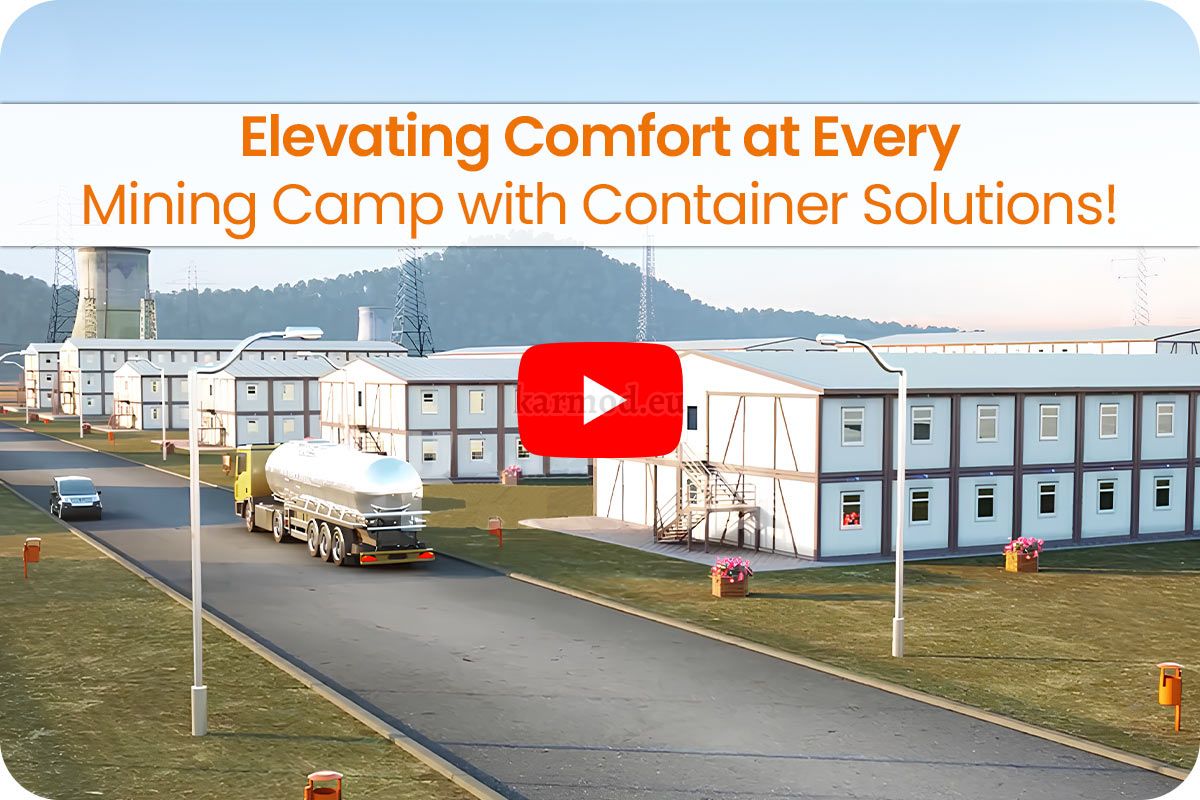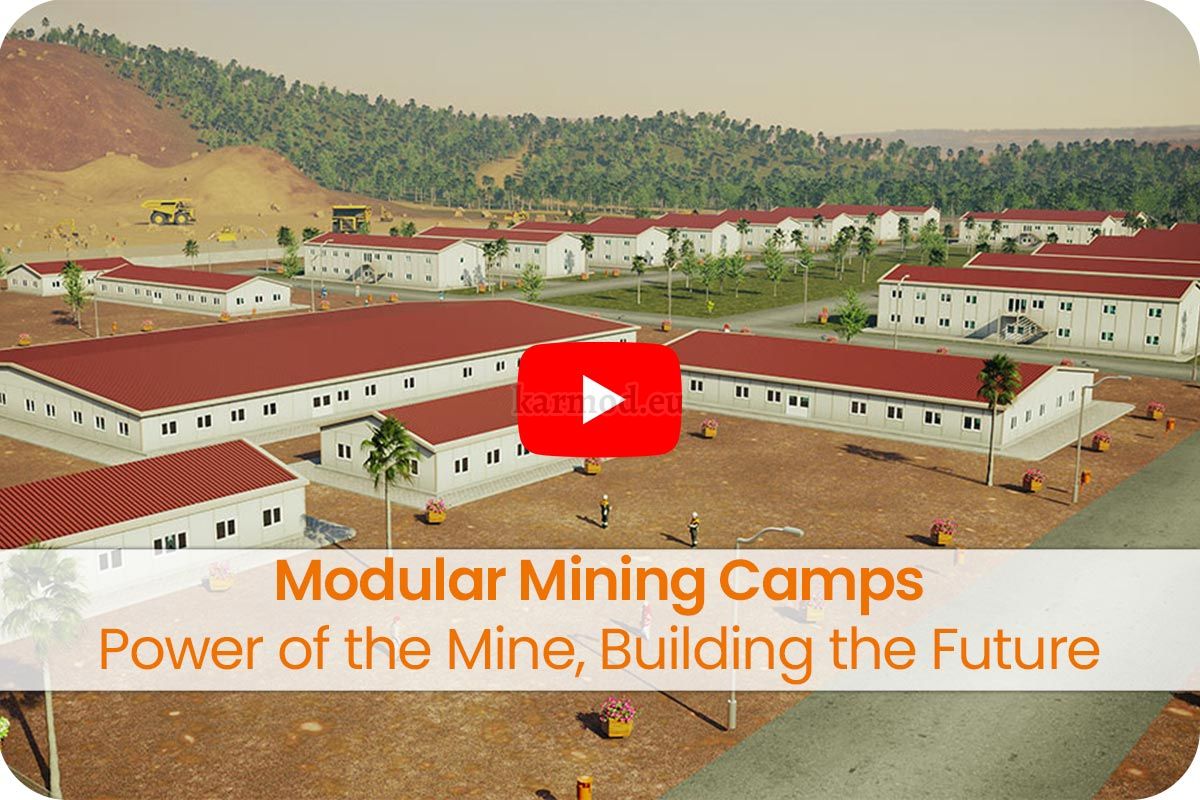 DR Congo Portable Mining Camp
Lightweight yet robust, Karmod's DR Congo portable mining camp is the epitome of mobility and efficiency. Easy to transport and set up, these portable camps guarantee that you can focus more on mining operations and less on logistical challenges. This convenience and efficiency ensure that your mining projects proceed without unnecessary delays, enhancing overall productivity.
DR Congo Modular Mining Camp
Karmod is at the forefront of innovative design with their DR Congo modular mining camp. The modular camp units are not only stylish and comfortable, but they also meet the highest standards of safety and functionality. Each unit is meticulously designed to optimize space, ensuring that every inch is used to its utmost potential, fostering comfort, and efficiency.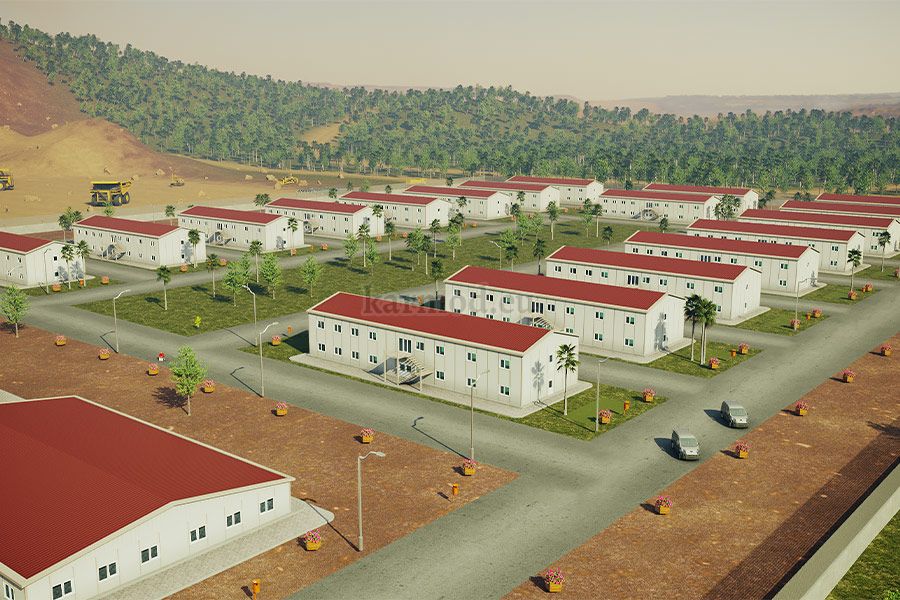 DR Congo Mining Camp Management
Management is a breeze with Karmod's comprehensive DR Congo mining camp management solutions. We ensure the smooth operation of your mining camp, allowing you to focus on your core mining activities without the distraction of dealing with camp issues. This dedicated management solution contributes to the seamless running of your mining camp, enhancing overall operational efficiency.
DR Congo Mining Camp Kitchen
Good nutrition is the foundation of the hard work required in mining operations. Karmod's DR Congo mining camp kitchen solutions ensure your team is well-fed with nutritious, delicious meals, prepared in high-quality, hygienic kitchen facilities. A well-nourished team is a more productive team, contributing positively to your mining operations.
DR Congo Mining Camp for Sale
Don't miss out on this unique opportunity to own a DR Congo mining camp for sale now by Karmod. Secure a mining camp that meets all your needs – portable, modular, easy to manage, with excellent kitchen facilities. By choosing Karmod, you are not just making a purchase; you are making a sound investment in the future of your mining operations in DR Congo, ensuring they operate seamlessly, efficiently, and productively.
Rise to the challenges of mining in DR Congo with Karmod by your side, ensuring your team has the very best in accommodation, facilities, and management, contributing to the overall success and profitability of your mining operations. Take advantage of this exclusive offer now and elevate your mining operations to unprecedented heights with Karmod.
Luxurious Mining Camp Accommodation in DR Congo
In the midst of DR Congo's bustling mining industry, Karmod stands out by providing luxurious mining camp accommodation that is second to none. It understands that after a long, hard day at work, miners deserve to come back to a comfortable and relaxing environment. Each accommodation unit is crafted with an exceptional touch of luxury to ensure that every moment spent inside is refreshing and revitalizing. The interiors are elegantly designed with modern amenities and facilities, ensuring that every need is met with a touch of sophistication. Furthermore, the accommodation units are placed in strategic locations that provide not just comfort but also security, ensuring the peace of mind of every inhabitant.
In the rich terrain of DR Congo, where mining is a significant activity, having a comfortable place to rest is not just a need but a vital component for the efficiency and effectiveness of the mining operations. Karmod excels in ensuring that this need is met with the highest standards of luxury and comfort, making it a preferred choice for many who are seeking the best accommodation solutions in the mining industry of DR Congo.
Masterful Construction of DR Congo Mining Camp Buildings
When it comes to the construction of mining camp buildings in DR Congo, Karmod leaves no stone unturned in ensuring the delivery of masterfully constructed structures that stand the test of time. The buildings are constructed using the highest quality materials, ensuring durability and robustness in facing the demanding conditions of mining environments.
The masterful construction by Karmod is not just about robustness, it's also about intelligent design. The buildings are designed to provide optimal functionality for every mining operation, ensuring that every aspect from living quarters to operational buildings is meticulously planned and executed. This attention to detail ensures smooth operations, boosting the overall productivity and efficiency of mining activities in DR Congo.
In a place where every moment counts, the impeccable construction of Karmod's DR Congo mining camp buildings ensures that mining operations can proceed without any hassles related to infrastructure. It's not just a building; it's a comprehensive solution that enhances the overall mining experience in DR Congo, ensuring that goals are met and exceeded with elegance and proficiency.
In conclusion, with Karmod's luxurious accommodation and masterful construction of mining camp buildings, mining operations in DR Congo are not just about work. They are about experiencing the best of comfort, efficiency, and functionality, ensuring that every moment spent in the mining camp is one of productivity, relaxation, and satisfaction.
Elevate Your Expectations with Karmod's Mining Camp Design in DR Congo
The world of mining is intense and demanding, and in the heartbeat of DR Congo's mining landscape, expectations for high-quality, robust, and functional mining camps are set to an unprecedented level. With Karmod's mining camp design, consider your expectations not just met, but considerably elevated.
Unsurpassed Design: At Karmod, we bring forth designs that seamlessly blend functionality with comfort. The mining camp designs are conscientiously laid out, ensuring optimal space utilization, easy navigation, and overall operational efficiency.
Innovative Solutions: Our commitment to innovation reflects in every aspect of the mining camp designs. From state-of-the-art DR Congo modular mining camp buildings to technologically advanced security features, every element is meticulously integrated.
Sustainability at Core: Ensuring environmental sustainability, Karmod employs eco-friendly materials and practices in the design, reducing the environmental footprint while delivering excellence.
Experience the epitome of exceptional design and innovation with Karmod's mining camp designs, where every detail is engineered with precision, care, and an unwavering commitment to your satisfaction.
Unmatched Excellence: Karmod, Your Premier Choice for DR Congo Mines
When it comes to providing comprehensive solutions for mining camps in DR Congo, Karmod stands as an epitome of unmatched excellence. Here's how Karmod proves to be your premier choice:
Holistic Approach: Beyond just buildings, Karmod delivers a holistic solution, taking care of every facet from the DR Congo mining camp kitchen to management, ensuring smooth, seamless operations throughout.
Quality Assurance: The assurance of quality is unwavering with Karmod. Superior materials, advanced technology, and expert craftsmanship converge to construct mining camp buildings that withstand the test of time and elements.
Customized Solutions: Understand that each mining operation is unique, Karmod offers tailored solutions to meet specific requirements and challenges efficiently.
Reliable Support: Karmod's consistent and reliable support ensures that every query and concern is addressed promptly, offering you peace of mind in every step of the journey.
Incorporating the modular camp approach, Karmod ensures quick installation, flexibility, and scalability, further affirming its position as a leading choice for mining camp solutions in DR Congo. Choose Karmod, where excellence is not just promised, but consistently delivered. Experience the difference of unmatched excellence with Karmod, making your mining operations in DR Congo seamless, efficient, and remarkably comfortable.