Seize the golden opportunity to own a top-notch mining camp in Finland designed and executed by none other than Karmod, the leading name in constructing durable and functional mining camps. With an exclusive offer now on the table, it's time to elevate the living and working conditions of your mining site with a Finland portable mining camp that stands the test of time and harsh conditions.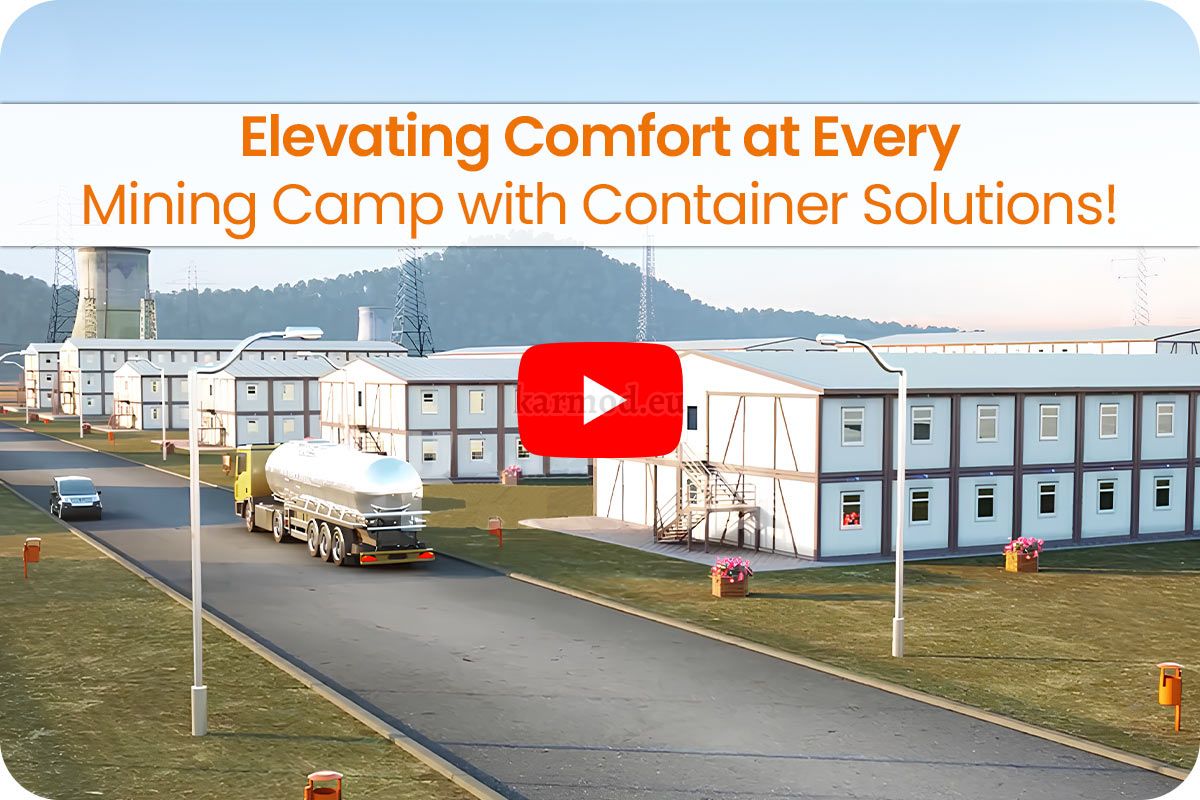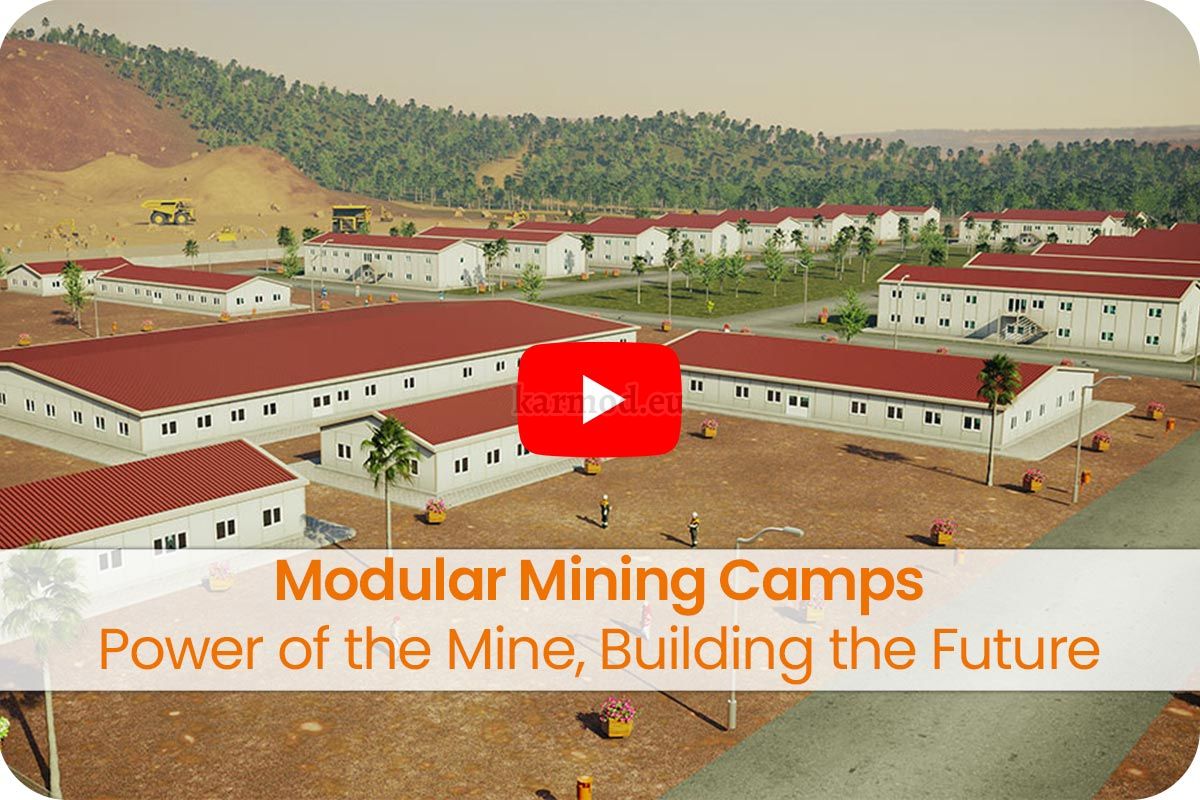 Modular Mastery: Karmod's Finland modular mining camp showcases engineering finesse with modular designs. These designs not only expedite the setup process but also offer ease of expansion, making them a prudent choice for mining companies looking to start operations swiftly.
Management Efficiency: Effective Finland mining camp management is achieved through smart design. The layout of Karmod's camps promotes seamless operations, efficient workflow, and easy accessibility, ensuring that management and staff can focus on core mining activities without any hindrances.
Kitchen Facilities: A well-fueled team is a productive team. Karmod's Finland mining camp kitchen facilities are built to cater to large numbers, ensuring that every meal is nutritious, satisfying, and on time, aiding in maintaining high morale and productivity.
Enduring Construction: Designed to withstand Finland's tough environmental conditions, the materials and construction techniques used are of the highest standard, ensuring longevity and safety.
Investment Opportunity: With a Finland mining camp for sale, this is a lucrative investment opportunity. Owning a Karmod mining camp is not just about having a temporary set up; it's about investing in a lasting solution that will serve your mining operations proficiently for years to come.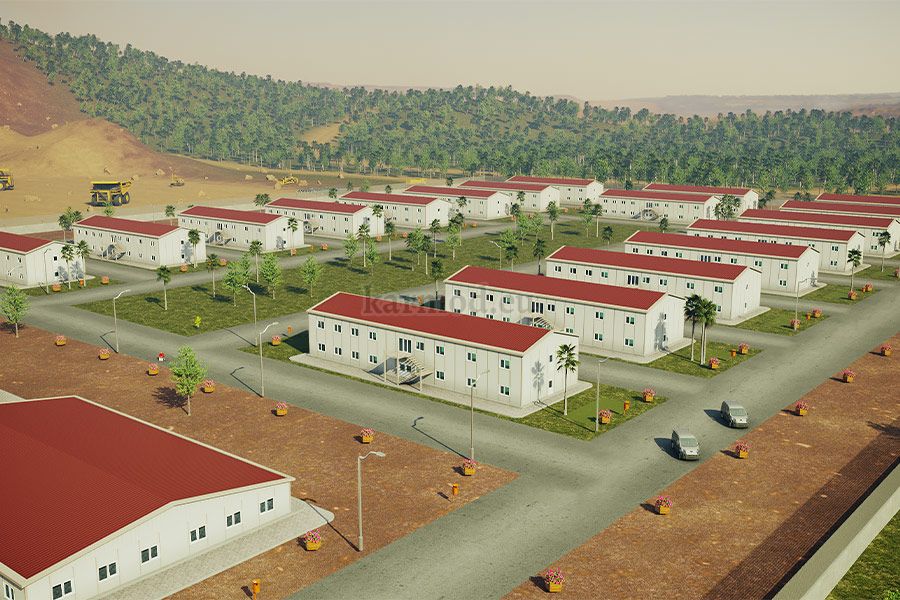 Karmod understands the mining sector's intricacies and challenges, making them the go-to choice for a durable, functional, and comfortable mining camp in Finland. This exclusive offer to own a mining camp designed by industry experts is not just an investment in infrastructure, but an investment in the future of your mining operations. Hurry, as this offer is for a limited time, and the gateway to operational excellence awaits!
Luxurious Mining Camp Accommodation in Finland
Amidst the bustling operations of Finland's mining sectors, the demand for a serene and comfortable place to rest and recharge is paramount. Karmod steps in to redefine luxury with its upscale mining camp accommodation in Finland. Ensuring a harmonious blend of comfort, privacy, and functionality, Karmod's accommodations are nothing short of a haven for the hardworking miners and management staff. Beyond just a place to sleep, these accommodations embody a home away from home, with well-ventilated spaces, comfortable bedding, and modern amenities that provide a much-needed escape from the harsh mining environment.
But luxury does not stand in the way of functionality. Karmod ensures that the layout and facilities within the accommodation contribute towards a conducive environment for rest, relaxation, and personal productivity. The modern designs incorporated are elegant yet practical, mirroring a thoughtful approach towards creating a conducive living space.
Furthermore, the convenience extended through easy access to essential facilities like the mining camp kitchen and recreational areas makes Karmod's mining camp accommodation a cut above the rest. In providing such luxurious accommodation, Karmod not only enhances the quality of life for the individuals on site but also significantly contributes to better productivity and morale, which are crucial for the success of the mining operations.
Masterful Construction of Finland Mining Camp Buildings
Mining operations are tough, and the conditions can be harsh, hence the need for sturdy, safe, and functional structures. Karmod rises to the occasion with its masterful construction of Finland mining camp buildings. Every building constructed by Karmod resonates with a blend of architectural expertise, innovation, and adherence to safety standards. The robust construction is meant to withstand the test of time and the harsh climatic conditions typical to mining regions.
Karmod's expertise shines through in the way the buildings are crafted to serve various purposes effortlessly. Be it administrative offices, residential quarters, recreational spaces, or operational hubs, each structure is meticulously planned and executed to meet the demands of a dynamic mining environment.
The cornerstone of Karmod's construction excellence is the use of modern construction techniques and high-quality materials. This not only guarantees durability but also ensures a cost-effective, time-efficient construction process. Moreover, the aesthetically pleasing yet functional design of the mining camp buildings makes the mining site a conducive workspace.
Karmod's legacy in constructing masterful mining camp buildings in Finland is a testimony to their unmatched excellence in this domain. Investing in Karmod's construction expertise is a step towards ensuring a safe, functional, and comfortable mining camp that bolsters the efficiency and effectiveness of mining operations in Finland.
Elevate Your Expectations with Karmod's Mining Camp Design in Finland
The mining sector is an ecosystem of rigorous activities requiring high levels of efficiency and the support of well-designed infrastructures. In this vein, Karmod's mining camp design in Finland is nothing short of a revolution. Here's how Karmod's design elevates expectations:
Innovative Modular Architecture: At the core of Karmod's design is the modular camp construction, integrating flexibility with durability. This ingenious approach allows for easy expansions, alterations, and transportation, making it a game-changer in the fast-paced mining sector.
State-of-the-art Amenities: Karmod believes that a well-rested miner is a productive miner. The mining camp designs come furnished with modern amenities ensuring comfortable living and working environments, which is pivotal for productivity.
Safety-Centric Design: With an industry as risk-prone as mining, safety isn't a luxury but a necessity. Karmod's designs embody safety, with structurally sound buildings that comply with all regulatory safety standards.
Eco-friendly Construction: In a bid to contribute towards sustainability, Karmod employs eco-friendly materials and construction practices, making a significant positive environmental impact.
Cost-Efficiency: Despite the high-quality standards, Karmod's design and construction methodologies ensure cost-efficiency, rendering it a prudent investment for mining entities.
Unmatched Excellence: Karmod, Your Premier Choice for Finland Mines
In the heart of Finland's robust mining sector, Karmod emerges as the epitome of construction excellence, making it the premier choice for establishing mining camps. Here are compelling reasons why Karmod stands unmatched:
Profound Experience: Karmod's rich history of delivering top-notch construction solutions across various sectors renders it a trustworthy partner for your mining camp needs.
Tailored Solutions: Understanding that each mining project is unique, Karmod offers tailored construction solutions to meet the distinct needs of every client.
Technology-driven Approaches: Leveraging cutting-edge construction technologies, Karmod ensures timely completion of projects without compromising on quality.
Transparent Engagements: Throughout the project lifecycle, Karmod maintains a clear communication channel with clients, ensuring all expectations are met and often exceeded.
Holistic Service Offering: From planning and design to construction and management, Karmod provides a holistic service package, making it a one-stop solution for mining camps in Finland.
Investing in a Karmod mining camp means not only investing in robust structures but also in a partnership that values excellence, innovation, and customer satisfaction. The choice of Karmod reflects a forward-thinking approach geared towards achieving optimal operational efficiency in mining ventures.