The mining industry, with its vast potential and booming growth, necessitates infrastructural prowess to sustain and excel. This is where Karmod comes into the picture, marking a significant footprint in Guinea-Bissau. If you've been on the lookout for the best-in-class mining camp solutions in this region, your search ends with Karmod's exclusive offer. Let's dive into the specifics: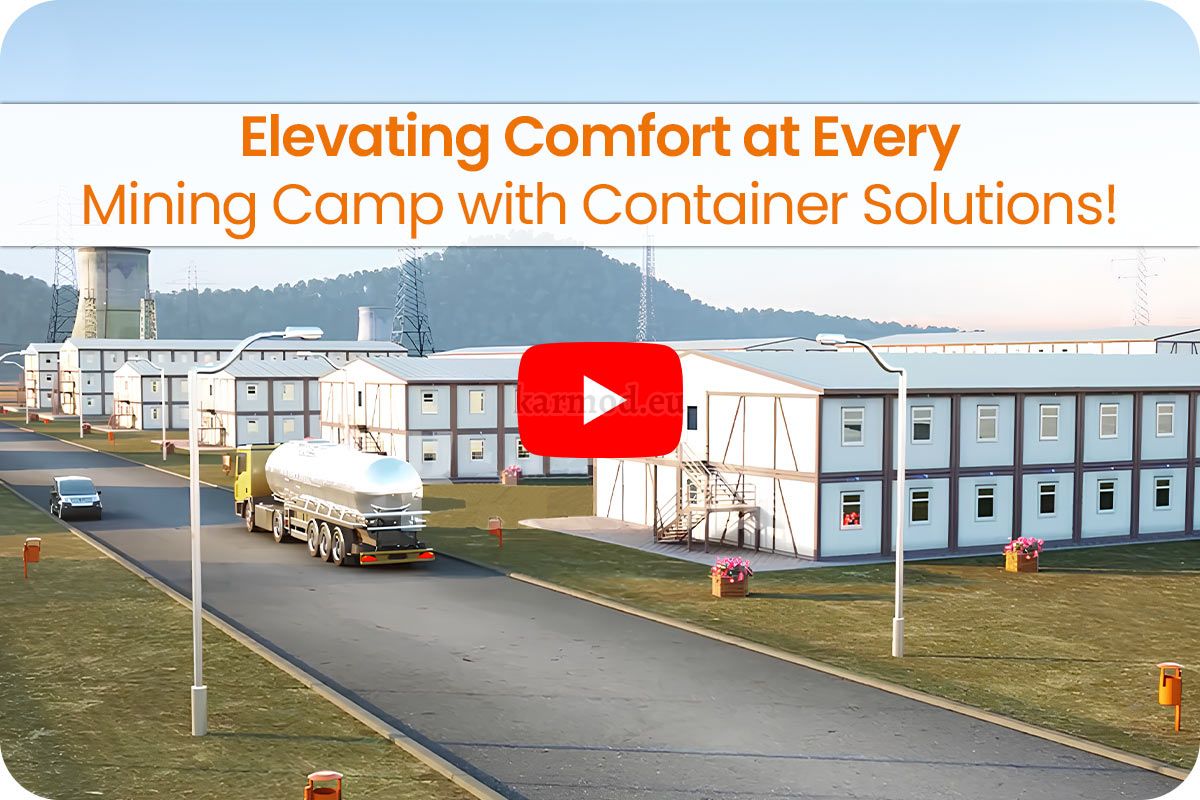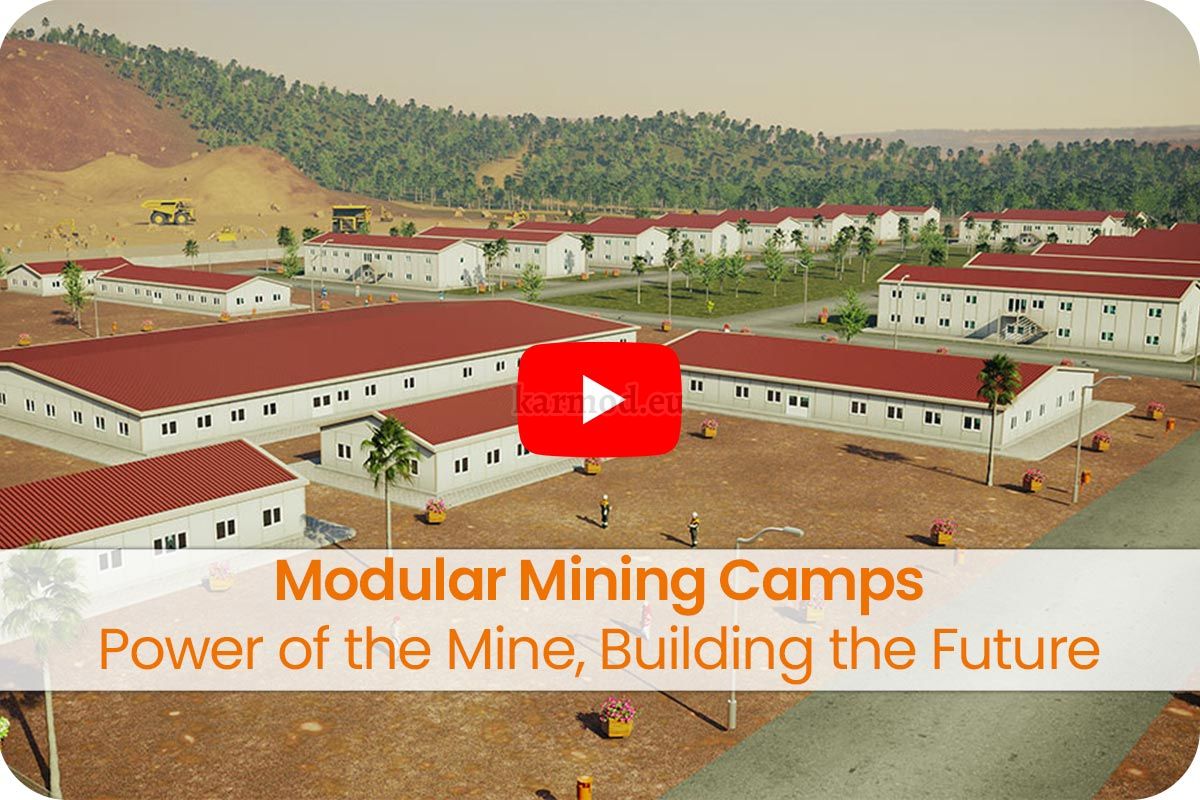 Guinea-Bissau Portable Mining Camp:

Portability has never been this efficient. Karmod understands the dynamic needs of mining operations. The portable mining camps offered are designed for rapid deployment, ensuring that you can start your operations without any undue delays. Whether it's a change in project site or an expansion requirement, these portable units can be relocated with minimal fuss.

Guinea-Bissau Modular Mining Camp:

Embracing the concept of modular design, Karmod's modular camps represent the pinnacle of modern construction. These units are pre-fabricated, ensuring consistent quality and quick assembly on site. Moreover, the modular nature allows for easy scalability, ensuring your camp can grow as your operations expand.

Guinea-Bissau Mining Camp Management:

Beyond the physical structures, Karmod extends its expertise to camp management. With a keen understanding of the mining industry's unique challenges in Guinea-Bissau, Karmod offers comprehensive solutions, from utilities management to security protocols, ensuring seamless operations.

Guinea-Bissau Mining Camp Kitchen:

Recognizing the importance of well-fed personnel, Karmod places special emphasis on kitchen facilities. Designed to cater to large teams, these kitchens are equipped with state-of-the-art appliances, ensuring nutritious meals round the clock.

Guinea-Bissau Mining Camp for Sale:

Here's the most exciting part. Karmod is currently offering these world-class mining camps for sale in Guinea-Bissau. A golden opportunity to secure top-tier infrastructure for your mining operations, ensuring maximum productivity and morale.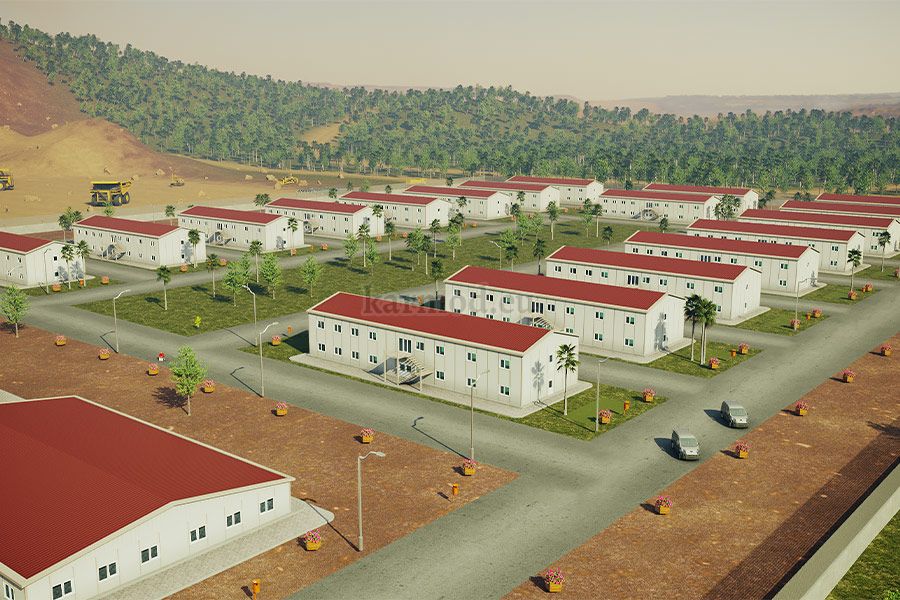 In the ever-evolving landscape of the mining industry, aligning with a trusted partner like Karmod ensures that your infrastructural needs are not just met but exceeded. With their impeccable track record and commitment to excellence, Karmod stands as the undisputed leader in mining camp solutions in Guinea-Bissau. Don't miss out on this exclusive offer. Secure the future of your mining operations with Karmod today!
Luxurious Mining Camp Accommodation in Guinea-Bissau
In the heart of Guinea-Bissau, a new standard of luxury and comfort is being set in the realm of mining accommodations. Karmod, a brand synonymous with excellence and innovation, brings forth an opulent experience even in the most rugged terrains. No longer does one need to compromise comfort for functionality in a mining environment. Karmod ensures every mining professional returns to a sanctuary of relaxation after a hard day's work.
Within Karmod's luxurious accommodations, you'll find interiors that rival top-tier hotels. Spacious rooms, modern amenities, and ergonomic designs come together to create a harmonious living space. The meticulous attention to detail, from high-quality beddings to advanced HVAC systems, ensures optimal comfort throughout your stay. These accommodations aren't just places to rest; they're designed as retreats to rejuvenate and refresh.
Moreover, understanding the diverse needs of mining professionals, Karmod's accommodations cater to various preferences. Whether it's a suite with a panoramic view of Guinea-Bissau's landscapes or a cozy nook for some solitary time, Karmod has got you covered.
Masterful Construction of Guinea-Bissau Mining Camp Buildings
When it comes to constructing mining camp buildings in Guinea-Bissau, Karmod stands out not just for the quality of its structures but for the mastery behind each construction. With decades of experience under their belt, Karmod seamlessly marries functionality with aesthetics, setting a benchmark in the industry.
Every building constructed by Karmod in Guinea-Bissau stands as a testament to their commitment to excellence. Utilizing cutting-edge construction techniques and materials of the highest grade, these structures are designed to withstand the test of time and the challenges posed by the dynamic mining environment. Safety, a paramount concern in the mining sector, is ingrained into the very foundation of these buildings. From fire-resistant materials to advanced structural designs that can weather severe conditions, no stone is left unturned in ensuring the safety of the inhabitants.
Yet, what truly sets Karmod apart is their ability to infuse elegance into these robust structures. Their buildings in Guinea-Bissau aren't just functional units but architectural marvels. With sleek designs, thoughtful layouts, and aesthetic appeal, Karmod's mining camp buildings effortlessly blend the best of both worlds.
In conclusion, if it's masterful construction, unparalleled safety, and a touch of luxury you seek for your mining operations in Guinea-Bissau, Karmod is the name to trust. With their impeccable track record and an unwavering commitment to excellence, they continue to redefine standards in the mining accommodation sector.
Elevate Your Expectations with Karmod's Mining Camp Design in Guinea-Bissau
Karmod is more than just a name in the construction industry; it's a promise of excellence, and nowhere is this more evident than in their mining camp designs in Guinea-Bissau. If you've been searching for designs that prioritize both efficiency and aesthetics, then it's time to elevate your expectations with Karmod.
Innovative Layouts: With Karmod's design team, innovation is at the forefront. Every layout is conceived keeping in mind the specific needs of mining professionals, ensuring ease of movement, ample space, and practicality.
Sustainability: In today's era, sustainable designs aren't just preferred; they're necessary. Karmod incorporates eco-friendly materials and green construction techniques, making your mining camp not just good for you, but also for the planet.
The Modular Edge: The modular camp approach adopted by Karmod allows for swift construction without compromising on quality. This ensures that your mining operations can start sooner, with camp setups that are both sturdy and stylish.
Customized Solutions: Recognizing that each mining operation is unique, Karmod offers bespoke designs. Tailored to your specific requirements, these solutions guarantee optimal functionality and satisfaction.
Unmatched Excellence: Karmod, Your Premier Choice for Guinea-Bissau Mines
When discussing mining solutions in Guinea-Bissau, one name emerges as the frontrunner: Karmod. Their commitment to delivering unmatched excellence has solidified their position as the go-to choice for mining professionals.
End-to-End Service: From the conceptualization stage to the actual construction, Karmod handles everything. Their all-encompassing service ensures that clients can focus on their mining operations, leaving the accommodation logistics to the experts.
Top-of-the-line Materials: Quality assurance is a hallmark of Karmod. By utilizing only the best materials in the market, they guarantee structures that aren't just beautiful but also built to last.
Safety First: Understanding the intrinsic risks associated with mining, Karmod places an emphasis on safety. Their buildings in Guinea-Bissau adhere to global safety standards, offering peace of mind to their clients.
Unwavering Commitment: What truly sets Karmod apart is their dedication to their clients. Their team is always ready to assist, ensuring that every concern is addressed promptly and effectively.
In conclusion, if you're venturing into the mining sector in Guinea-Bissau, partnering with Karmod is a decision you won't regret. Their legacy of excellence, combined with their modern, innovative solutions, makes them the premier choice in the region.