Embarking on a mining venture in Jordan demands not just significant financial investment but also a robust infrastructure to sustain the operation. That's where Karmod steps in with its superior quality, meticulously designed mining camps. This exclusive offer to own your Jordan mining camp is not just a call to acquire property; it's an invitation to elevate operational efficiency, safety, and comfort for your workforce. Here are some compelling attributes of Karmod's Jordan mining camp offerings: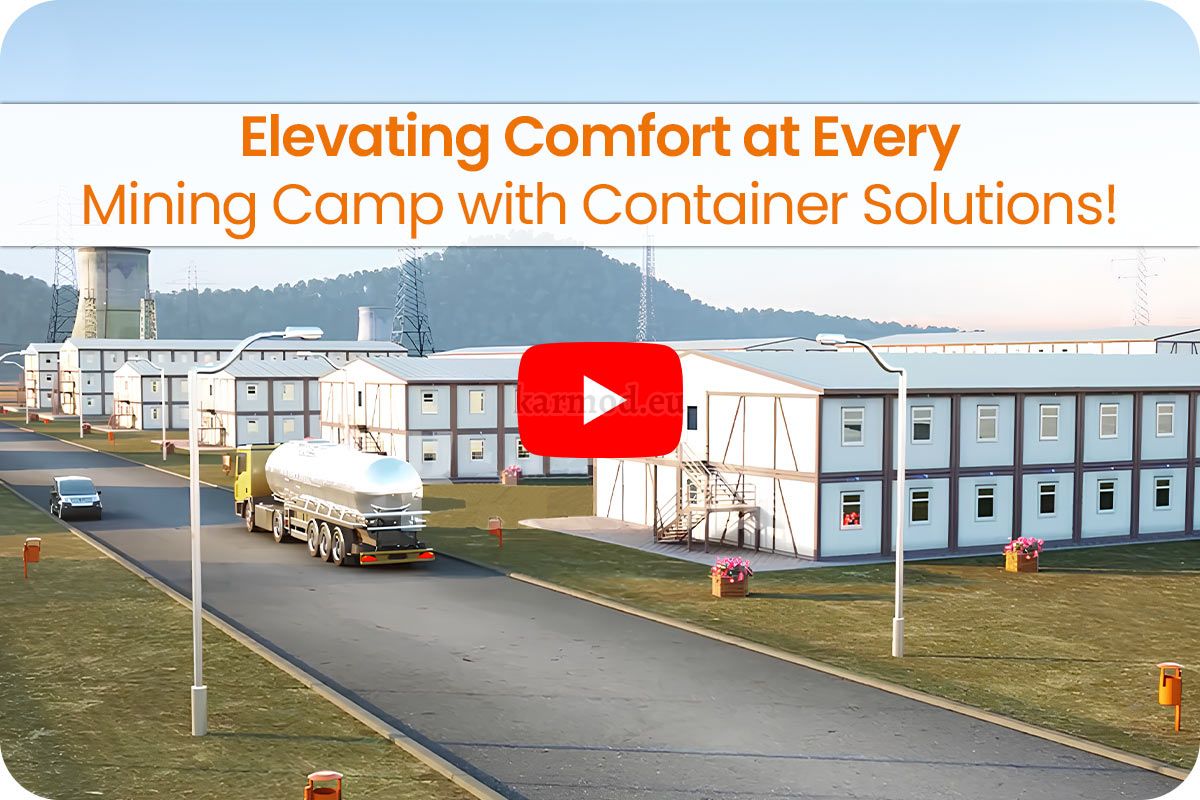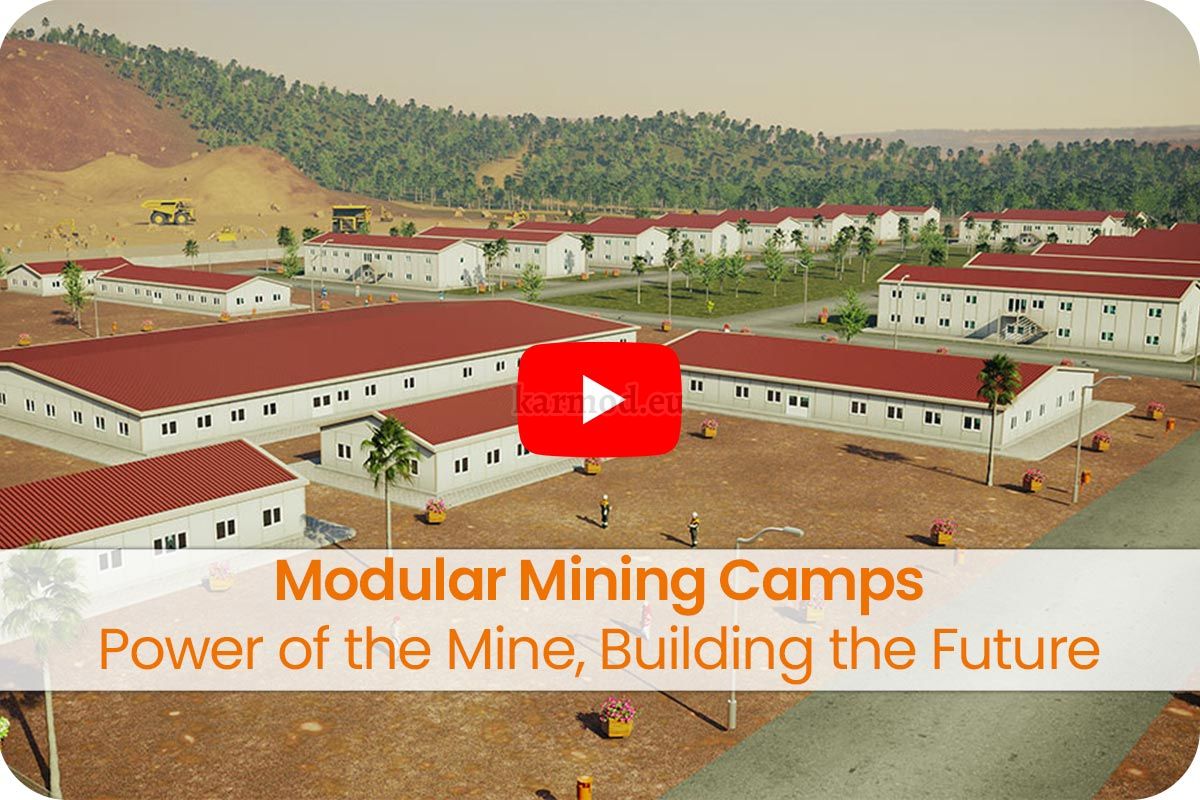 Jordan Portable Mining Camp:

Karmod's portable mining camps offer a blend of mobility and durability. Engineered with precision, these portable units can be easily relocated to adapt to the changing needs of your mining operations, ensuring that your investment continues to serve you irrespective of geographical shifts.

Jordan Modular Mining Camp:

The modular mining camp design by Karmod is a testament to modern architectural excellence. These modular units can be effortlessly assembled and disassembled, offering a flexible layout that evolves with your project requirements.

Jordan Mining Camp Management:

Effective management is pivotal for the success of any mining operation. Karmod's mining camps come with an integrated management system that orchestrates the seamless operation of various utilities and services, ensuring a conducive environment for both work and relaxation.

Jordan Mining Camp Kitchen:

Nutrition and timely meals are crucial for maintaining the high energy levels required in a mining environment. Karmod's mining camp kitchens are designed to cater to a large workforce with industrial-grade appliances and hygienic food preparation and dining areas.

Jordan Mining Camp for Sale:

This exclusive offer encapsulates a golden opportunity to own a piece of operational excellence in Jordan. The mining camps for sale are not just structures, but a comprehensive solution to housing, managing, and feeding your workforce amidst the challenging mining landscapes.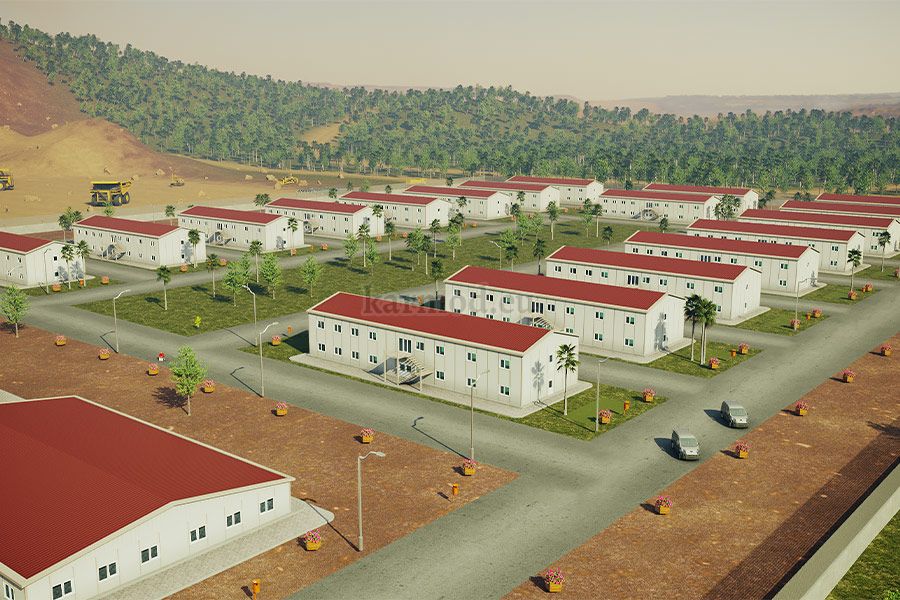 In a sector where operational exigencies can change swiftly, having a reliable, flexible, and durable housing solution for your workforce is invaluable. Karmod's mining camp solutions in Jordan are engineered to meet the rigorous demands of mining operations, ensuring a conducive, safe, and comfortable environment for your team. Owning a Karmod mining camp is not just a purchase; it's a long-term investment in the sustainable success of your mining venture in Jordan.
Luxurious Mining Camp Accommodation in Jordan
In the harsh, demanding environment of mining operations, ensuring a comfortable, luxurious accommodation for your workforce can significantly uplift morale and productivity. Karmod has mastered the art of combining luxury with practicality in its mining camp accommodations in Jordan. Amidst the rugged terrains, Karmod's camps stand as an oasis of comfort, offering a serene retreat after a long day of toil. The design aesthetics are tailored to provide a homely ambiance while adhering to the highest standards of safety and functionality.
The interior layouts are planned meticulously to allow maximum space utilization, ensuring every square inch serves a purpose. High-quality materials are used in the construction, ensuring the longevity of the structures while providing a luxurious feel. The comfort of the employees is a priority, with well-ventilated rooms, comfortable bedding, and modern amenities. Despite the harsh external conditions, the insulation technology used keeps the interiors cozy and comfortable.
Moreover, the mining camp accommodations come with recreational facilities where employees can unwind and rejuvenate. This holistic approach towards creating a balance between work and relaxation significantly contributes to the mental and physical well-being of the workforce, subsequently boosting their performance.
Masterful Construction of Jordan Mining Camp Buildings
Karmod's expertise shines through in the masterful construction of Jordan mining camp buildings. The construction process is a blend of innovative design, engineering excellence, and a deep understanding of the challenging mining environment in Jordan. Karmod employs modern construction techniques to ensure that the mining camp buildings are sturdy, durable, and capable of withstanding the harsh conditions associated with mining operations.
Precision is the hallmark of Karmod's construction process. Each module is crafted with accuracy to ensure seamless assembly on site. The use of high-quality, durable materials is non-negotiable, ensuring that the structures can withstand the test of time and the harsh climatic conditions of mining sites.
Safety is embedded in the DNA of Karmod's construction process. The buildings are designed to comply with all the relevant safety standards, ensuring a safe haven for the workforce amidst the challenging mining landscapes. Moreover, Karmod's environmentally conscious construction process ensures minimal environmental impact, aligning with global sustainability goals.
The elegance of design coupled with constructional robustness makes Karmod's mining camp buildings in Jordan a blend of aesthetic appeal and operational functionality. This masterful construction reflects a perfect amalgamation of architectural innovation and pragmatic engineering, making Karmod the go-to choice for mining camp buildings in Jordan.
Elevate Your Expectations with Karmod's Mining Camp Design in Jordan
When it comes to setting up mining camps in Jordan, only the best will suffice. Karmod steps up to this challenge with designs that not only meet but significantly exceed industry standards. With an experience-rich backdrop, Karmod is revolutionizing the concept of mining camp design in Jordan. Their approach merges modern architectural flair with practical functionality, creating living and working spaces that are as comfortable as they are efficient.
Aesthetic Appeal: Karmod's designs are an embodiment of modern elegance. They provide a visually pleasing environment which is essential for maintaining the morale and well-being of the mining personnel.
Modular Flexibility: The innovative use of modular camp design ensures that Karmod's mining camps are not just sturdy but also flexible and adaptable. This modularity facilitates easy expansions or modifications as per the evolving needs of the mining project.
Optimal Space Utilization: Every inch of space is smartly utilized ensuring that the camps are spacious and uncluttered, promoting a serene, organized work, and living environment.
Safety Compliance: Safety is not just an add-on but a fundamental aspect of Karmod's design philosophy. Every mining camp design adheres to, and often exceeds, the rigorous safety standards pertinent to mining operations.
Eco-Friendly Designs: In a bid to promote sustainability, Karmod employs eco-friendly materials and construction practices, ensuring minimal environmental footprints.
Unmatched Excellence: Karmod, Your Premier Choice for Jordan Mines
In the landscape of Jordan mines, the name Karmod resonates with unmatched excellence. With a legacy of delivering top-notch mining camp solutions, Karmod has established itself as the premier choice for mining operations in Jordan.
Robust Construction: The robustness of Karmod's construction technology ensures longevity and durability even in the harsh conditions prevalent in mining areas.
Customization: Karmod's ability to tailor solutions to meet the unique needs of every mining project in Jordan sets them apart from the competition.
Quality Assurance: With a stringent quality control regimen, Karmod ensures that every construction element meets the highest quality standards, providing unparalleled value.
Professional Expertise: The seasoned team of architects, engineers, and construction professionals at Karmod bring a wealth of expertise to every project, ensuring flawless execution from start to finish.
On-Time Delivery: Time is of the essence in mining operations, and Karmod's commitment to adhering to project timelines ensures that your mining camp is set up swiftly and proficiently.
Karmod's reputation for unmatched excellence isn't unfounded but a testimony to their relentless pursuit of perfection, making them the undisputed choice for mining camp constructions in Jordan. Through meticulous planning, superior design, and masterful execution, Karmod delivers not just buildings, but a promise of quality, safety, and satisfaction.