In the heart of Kazakhstan's robust mining industry, discover the epitome of efficiency, innovation, and comfort with Karmod's Kazakhstan mining camp for sale. Engage in an exploration where each element, from Kazakhstan portable mining camp to modular solutions, epitomizes unmatched quality and cutting-edge technology.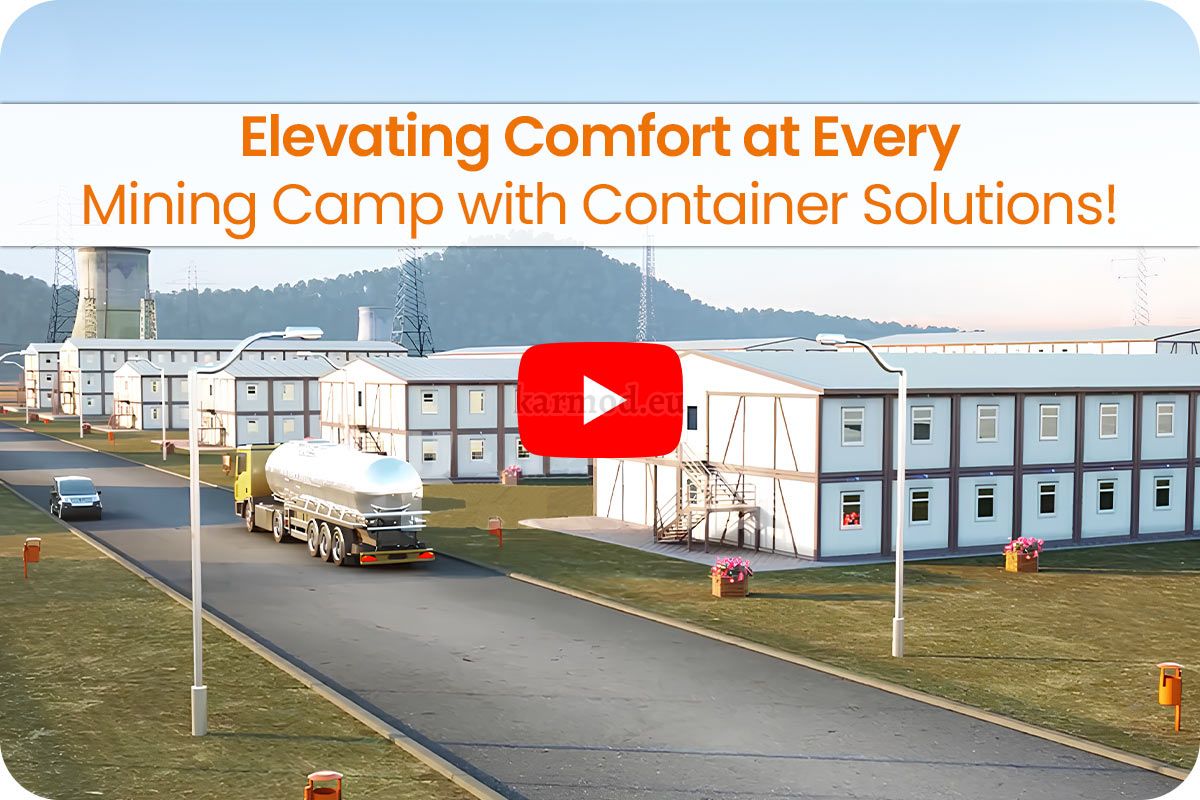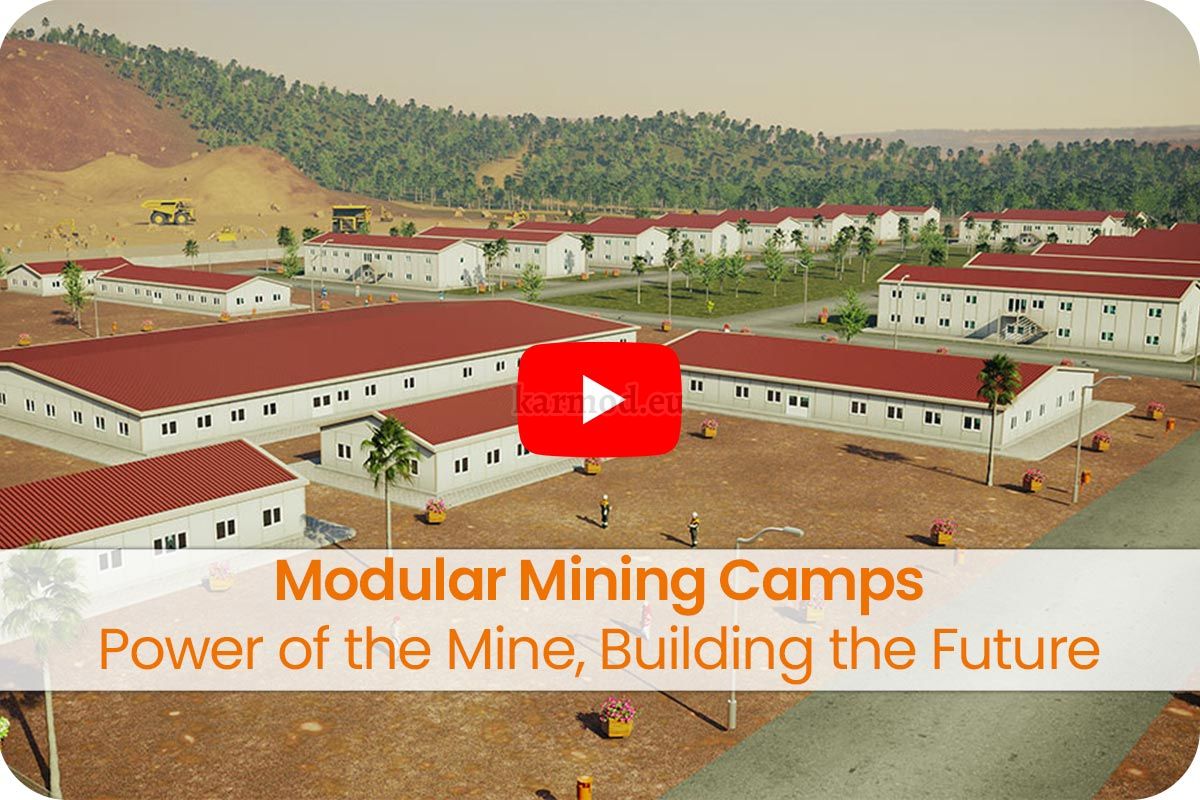 Kazakhstan Portable Mining Camp: Experience the freedom of mobility without compromising on comfort and security. Karmod's portable mining camps in Kazakhstan provide convenient, flexible, and swift setup options ensuring your operations are up and running in no time.
Kazakhstan Modular Mining Camp: Embark on a journey of sustainability and efficiency with Karmod's modular mining camp. In Kazakhstan, where the terrains are as diverse as its rich mineral resources, these modular camps offer robust and resilient solutions, effortlessly withstanding diverse environmental conditions.
Kazakhstan Mining Camp Management: Navigate the realms of seamless and efficient camp management with Karmod. From planning and design to execution, Karmod's dedicated team ensures your Kazakhstan mining camp runs smoothly, adhering to the highest standards of safety, functionality, and comfort.
Kazakhstan Mining Camp Kitchen: Dive into the world of culinary excellence even in the most remote locations. Karmod's mining camp kitchens in Kazakhstan are equipped with state-of-the-art facilities ensuring your team is fueled with nutritious and delectable meals, enhancing overall productivity and satisfaction.
Kazakhstan Mining Camp for Sale: Seize the exclusive offer to own a mining camp in Kazakhstan, tailor-made by Karmod, a pioneer in delivering exceptional quality and innovative solutions in the mining camp sector. Relish the blend of comfort, functionality, and efficiency, ensuring your mining operations flourish amidst superior structures and unparalleled support.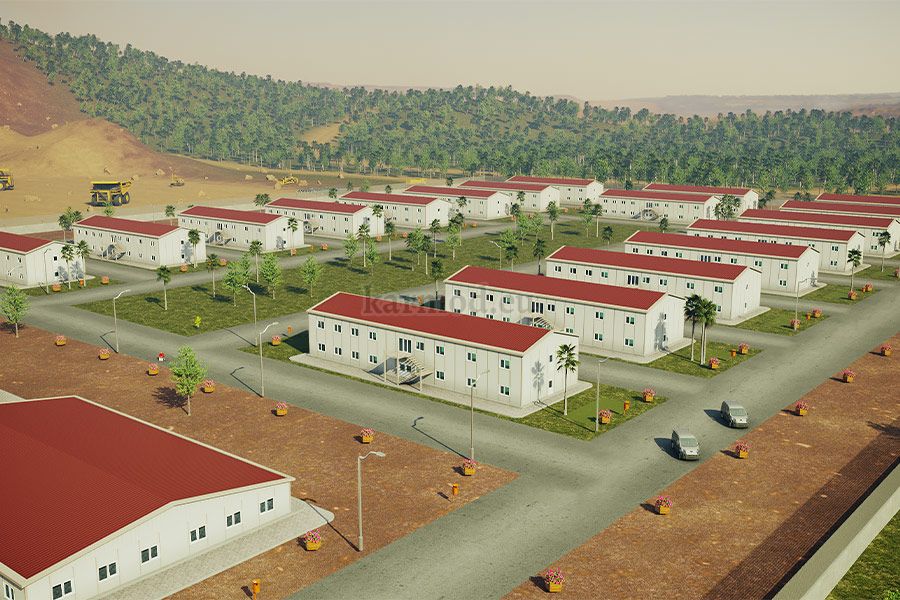 Immerse yourself in a world where innovation, efficiency, and comfort converge. With Karmod's mining camps in Kazakhstan, transcend traditional boundaries, ensuring your mining operations thrive amidst the epitome of quality and technology, driving success and fostering growth. Own your Kazakhstan mining camp now, and embark on a journey of excellence, innovation, and unrivaled success with Karmod. Your journey towards mining excellence in Kazakhstan begins now.
Luxurious Mining Camp Accommodation in Kazakhstan
In the bustling mining sectors of Kazakhstan, Karmod stands out, offering not just functional and practical solutions but also epitomizing luxurious mining camp accommodation. Elevate your mining operation experience as Karmod delivers an unrivaled standard of living, ensuring that every minute spent within the mining camp's walls reverberates the comfort and security akin to a deluxe abode. Tailor-made to meet diverse needs and demands, Karmod's luxurious accommodations in Kazakhstan blend the perfect mix of comfort, space, and modern amenities, ensuring that every stay is marked by contentment and well-being. This exceptional comfort seamlessly blends with the rugged and robust requirements of mining operations, ensuring not just a place to rest but a haven of relaxation and rejuvenation amidst the challenging mining environment. At Karmod, experience the epitome of luxurious accommodation, ensuring that every mining expedition is paired with a home that echoes comfort, safety, and luxury in every corner.
Masterful Construction of Kazakhstan Mining Camp Buildings
Karmod transcends the traditional bounds in the construction of Kazakhstan mining camp buildings. Grounded in technical excellence, innovative solutions, and a deep understanding of the unique challenges and requirements of the mining industry in Kazakhstan, Karmod exemplifies masterful construction techniques. Each structure bears the hallmark of Karmod's commitment to quality, durability, and efficiency. The advanced and precise construction methodologies employed by Karmod ensure that every building is not just a structure but a testament to excellence and reliability. Amidst the diverse and demanding terrains of Kazakhstan, Karmod's mining camp buildings stand tall, epitomizing resilience and robustness, ensuring seamless operations and optimum functionality in every aspect. With Karmod, embrace the assurance of masterfully constructed buildings, designed and built to withstand the test of time and environment, amplifying your mining operations' efficiency and success in Kazakhstan.
Elevate Your Expectations with Karmod's Mining Camp Design in Kazakhstan
Expectations are meant to be exceeded, and in the world of mining camp design in Kazakhstan, Karmod is the name you can trust to elevate those expectations to new heights. Karmod's innovative and superior mining camp designs are tailored specifically to meet the rugged demands of Kazakhstan's expansive mining sector. Fusing functionality with exceptional aesthetics, Karmod's designs prioritize comfort, safety, and efficiency, ensuring a harmonious blend of work and relaxation within the mining camp premises. Experience the modular camp advantage with Karmod's cutting-edge design concepts that emphasize easy installation, durability, and adaptability to the varied and often harsh mining environments of Kazakhstan. Here, every design intricacy is meticulously addressed, ensuring every Karmod mining camp not only meets but surpasses industry standards, offering an enhanced living and working experience for every miner on site. It's time to elevate your expectations. It's time to choose Karmod, where superior mining camp design and unmatched functionality converge in Kazakhstan's mining landscapes.
Unmatched Excellence: Karmod, Your Premier Choice for Kazakhstan Mines
When it comes to offering unmatched excellence in the mining sectors of Kazakhstan, look no further than Karmod. Your search for a reliable, efficient, and innovative partner for all your mining camp needs ends with Karmod's comprehensive solutions. With a proven track record of delivering excellence across varied mining projects in Kazakhstan, Karmod's expertise stands as a beacon of reliability and innovation. Embrace the assurance of working with the best in the business, where every solution is crafted with precision, care, and a deep understanding of the unique demands of Kazakhstan's mining industry. From sophisticated mining camp management to state-of-the-art mining camp kitchen facilities, Karmod is your premier choice, ensuring that every aspect of your mining operations is handled with unmatched expertise and commitment to excellence. Choose Karmod, and make the leap to unparalleled success in your Kazakhstan mining endeavors.