Embarking on a mining venture in Laos necessitates a robust setup to withstand the demands of this industrious endeavor. What stands between success and operational chaos is often the quality and design of your mining camp. Enter Karmod, a distinguished brand synonymous with superior quality and ingenious designs in mining camp constructions. Seize the exclusive offer now to own a premium Laos mining camp tailored to meet and exceed the industry standards.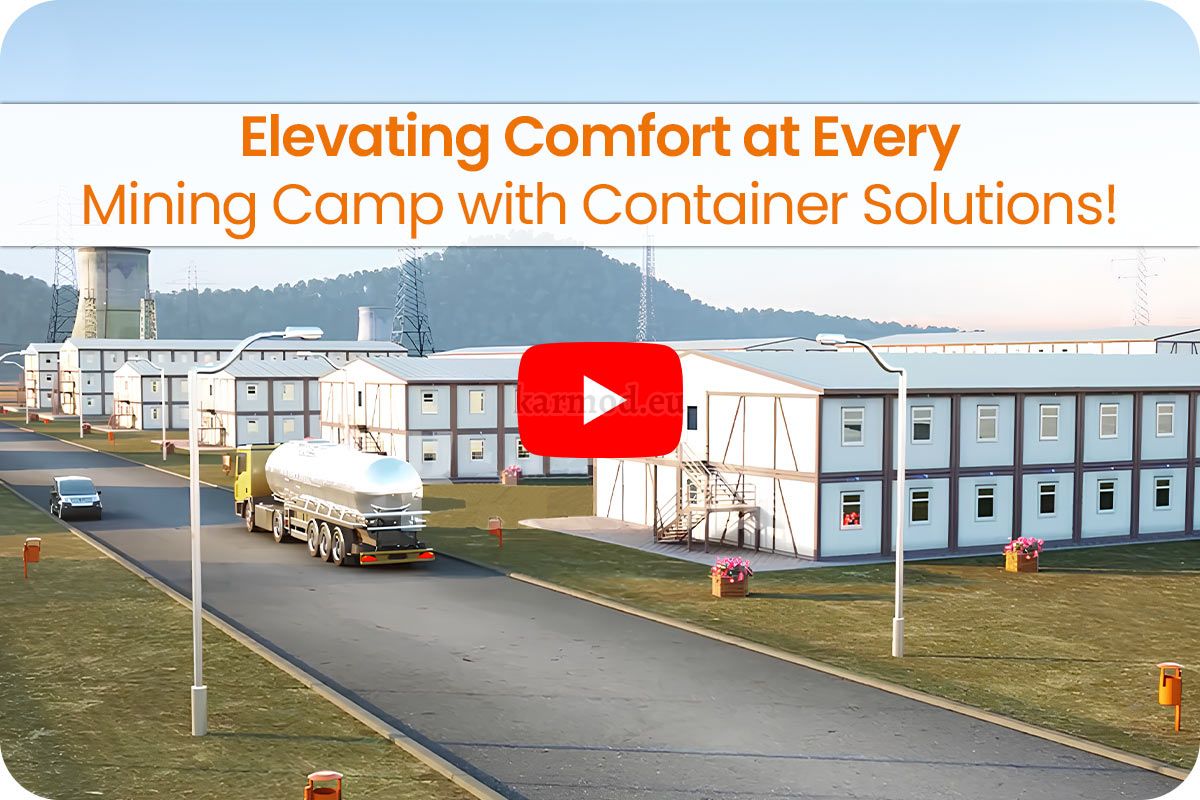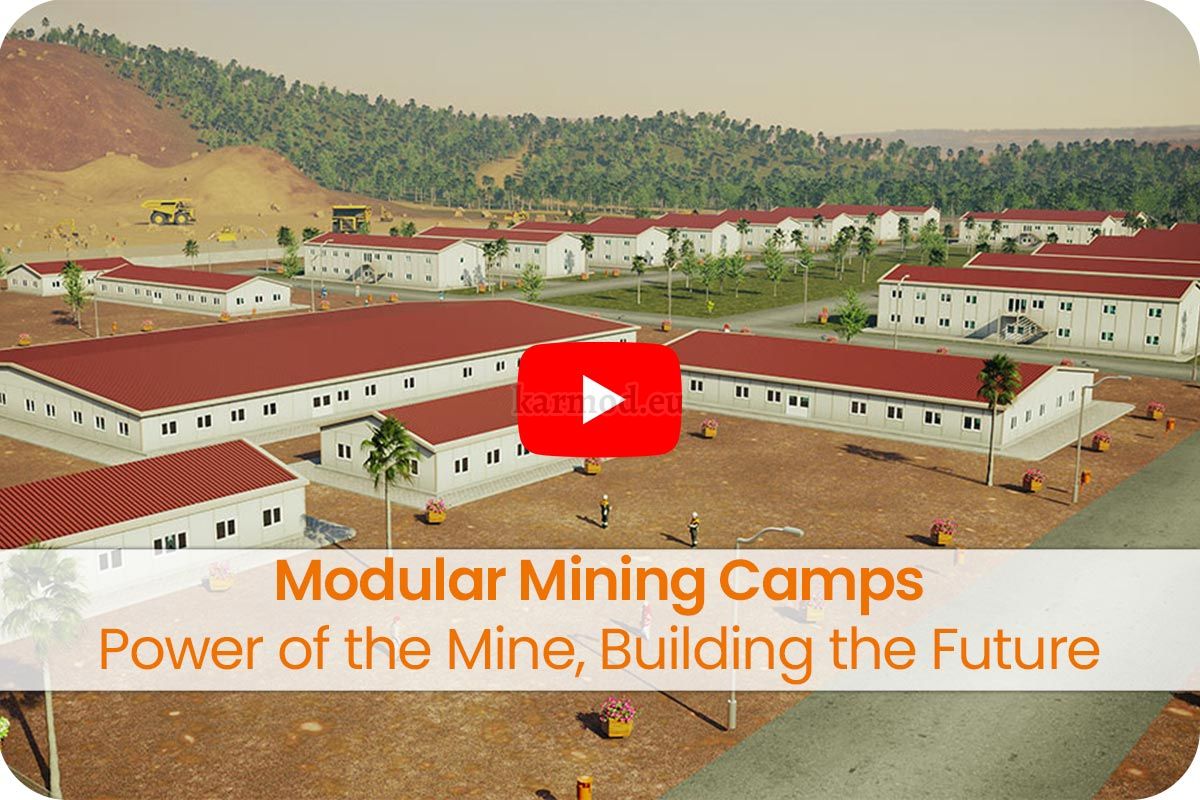 Laos Portable Mining Camp: Mobility and quick setup are essential in the dynamic mining landscape. Karmod's Laos portable mining camp solutions embody these principles, offering swift, hassle-free setups without compromising on quality or comfort. Designed for optimum mobility, these camps are a testimony to Karmod's innovative approach towards evolving mining camp solutions.
Laos Modular Mining Camp: Modularity is the bedrock of modern mining camp construction. Karmod's Laos modular mining camp structures epitomize adaptability and rapid installation. These modular units can be configured to meet the distinct needs of your mining operations, ensuring a seamless workflow while providing a sturdy and comfortable living and working environment.
Laos Mining Camp Management: Effective management is pivotal for smooth mining operations. Karmod provides an integrated Laos mining camp management system that streamlines operational processes, ensures safety, and enhances productivity. The holistic management solutions cover everything from site planning to routine maintenance, embodying a proactive approach towards tackling the myriad challenges in mining camp management.
Laos Mining Camp Kitchen: A well-fed team is a productive team. Karmod understands the importance of nutritious meals in a demanding work environment. The Laos mining camp kitchen designs prioritize hygiene, efficiency, and the ability to cater to a large number of personnel. With modern kitchen facilities, preparing and serving nutritious meals becomes a hassle-free task.
Laos Mining Camp for Sale: This exclusive offer to own a Laos mining camp is a golden opportunity to secure a sustainable, well-designed mining camp from Karmod. The sale encompasses a range of mining camp designs that cater to different operational needs and scales of mining projects.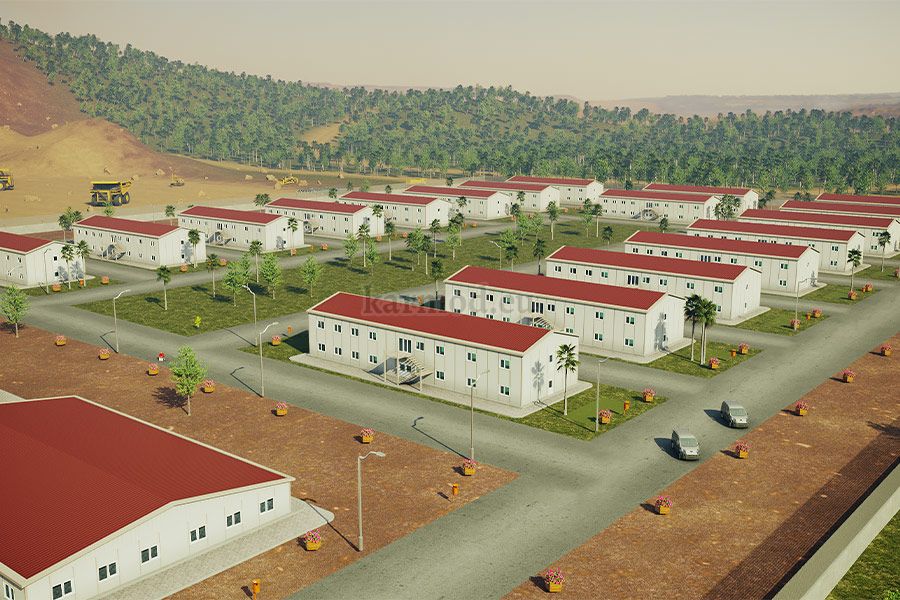 Acquiring a Karmod mining camp for your Laos venture is a prudent investment towards ensuring operational excellence and the well-being of your workforce. With Karmod, you are not just getting structures; you are securing a partnership with a seasoned brand, committed to delivering exceptional value and support in your mining endeavors. The exclusive offer is a step towards achieving a seamless, productive, and safe mining operation in the heart of Laos.
Luxurious Mining Camp Accommodation in Laos
Indulging in luxury amidst the industrious environment of mining sites in Laos is no longer a distant dream. The concept of luxurious mining camp accommodation has been revolutionized to combine both comfort and functionality. It's not just about providing a place to rest after a long day of work but about creating an environment where miners can rejuvenate and prepare for the challenges ahead.
Karmod steps in to bridge the gap between harsh working conditions and serene living environments. With meticulous design and top-notch amenities, the mining camp accommodations by Karmod are an epitome of luxury nestled in the heart of industriousness. These accommodations are well-equipped with modern facilities ensuring that every individual experiences a homely comfort even while away from home.
The architecture is designed to be in harmony with the Laotian landscapes, providing a tranquil retreat. Every unit within the camp is meticulously planned to ensure privacy, comfort, and a luxurious experience. The interior designs are contemporary with a touch of elegance, ensuring that the residents enjoy a premium living experience.
Moreover, the blend of modernity with sustainability makes these luxurious mining camp accommodations in Laos a preferred choice for those looking to invest in long-term mining projects. The durability ensures that the camps withstand the test of time and the harsh conditions of mining sites.
Masterful Construction of Laos Mining Camp Buildings
The construction of mining camp buildings in Laos is a blend of art and engineering mastered over years of experience. The approach towards construction is holistic, ensuring that every aspect from planning to execution is carried out with precision and adherence to the highest standards of quality and safety.
Karmod stands at the forefront of delivering masterful construction solutions for Laos mining camp buildings. The use of modern construction techniques coupled with a deep understanding of the mining industry's needs has propelled Karmod into a league of its own. Each project undertaken is a testament to Karmod's commitment to excellence, showcasing innovative designs, robust construction, and an impeccable finish.
The use of high-grade materials ensures the longevity and durability of the mining camp buildings, making them a worthy investment for mining companies. Furthermore, the construction process is streamlined to ensure timely completion of projects without compromising on the quality.
Incorporating feedback from the end-users, the mining camps are continually evolved to meet the changing demands of the mining industry. This dynamic approach towards construction not only reflects the mastery of Karmod in creating functional and comfortable living and working spaces but also underscores its vision of providing unparalleled solutions in the realm of mining camp construction in Laos.
Elevate Your Expectations with Karmod's Mining Camp Design in Laos
Mining operations require meticulous planning and a robust infrastructure to ensure efficiency and safety. Karmod's mining camp design in Laos is crafted to exceed your expectations by providing a sustainable, durable, and comfortable living and working environment. Here's how Karmod elevates the standard in mining camp designs:
Modular Innovation: Incorporating modular camp construction, Karmod's designs are highly flexible and adaptable to varying mining site conditions. The modular nature also ensures quick deployment and dismantling, saving precious time and resources.
Sustainable Practices: With a strong emphasis on sustainability, Karmod utilizes eco-friendly materials and energy-efficient systems to minimize the ecological footprint of the mining camps.
Comfort and Amenities: Despite the remote and often harsh environment of mining sites, Karmod ensures that the mining camps are equipped with modern amenities providing a comfortable stay for the workforce.
Safety Compliance: Adhering to international safety standards, the mining camp designs incorporate fire-resistant materials, emergency exits, and other safety features ensuring a secure environment.
Customization: Understanding that every mining operation has unique requirements, Karmod offers customized solutions to meet the specific needs of each project.
The excellence in design and attention to detail is what sets Karmod apart, making it a preferred choice for mining camp solutions in Laos.
Unmatched Excellence: Karmod, Your Premier Choice for Laos Mines
Navigating through the challenges of setting up a mining operation in Laos demands a partner who can deliver excellence and reliability. Karmod stands as your premier choice, offering unmatched excellence in providing mining camp solutions. Here's why Karmod is the industry leader:
Expertise: With years of experience and a deep understanding of the mining sector, Karmod is adept at creating mining camp solutions that cater to the unique demands of Laos mines.
Quality Assurance: Adhering to stringent quality control measures, every project delivered by Karmod is a testament to superior craftsmanship and durability.
Turnkey Solutions: From planning to execution, Karmod provides turnkey solutions ensuring a hassle-free setup of mining camps.
Post-Installation Support: Karmod's commitment doesn't end with the installation; they provide ongoing support to ensure the mining camps remain operational and well-maintained.
Innovative Designs: Always at the cutting edge, Karmod continually innovates its designs to provide modern, efficient, and comfortable mining camp accommodations.
The choice of Karmod reflects not only a pursuit of quality but a commitment to ensuring a conducive working and living environment for the mining personnel in Laos. It's not merely about structures; it's about creating spaces where productivity and comfort go hand in hand.