In the heart of Libya's robust mining industry, stand resilient, state-of-the-art mining camps by Karmod. We present an exclusive offer allowing you to own a Libya Mining Camp, embodying unmatched convenience, efficiency, and durability.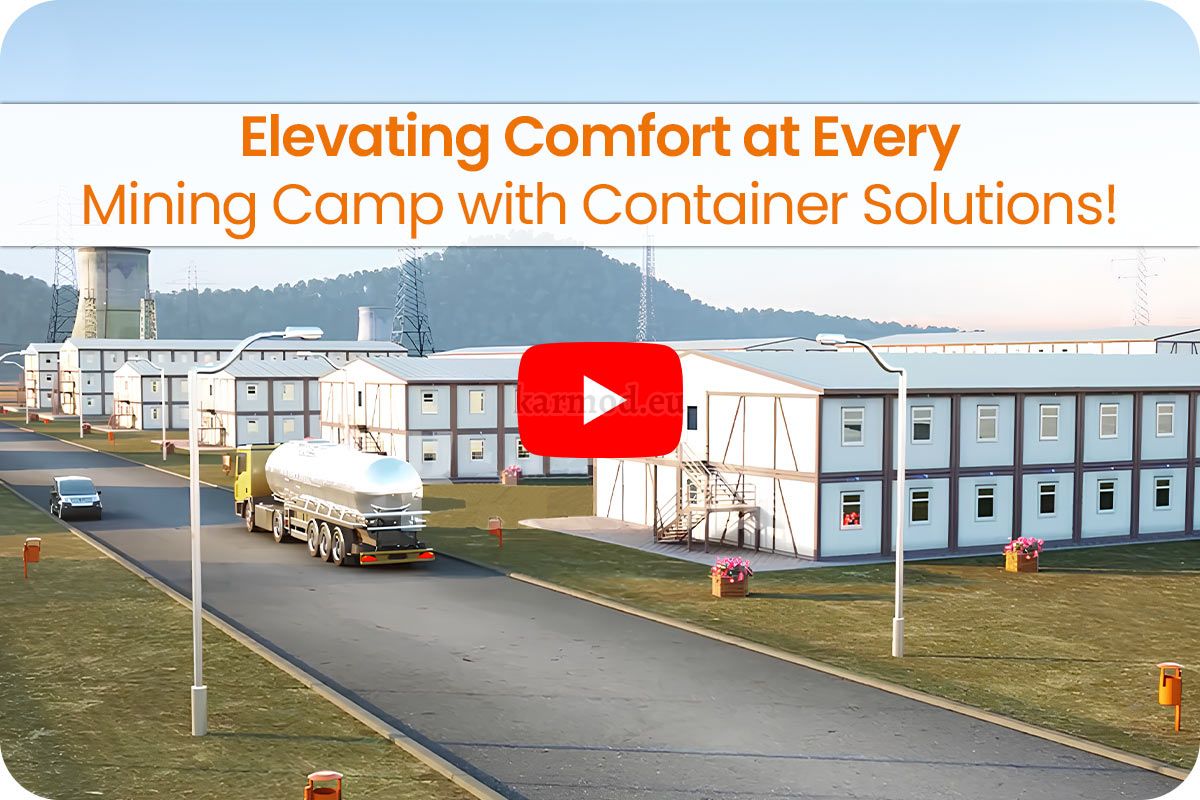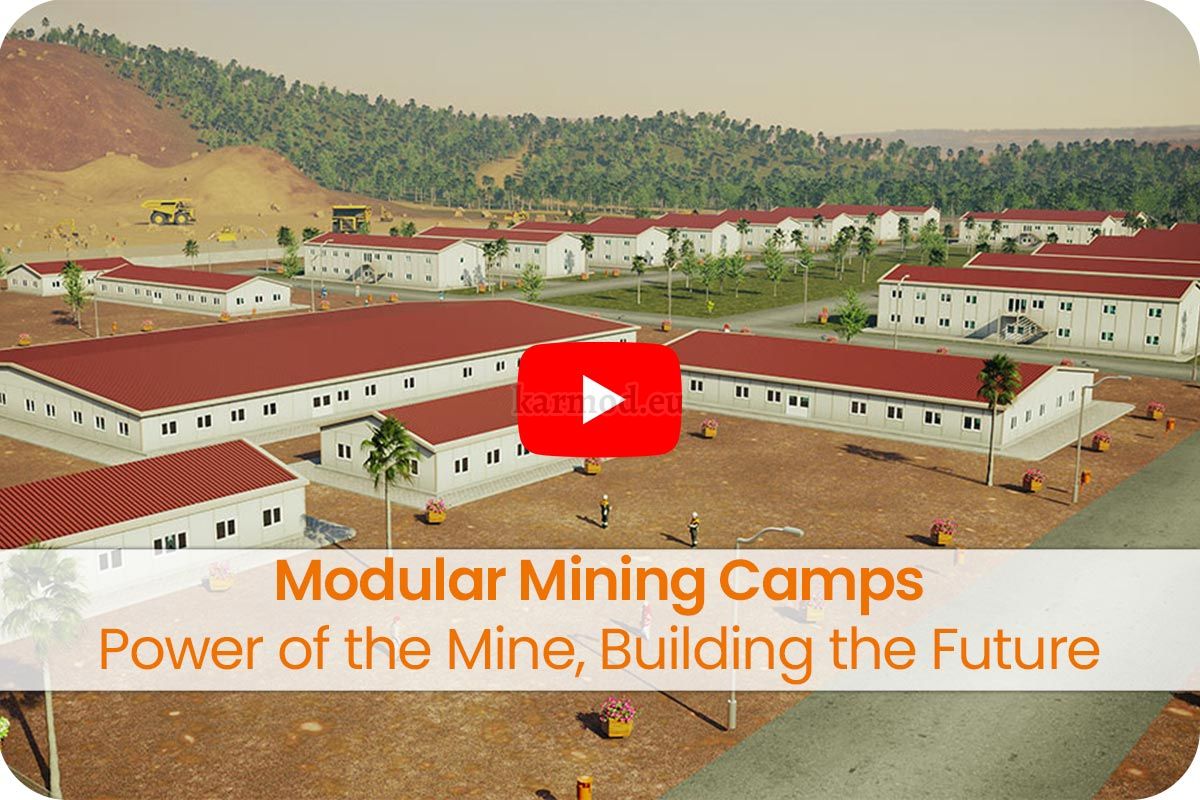 Libya Portable Mining Camp: At Karmod, experience the evolution of portable mining camps in Libya. Crafted with precision and an understanding of the region's unique challenges, these portable camps ensure your mining operations continue seamlessly. The perfect blend of comfort and functionality, they stand as a testament to our commitment to quality and innovation.
Libya Modular Mining Camp: Our modular mining camp designs embody flexibility and efficiency. Every structure is built to withstand Libya's diverse climate, ensuring durability while maintaining comfort and safety standards. The modular camp solutions provided by Karmod, ease your operations, offering streamlined, adaptable, and robust housing solutions for your workforce.
Libya Mining Camp Management: Karmod excels in comprehensive mining camp management in Libya, ensuring every aspect of your camp runs smoothly. From efficient space planning to seamless operational management, we prioritize your camp's optimal functionality, leaving you to focus on your mining operations without any hassles.
Libya Mining Camp Kitchen: Understanding the importance of nutrition and well-being, our mining camps include state-of-the-art kitchen facilities. Our Libya mining camp kitchens are equipped with modern amenities ensuring your workforce is well-nourished, contributing significantly to their productivity and satisfaction.
Libya Mining Camp for Sale: Seize the opportunity to own a cutting-edge mining camp in Libya with Karmod. Our mining camps for sale are designed to meet all your needs, ensuring your operations proceed without interruption, guaranteeing not just operational efficiency but also the welfare and satisfaction of your workforce.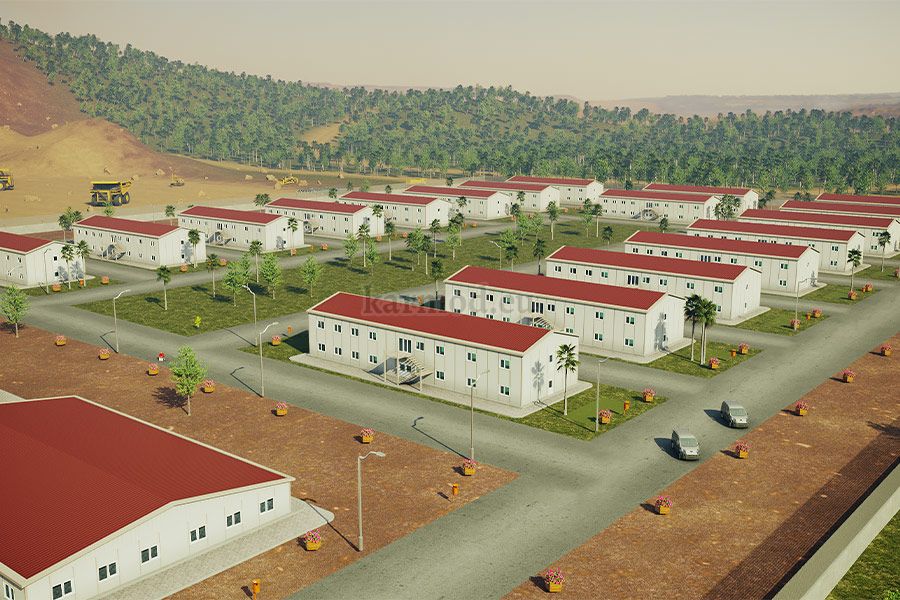 In each aspect, from the inception to the management, Karmod stands as your reliable partner in establishing and maintaining high-standard mining camps in Libya. With our extensive experience and commitment to excellence, elevate your mining operations, ensuring they stand resilient and productive in the flourishing Libyan mining sector.
Embrace the Karmod difference, where every mining camp is a harmonious blend of innovation, durability, and exceptional design, all tailored to meet the unique demands of your mining operations in Libya. Own your mining camp in Libya with Karmod, where excellence is not just delivered; it is guaranteed.
Luxurious Mining Camp Accommodation in Libya
Delve into the world of luxurious mining camp accommodation with Karmod in Libya. The booming Libyan mining sector demands nothing but excellence, and Karmod is here to deliver. Imagine a living space that marries comfort, safety, and luxury, ensuring the well-being of every member of your mining workforce. Karmod believes that premium accommodation is not just about shelter but about creating a home away from home. Each unit is meticulously designed to ensure ample space, light, and ventilation, contributing to a healthy living environment. Karmod's mining camp accommodations in Libya boast top-notch amenities and are built with high-quality materials that ensure durability and longevity. Here, luxury and utility walk hand in hand, ensuring that your team is always well-rested and ready for the challenges ahead.
Masterful Construction of Libya Mining Camp Buildings
Step into the realm of masterful construction with Karmod's Libya mining camp buildings. Each structure stands as a testament to Karmod's unwavering commitment to quality, innovation, and excellence. The construction process is carried out by seasoned experts with an in-depth understanding of the unique demands and challenges of the Libyan environment. Karmod utilizes cutting-edge technology and advanced materials to ensure the creation of robust and durable mining camp buildings in Libya. Every building is constructed to withstand the test of time and elements, ensuring uninterrupted operations and the safety of your workforce. Karmod's Libya mining camp buildings are not just structures; they are a promise of reliability, excellence, and unparalleled quality. Choose Karmod and witness the transformation of your mining operations, where every detail is crafted with precision and care, ensuring the ultimate combination of form, function, and durability.
Opt for Karmod and ensure your mining operations in Libya are equipped with nothing but the best, reflecting the high standards of your business and contributing significantly to the success and growth of your mining endeavors in the heart of Libya.
Elevate Your Expectations with Karmod's Mining Camp Design in Libya
In the fast-paced world of mining, every detail counts, and this is where Karmod's exceptional mining camp design in Libya steps in, elevating your expectations to new horizons. Karmod approaches every project with a visionary lens, pioneering designs that meld functionality, safety, and aesthetic appeal in a seamless blend. Every modular camp is conceived with utmost precision, ensuring optimal utilization of space, robust infrastructure, and an ambiance that breathes comfort and efficiency.
Modular Flexibility: Karmod's designs embrace modular flexibility, allowing for easy expansions and modifications to meet the evolving needs of your mining operations.
Sustainable Solutions: Commitment to eco-friendly and sustainable solutions is at the heart of Karmod's design philosophy. Utilize resources optimally while ensuring minimal environmental impact.
Cutting-Edge Technology: Integrating the latest in construction and design technology, Karmod guarantees robust and future-ready mining camp solutions in Libya.
Take a leap into the future with Karmod, where every design is a testament to innovation, expertise, and uncompromised quality. Let Karmod redefine your expectations, delivering mining camp designs that stand as a beacon of excellence and reliability in the heart of Libya.
Unmatched Excellence: Karmod, Your Premier Choice for Libya Mines
Embark on a journey of unmatched excellence with Karmod, your premier choice for Libya mines. When it comes to providing top-of-the-line mining camp solutions, Karmod stands unrivaled, bringing a wealth of experience, innovation, and unwavering commitment to quality to every project.
Expertise in Libya's Terrain: Navigating the unique landscape and conditions of Libya, Karmod's solutions are tailored to thrive in the region's specific environmental contexts.
Customized Solutions: Karmod excels in delivering customized mining camp solutions, ensuring every aspect aligns with your operational goals and workforce needs.
Comprehensive Services: From planning to execution, Karmod's comprehensive services ensure seamless and hassle-free project completion, allowing you to focus on your core mining operations.
Choose Karmod as your trusted partner and pave the path to unparalleled success in Libya's vibrant mining sector. Experience the Karmod difference, where every solution is crafted with excellence, ensuring your mining operations in Libya not only meet but exceed the highest standards of quality, efficiency, and performance.