In the picturesque landscapes of Madagascar, opportunities for mining flourish, paving the way for high-quality Madagascar mining camps. Renowned for leading the industry in innovation, Karmod stands as a beacon of excellence in providing top-notch Madagascar portable mining camp solutions. Capitalize on this exclusive offer and own your mining camp now!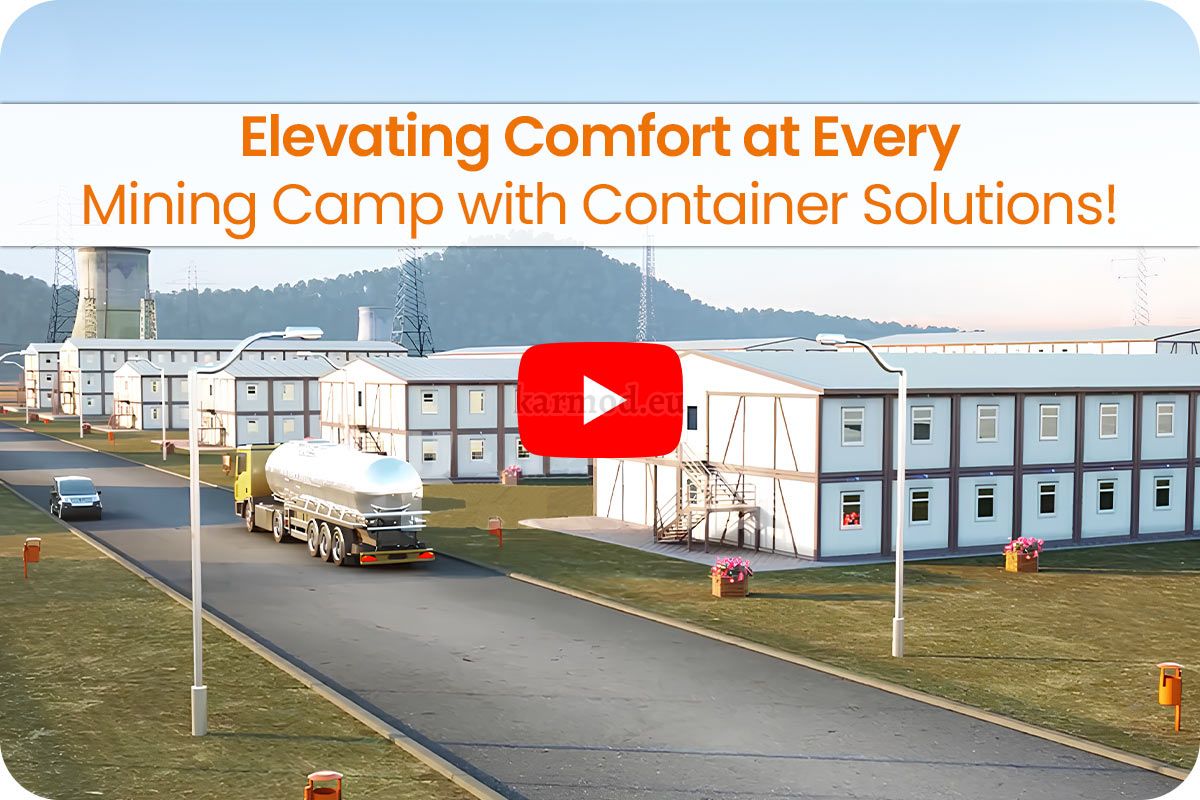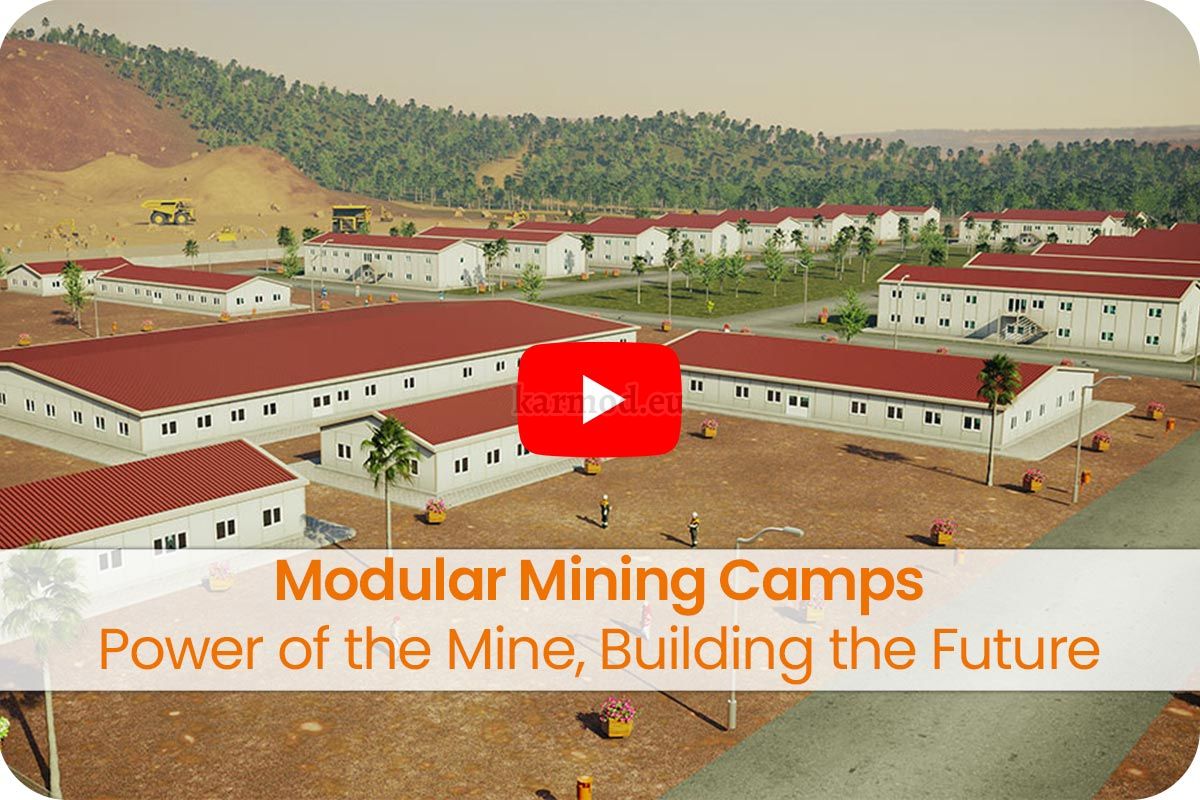 Unmatched Modular Innovation: In every Madagascar modular mining camp, Karmod's exceptional design and cutting-edge technology reflect brilliance. The modular design allows seamless setup, ensuring your operations commence without delay. Enjoy the versatility of the spaces as you experience smooth mining camp management.
Comprehensive Management Solutions: Effortless Madagascar mining camp management is no longer a dream. With Karmod, expect comprehensive solutions that cover every aspect of mining camp management. From superior infrastructure to streamlined operations, every facet is handled with utmost precision, assuring efficiency and productivity in your mining projects.
State-of-the-Art Camp Kitchens: A mining camp is incomplete without a dedicated space for nourishment. Karmod's Madagascar mining camp kitchens are a testament to their commitment to providing holistic solutions. Impeccably designed kitchens ensure your team's well-being is prioritized, contributing to enhanced productivity and satisfaction.
Premium Accommodations: Elevate your team's living standards with Karmod's luxurious mining camp accommodations in Madagascar. Comfort and safety are paramount, with every accommodation meticulously designed to offer a serene and secure living environment.
Seize the Opportunity: Don't miss this golden opportunity to own a Madagascar mining camp for sale with Karmod. Reliability, excellence, and unmatched support are guaranteed, propelling your mining operations to unprecedented heights.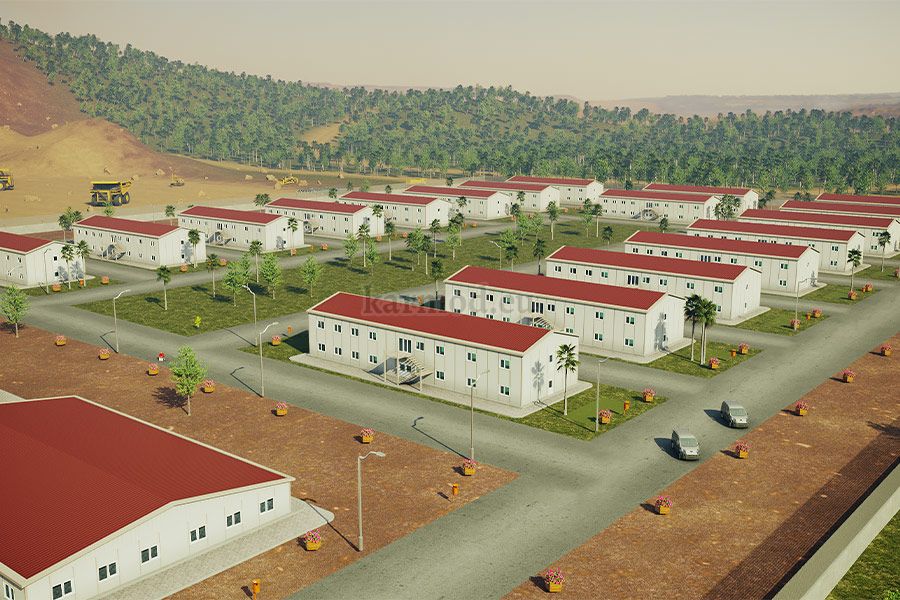 Leverage the pioneering expertise of Karmod and ensure your mining operations in Madagascar flourish with unmatched excellence and efficiency. Opt for Karmod's mining camp solutions and experience the seamless blend of innovation, quality, and comprehensive support. Elevate your mining venture with Karmod - where excellence meets reliability. Own your Madagascar mining camp now and embark on a journey of success and prosperity.
Luxurious Mining Camp Accommodation in Madagascar
When it comes to providing luxurious mining camp accommodation in Madagascar, Karmod is a name you can trust implicitly. Understanding the significant role that comfort and safety play in the productivity and satisfaction of your mining workforce, Karmod's accommodations embody the epitome of luxury and security. Each housing unit is designed with the well-being of inhabitants in mind, ensuring a relaxed and revitalizing environment post a hard day of mining operations. The design aesthetics intertwined with functional excellence make the living spaces a true home away from home. Karmod's commitment to ensuring top-notch living conditions translates into heightened morale and enhanced output from your team, ensuring your mining project in Madagascar progresses smoothly and successfully.
Masterful Construction of Madagascar Mining Camp Buildings
When discussing the masterful construction of Madagascar mining camp buildings, Karmod's expertise shines prominently. The mining camp buildings are a perfect amalgamation of robust construction, innovative design, and modern technology, ensuring longevity and complete safety. Karmod is dedicated to using only high-quality materials and cutting-edge technology in the construction of mining camp buildings, ensuring they withstand various environmental challenges while offering optimum functionality. Karmod's meticulous attention to every aspect of construction translates into mining camp buildings in Madagascar that stand the test of time and elements, ensuring uninterrupted and productive mining operations. The masterfully constructed buildings, coupled with unmatched after-sales support, make Karmod the premier choice for your mining camp building needs in Madagascar. Entrust Karmod with your mining camp construction, and rest assured of an investment that brings rewarding returns in the form of seamless and efficient mining operations.
Elevate Your Expectations with Karmod's Mining Camp Design in Madagascar
In the thriving mining industry of Madagascar, setting up a functional and efficient camp is paramount. Elevate your expectations with Karmod, where cutting-edge design meets practicality. Karmod's unique approach to mining camp design in Madagascar ensures an optimal layout, maximizing space while ensuring comfort and functionality for every user. Safety is never compromised, with each design incorporating state-of-the-art security features and robust construction.
Innovative Designs: Expect tailor-made solutions that cater to specific needs, ensuring every space is utilized for maximum efficiency.
Sustainability: Karmod incorporates eco-friendly materials and technologies, promoting sustainability while ensuring the longevity of the camp.
Comfort and Convenience: The designs include well-thought-out living, recreational, and working spaces, ensuring the well-being and productivity of the mining workforce.
Karmod's designs stand out, ensuring that your mining camp in Madagascar is not just a temporary setup but a reliable, long-standing establishment, facilitating smooth and efficient operations. The modular camp designs provide flexibility and ease of expansion, accommodating the growing needs of your mining projects seamlessly.
Unmatched Excellence: Karmod, Your Premier Choice for Madagascar Mines
Karmod stands out as a beacon of unmatched excellence in the mining industry in Madagascar. When it comes to setting up mining camps that blend efficiency, safety, and comfort, Karmod is your go-to choice.
Unmatched Quality: With Karmod, experience superior quality in every aspect – from construction materials to the finished buildings.
Comprehensive Solutions: Beyond construction, Karmod offers comprehensive solutions including efficient mining camp management and state-of-the-art mining camp kitchen facilities.
Reliable Support: Count on Karmod for consistent and reliable support, ensuring your mining operations in Madagascar run uninterrupted.
Invest in a mining camp solution that guarantees the safety, comfort, and efficiency that your mining operations deserve. With Karmod, experience excellence at every step, ensuring your mining project in Madagascar is set for success. Karmod, your premier choice for mining camps, guarantees a substantial return on investment, solidifying the foundation for your mining success in Madagascar.