In the dynamic realm of mining, having a structured and well-equipped camp is paramount. Seize the exclusive offer now with Karmod, the trusted name in constructing the finest Mali mining camps for sale. Karmod goes above and beyond to deliver excellence, ensuring each mining camp is perfectly tailored to your needs.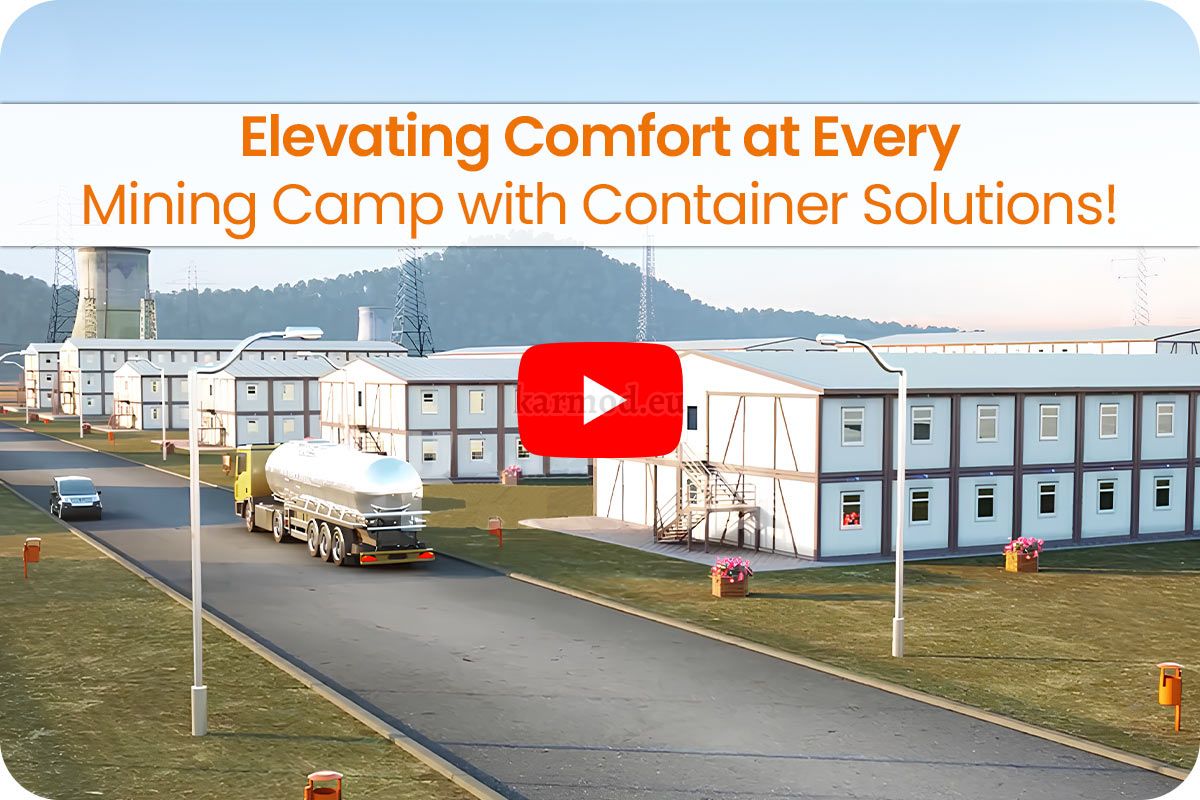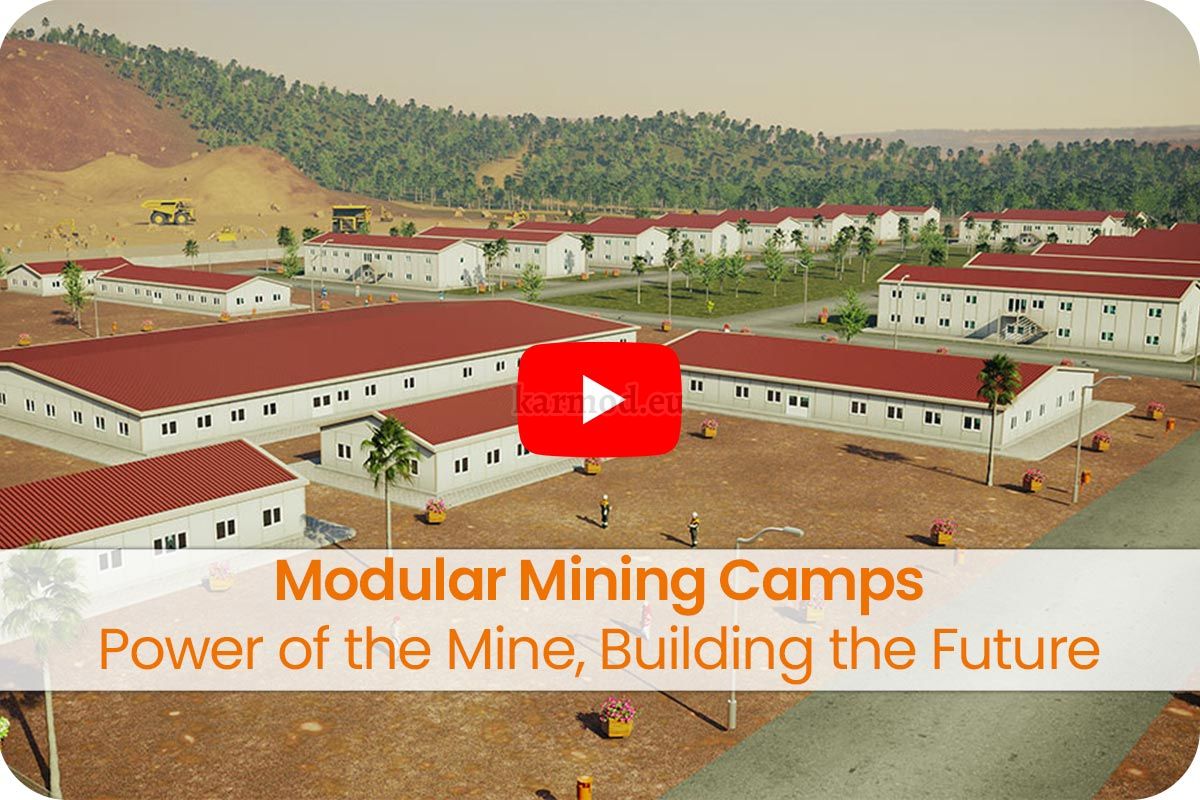 Mali Portable Mining Camp: Mobilize your operations with the utmost ease with Karmod's Mali portable mining camp. Designed for convenience and mobility, these camps can be effortlessly set up and relocated, ensuring your operations remain agile and adaptable to the changing mining landscapes.
Mali Modular Mining Camp: Opt for unmatched flexibility and robustness with the Mali modular mining camp by Karmod. These camps ensure not only the swift assembly and disassembly but also promise durability and resilience, standing firm in the face of extreme conditions.
Mali Mining Camp Management: Seamless and efficient management is within your reach with Karmod's dedicated Mali mining camp management solutions. Entrust your camp's operations to the experts, ensuring everything runs smoothly, and your workforce remains productive and satisfied.
Mali Mining Camp Kitchen: Prioritize the well-being and satisfaction of your team with state-of-the-art Mali mining camp kitchen facilities by Karmod. Offer your workforce nourishing meals prepared in hygienic and well-equipped kitchens, ensuring they are energized and ready for the challenges ahead.
Mali Mining Camp for Sale: Take the step towards operational excellence by owning a Mali mining camp for sale from Karmod. Receive not just a camp, but a comprehensive, well-thought-out living and working environment that boosts efficiency, comfort, and productivity.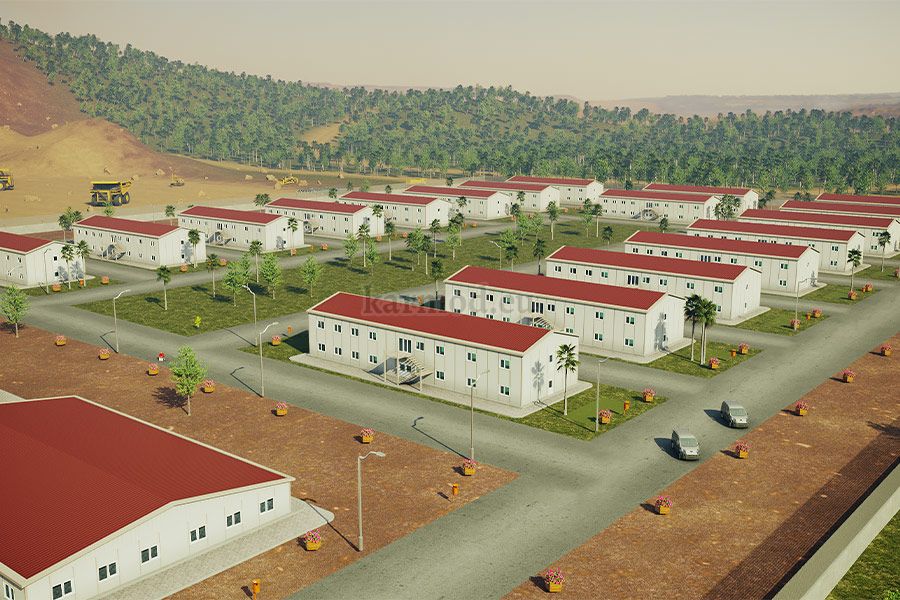 Unlock the door to unmatched operational efficiency, workforce satisfaction, and overall mining success with Karmod. With the company's extensive experience and unwavering commitment to quality, your mining operations in Mali are set for unparalleled success. Secure your Mali mining camp with Karmod, and propel your mining venture to new heights of excellence and profitability.
Luxurious Mining Camp Accommodation in Mali
In the pulsing heart of Mali's mining sector, find the epitome of comfort and luxury with Karmod's exquisite mining camp accommodations. Forget the traditional rugged and bare-minimum facilities; Karmod redefines the mining camp living standards by offering plush and well-appointed living spaces that prioritize the comfort and well-being of every individual. The luxurious accommodations ensure that every worker gets the much-needed rest and relaxation after a hard day's work, further enhancing their productivity and satisfaction. This commitment to luxury and comfort doesn't just enhance the living standards; it significantly contributes to the overall morale and efficiency, setting the stage for consistent operational success.
Masterful Construction of Mali Mining Camp Buildings
Experience the pinnacle of masterful construction with Karmod's Mali mining camp buildings. The intricacies of designing and constructing mining camps are seamlessly handled by a team of experts who leave no stone unturned in ensuring the highest standards of quality, safety, and functionality. Each building is a testament to Karmod's unwavering commitment to excellence and durability, crafted with precision and an acute understanding of the unique demands of the mining environment.
Beyond mere structures, Karmod delivers integrated solutions that encompass every aspect of a mining camp, from spacious living quarters and efficient operational areas to state-of-the-art facilities ensuring utmost convenience and functionality. The streamlined and expertly managed construction process guarantees timely project completion, allowing your mining operations to proceed without a hitch. Trust in the masterful construction of Mali mining camp buildings by Karmod, and witness the seamless blend of robust construction, functional design, and unmatched quality, ensuring your mining operations thrive in the optimum environment.
Let Karmod elevate your mining operations in Mali by providing luxurious accommodation and masterfully constructed buildings, ensuring not just the success, but the growth and expansion of your mining venture in the vibrant landscapes of Mali.
Elevate Your Expectations with Karmod's Mining Camp Design in Mali
It's time to elevate your expectations with Karmod's exceptional mining camp design in Mali. The pioneering designs by Karmod are not just about buildings; they are about creating comprehensive living and working environments that stand the test of time and harsh conditions. Karmod understands the unique challenges faced in the mining industry and brings forward designs that blend functionality with comfort.
Innovative Solutions: Karmod's innovative designs focus on maximizing space, ensuring durability, and providing all necessary amenities, contributing to improved operations and worker satisfaction.
Sustainability: In their approach to mining camp design, Karmod emphasizes environmentally friendly materials and energy-efficient solutions, reducing the ecological footprint of each modular camp.
Customization: Tailor your mining camp to meet specific requirements with Karmod's flexible design solutions. From the layout to the facilities, every aspect can be customized to suit your operational needs.
Through Karmod's mining camp designs, experience the ease of swift installation, unparalleled comfort, and optimal operational efficiency in Mali.
Unmatched Excellence: Karmod, Your Premier Choice for Mali Mines
Embark on a journey of unmatched excellence with Karmod, your premier choice for Mali mines. Why settle for the ordinary when you can opt for perfection? Karmod stands as a beacon of reliability, quality, and innovation in the world of mining camp construction.
Holistic Approach: Karmod takes a holistic approach to mining camp construction, ensuring every aspect, from accommodation to management areas, is meticulously planned and executed.
Quality Assurance: With Karmod, rest assured of uncompromised quality and safety standards. Each project is a manifestation of Karmod's commitment to delivering nothing but the best.
Post-Construction Support: Karmod's relationship with clients transcends beyond construction. Benefit from continual support ensuring the smooth and efficient running of your mining camp.
With Karmod, transcend traditional limitations and explore the realms of unmatched excellence in mining camp construction for Mali mines. Your quest for a reliable, innovative, and quality-assured mining camp ends here, making every investment worthwhile and ensuring the sustainable and profitable operation of your mining activities in Mali.