In the heart of Nigeria's thriving mining industry, finding ideal mining camp solutions is paramount. Look no further as Karmod delivers an unmissable offer allowing you to own a top-notch Nigeria mining camp for sale now! The comprehensive solutions encapsulate Nigeria portable mining camp and Nigeria modular mining camp, ensuring a flexible, comfortable, and efficient living and working environment.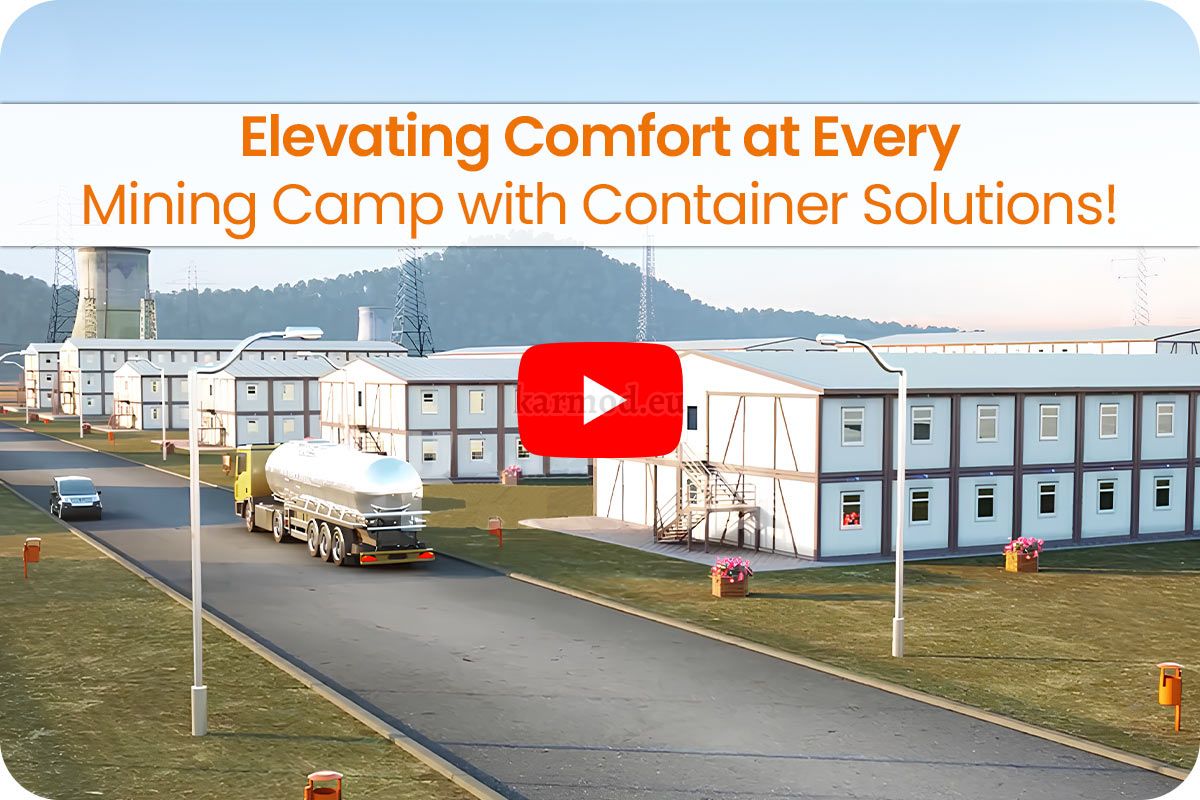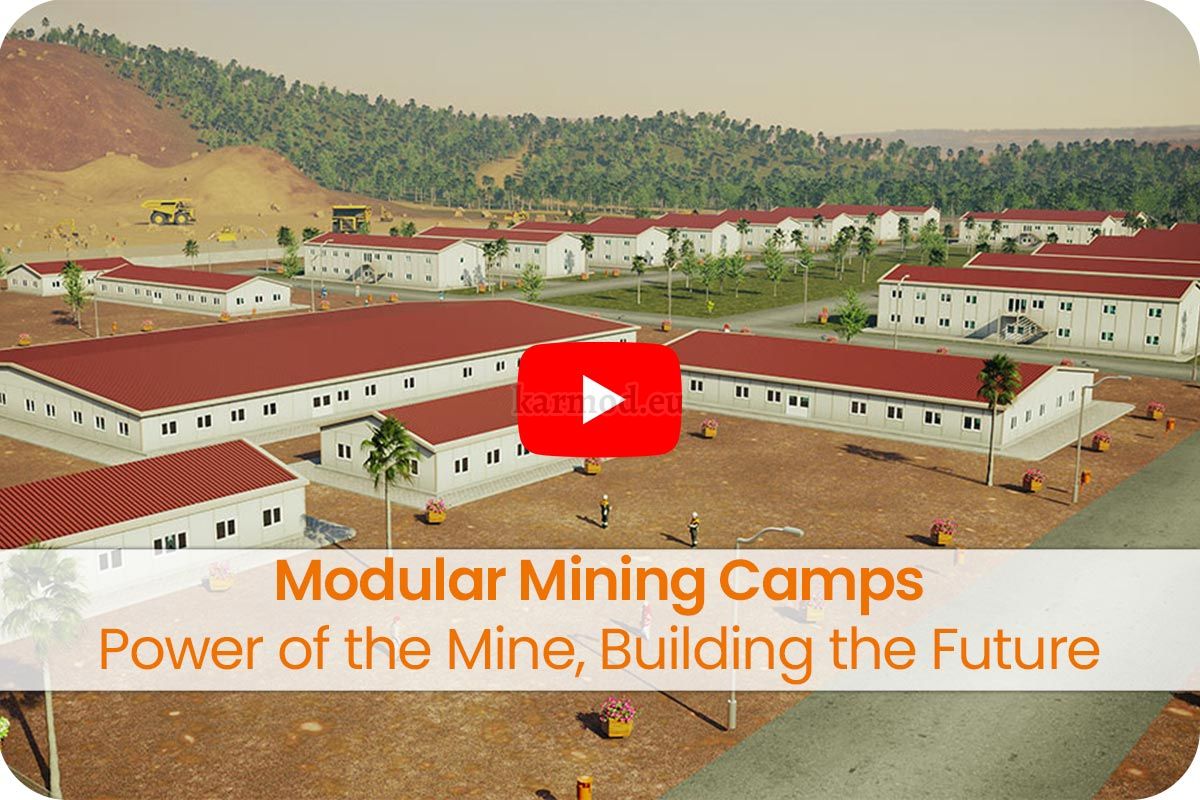 Nigeria Portable Mining Camp:
Flexible and Adaptable: Experience the ease of mobility without sacrificing comfort and efficiency. Karmod's portable mining camps are designed for seamless transportation and installation, meeting the dynamic needs of mining operations in Nigeria.
Nigeria Modular Mining Camp:
Modern and Robust: Embrace the future with modular camp designs, which stand out with their robust construction and innovative design, ensuring a safe, comfortable, and functional space for every inhabitant.
Nigeria Mining Camp Management:
Seamless Operations: Trust Karmod to handle the comprehensive management of your mining camp, ensuring optimal operation, maintenance, and support, allowing you to focus on your core mining activities without worry.
Nigeria Mining Camp Kitchen:
Health and Nutrition: The importance of a well-fed team is not overlooked. Karmod ensures that your mining camp kitchen is equipped with state-of-the-art facilities, ensuring healthy and nutritious meals for all.
Nigeria Mining Camp for Sale:
Affordability and Quality: Seize the exclusive offer to own a premium mining camp in Nigeria, ensuring the ideal blend of affordability, quality, and unparalleled service from Karmod.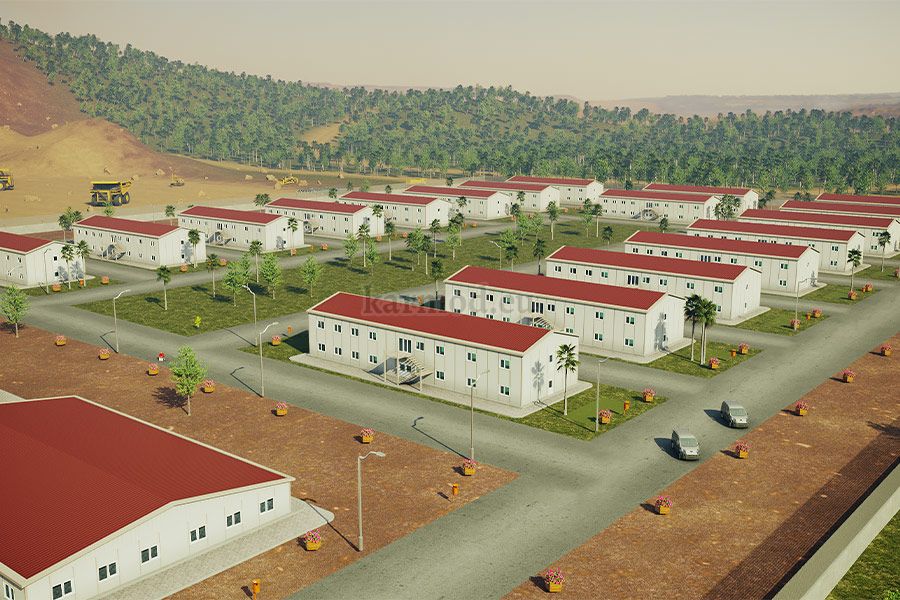 Navigating the intricate world of mining accommodations and facilities in Nigeria is made seamless with Karmod's comprehensive solutions. Every detail, from construction to management, is handled with utmost expertise and commitment, ensuring your mining camp not only meets but exceeds expectations. Elevate your mining operations with Karmod, where excellence, innovation, and unmatched service converge, ensuring your mining camp in Nigeria stands as a beacon of quality and efficiency.
Own your mining camp in Nigeria now with Karmod – where every solution is tailored to perfection, ensuring your mining operations flourish unhindered. This exclusive offer is a golden opportunity to ensure your mining activities in Nigeria are complemented with the best in accommodation and facilities. Make the right choice with Karmod, and experience the difference in quality, innovation, and excellence in your Nigeria mining camp.
Luxurious Mining Camp Accommodation in Nigeria
In the heart of Nigeria, Karmod is redefining the standards of mining camp accommodation, infusing luxury, comfort, and functionality into every aspect. The mining industry, robust and thriving, demands not just sturdy and effective living solutions but those imbued with luxury to ensure the well-being and satisfaction of every team member on site. Karmod's mining camp accommodation in Nigeria is ingeniously designed, ensuring every living space is not just a place to rest but a haven of comfort and luxury amid the rugged terrains of mining sites. Sophisticated designs, top-tier amenities, and innovative solutions ensure every accommodation unit stands as a paragon of luxury and efficiency, bolstering the morale and productivity of every inhabitant.
Masterful Construction of Nigeria Mining Camp Buildings
Craftsmanship and mastery underscore the construction of Nigeria mining camp buildings by Karmod. Beyond the ordinary, every building is a testament to Karmod's unwavering commitment to excellence and innovation in construction. The buildings are not just erected; they are masterfully crafted to withstand the challenges of mining environments while ensuring optimal functionality and longevity. Advanced materials, cutting-edge technologies, and innovative designs converge in the construction process, ensuring every building stands as a beacon of masterful construction, durability, and functionality.
Karmod's reputation in the realm of constructing Nigeria mining camp buildings is unparalleled. Ensuring every building not only meets the industry standards but transcends them, Karmod guarantees exceptional value, unmatched quality, and enduring support in every construction project. Navigate the path of success in Nigeria's mining industry with the assurance of Karmod's masterful construction, where every building is a symbol of excellence, innovation, and reliability. Elevate your expectations and experience the Karmod difference in every corner and contour of your mining camp buildings in Nigeria. Your journey towards exceptional mining operations is complemented and made seamless with Karmod's commitment to masterful construction and unparalleled excellence in mining camp buildings in Nigeria.
Elevate Your Expectations with Karmod's Mining Camp Design in Nigeria
In the thriving world of mining in Nigeria, Karmod stands out with an exceptional approach to mining camp design, propelling operations to new heights of efficiency and comfort. Karmod works meticulously, merging modern architecture with functional features to foster a seamless living and working environment. Elevate your expectations with mining camp designs that epitomize comfort, durability, and innovation, ensuring your team operates at peak productivity levels in an environment engineered for their well-being.
Unparalleled Design: Karmod's expert team crafts each design with precision, ensuring every element serves a practical purpose while enhancing overall aesthetics.
Innovative Solutions: Employing the latest technologies, Karmod's mining camp designs streamline operations and improve the living conditions for every team member.
Eco-Friendly and Sustainable: In line with global environmental goals, Karmod prioritizes eco-friendly materials and sustainable practices in each design.
Customizable Layouts: Tailored to your unique needs, Karmod offers adaptable layouts to maximize space utilization and operational efficiency.
Experience a modular camp design that aligns with your operations, amplifying convenience, efficiency, and satisfaction in every facet.
Unmatched Excellence: Karmod, Your Premier Choice for Nigeria Mines
Embrace unmatched excellence with Karmod, your premier choice for comprehensive solutions in Nigeria mines. In a sector where precision, reliability, and robustness are paramount, Karmod stands as a beacon of quality and innovation.
Robust Construction: Karmod ensures each structure stands the test of time, providing consistent quality and unmatched durability even in the most demanding conditions.
Seamless Integration: Every aspect is seamlessly integrated, from living quarters to operational areas, ensuring a cohesive, efficient, and harmonious mining camp.
24/7 Support and Maintenance: Rely on Karmod's unwavering support and maintenance services to keep operations running smoothly, minimizing downtime and enhancing productivity.
Beyond just providing buildings, Karmod delivers a promise - a commitment to unyielding quality, steadfast support, and innovative solutions that drive the success of your mining operations in Nigeria. Join forces with Karmod and solidify your position as a leader in the mining industry with unmatched mining camp solutions. Your pursuit of excellence begins and thrives with Karmod – your trusted partner for unparalleled mining camp solutions in Nigeria.