In the rugged terrains of Oman, the mining industry is blossoming, and with it comes the need for efficient, robust, and comfortable Oman portable mining camp solutions. Karmod rises to this challenge with excellence and innovation, presenting an exclusive offer allowing you to own your mining camp in Oman with unparalleled ease and affordability.
Karmod understands the significance of having not just a mining camp, but an Oman modular mining camp that resonates with quality, durability, and modernized living standards. The modular designs ensure the seamless integration of different units, offering flexibility and adaptability to suit the diverse needs of mining operations. The Oman mining camp management is a breeze with Karmod's intuitive designs that prioritize ease of operation, ensuring every process, from setup to day-to-day operations, runs smoothly and efficiently.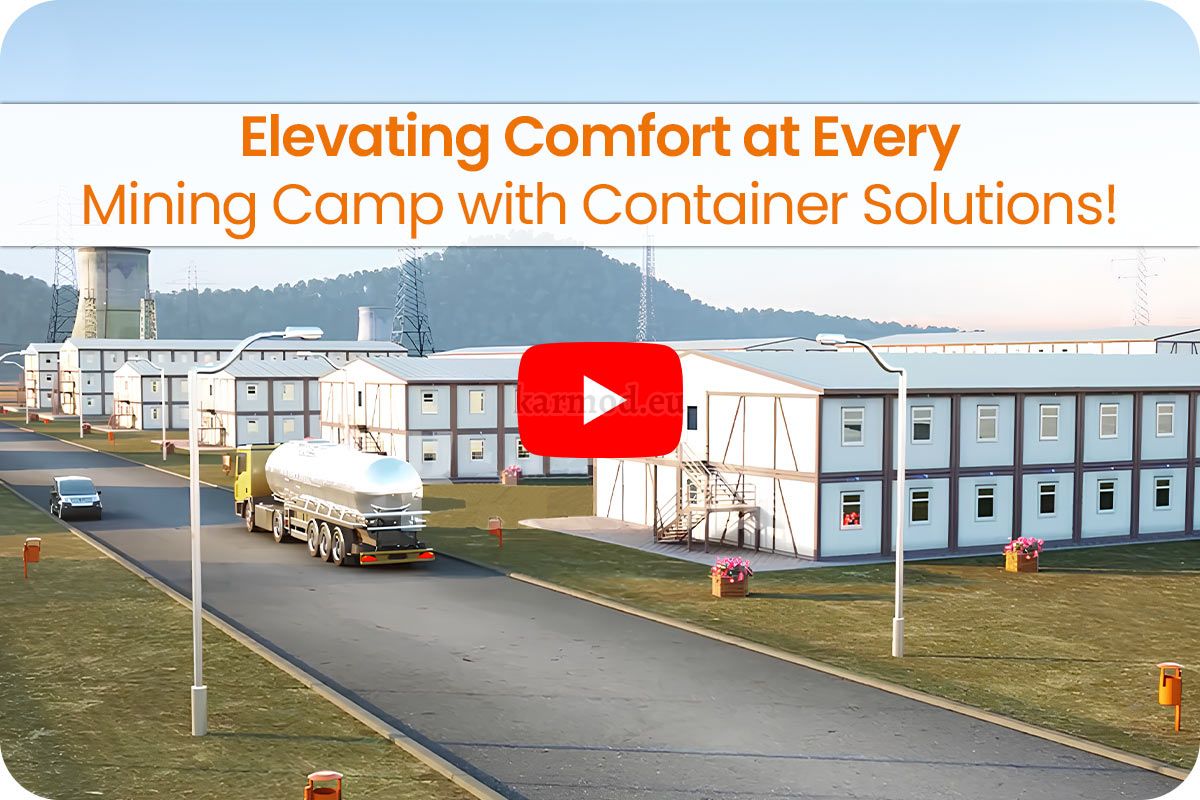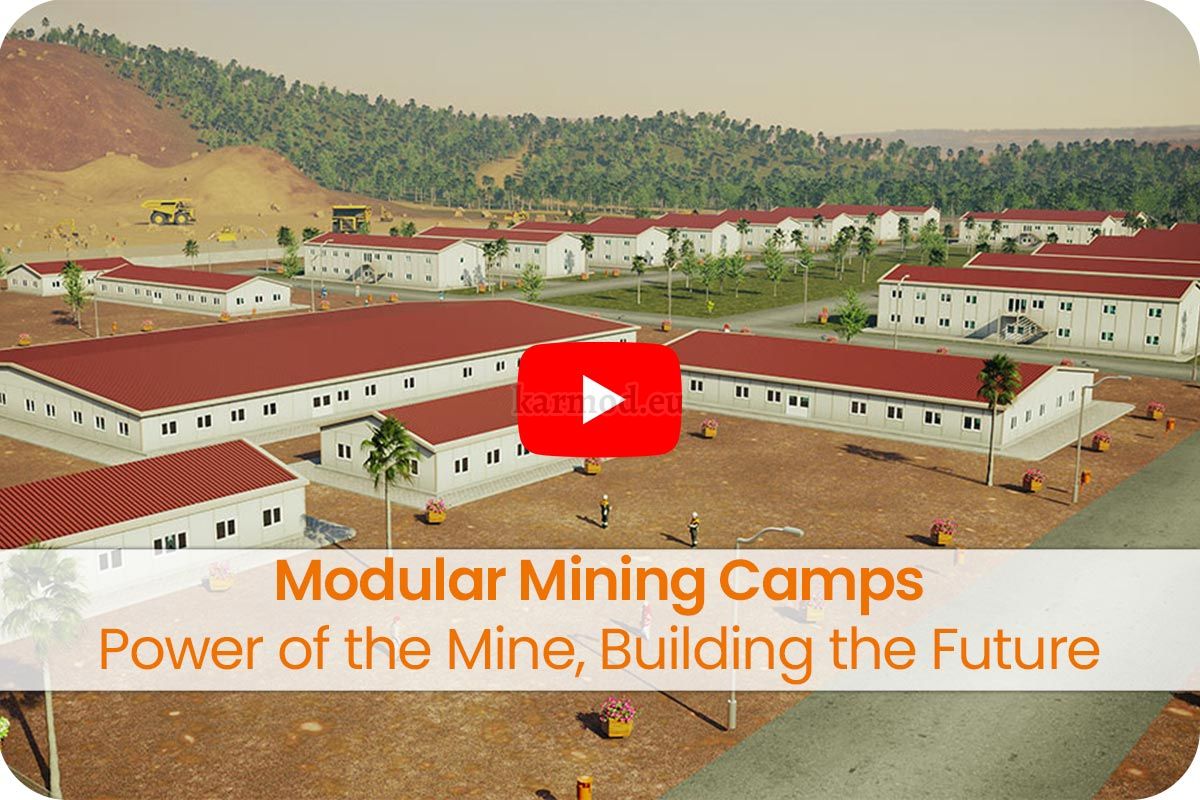 A mining camp is not complete without considering the essential aspects of living. Karmod's Oman mining camp kitchen options incorporate modern designs, ensuring the welfare and satisfaction of every member on site. These kitchens are designed with functionality and efficiency at the forefront, allowing easy meal preparations and promoting a conducive environment for everyone.
Now, the opportunity is at your fingertips to own an Oman mining camp for sale with Karmod's exclusive offer. The offer is tailored to meet the diverse financial capacities, ensuring everyone can access top-notch Oman mining camp solutions without breaking the bank. Karmod is dedicated to providing unmatched quality, ensuring every Oman mining camp for sale stands as a beacon of excellence, comfort, and reliability in the demanding mining environment.
Why choose Karmod for your Oman mining camp solutions?
Expertise: Karmod's years of experience in the industry stand as a testament to its unrivaled expertise in delivering top-quality mining camp solutions.
Innovation: Constantly evolving, Karmod incorporates the latest trends and technologies in every Oman modular mining camp, ensuring you always stay ahead with modern, efficient, and innovative solutions.
Customer-Centric Approach: Your needs come first at Karmod. Every Oman mining camp for sale is tailored to meet and exceed your expectations, ensuring total satisfaction and peace of mind.
Global Presence, Local Insight: With a global footprint, Karmod understands the unique needs of different regions, ensuring every Oman portable mining camp is perfectly suited to the local conditions and requirements.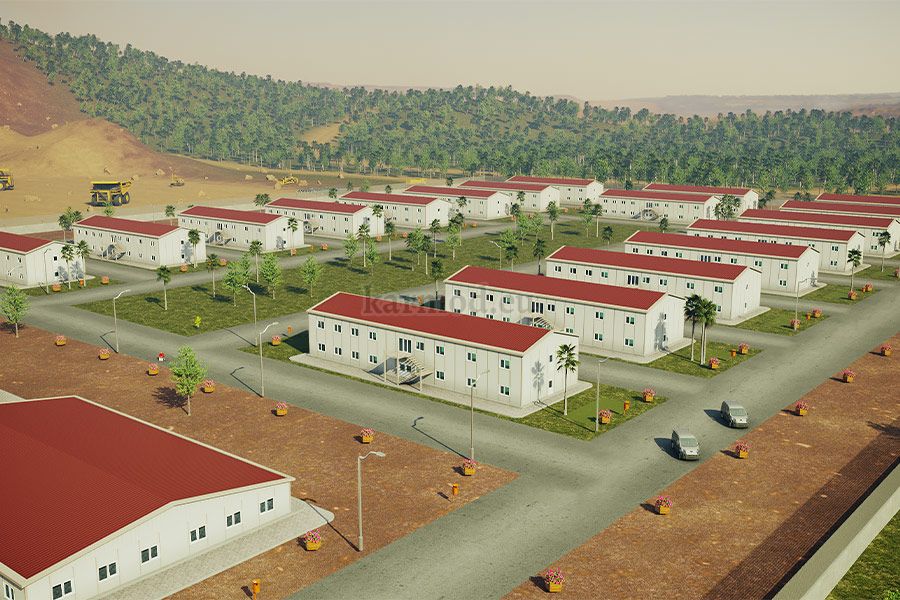 Seize the opportunity today with Karmod's exclusive offer and own your Oman mining camp, ensuring your mining operations are backed by quality, excellence, and a dedicated commitment to your success. Your robust journey in the Oman mining landscape starts with Karmod, your trusted partner for comprehensive mining camp solutions.
Luxurious Mining Camp Accommodation in Oman
In Oman's burgeoning mining sector, the demand for upscale and comfortable living spaces is paramount. Karmod understands this intricate need and effortlessly blends luxury with functionality in its mining camp accommodations in Oman. The blend of spacious designs with modern amenities ensures that every individual experiences the comfort of home while staying in the heart of the mining sites. The architectural brilliance resonates throughout each accommodation unit, promising not only robust protection against Oman's diverse climate but also a haven of comfort and relaxation. The units are thoughtfully designed to promote communal living while ensuring personal space and privacy. The interiors boast top-notch finishes, modern utilities, and a layout that speaks volumes about Karmod's attention to detail and commitment to luxury and comfort. The luxurious mining camp accommodation in Oman by Karmod is not just a living space; it's a lifestyle statement in the rugged terrains, ensuring every moment spent is enveloped in comfort, safety, and luxury.
Masterful Construction of Oman Mining Camp Buildings
Navigating the construction landscape of mining camp buildings in Oman is a complex task, met with various challenges from the harsh environment to the need for sustainable and durable structures. Karmod stands out in this domain, exhibiting masterful construction of Oman mining camp buildings that are tailored to withstand the test of time and elements. With a holistic approach to construction, Karmod ensures every aspect, from the foundation to the finishing touches, exudes excellence and robustness. The use of cutting-edge technology and innovative construction methodologies set Karmod apart, ensuring every Oman mining camp building stands as a hallmark of quality, durability, and technological prowess. The materials used are meticulously sourced, undergoing rigorous testing to ensure they meet the high standards set by Karmod. The construction process is a symphony of coordination, expertise, and dedication, promising timely completion without compromising on quality. Karmod's commitment to excellence in the construction of Oman mining camp buildings is unwavering, ensuring your investment is anchored on reliability, quality, and longevity. Experience the Karmod difference, where masterful construction meets innovative design, setting the benchmark in Oman's mining camp building landscape.
Elevate Your Expectations with Karmod's Mining Camp Design in Oman
The allure of Oman's rich mineral resources beckons to many, but a successful mining operation demands more than just excellent location and high-quality resources. Enter the revolutionary mining camp designs by Karmod. Elevate your expectations as Karmod transcends conventional designs, bringing forth functional, aesthetically pleasing, and robust mining camp structures in Oman. The design philosophy is rooted in understanding the unique demands of Oman's landscape and the mining industry.
Innovative Design: Karmod employs innovative and sustainable designs that meld seamlessly with the surrounding environment, ensuring minimal ecological footprint while maximizing functionality and comfort.
Customization: Understanding the diverse needs, Karmod allows tailored solutions ensuring optimal utilization of space and resources, aligning with your specific requirements.
Safety Assurance: Safety is not just a feature but a foundational aspect of Karmod's mining camp design, ensuring all structures are equipped to withstand Oman's varied climatic conditions, providing a secure and comfortable haven for all occupants.
Experience the elevation of expectations with Karmod, where every mining camp design in Oman resonates with innovation, safety, and adaptability, promising not just a camp but a thriving community in the heart of Oman's rich mineral landscapes.
Unmatched Excellence: Karmod, Your Premier Choice for Oman Mines
When it comes to setting up mining operations in Oman, unmatched excellence is non-negotiable. Karmod stands as the epitome of this excellence, establishing itself as your premier choice for Oman mines. The reputation is not just built on words but a consistent track record of delivering superior quality, innovation, and unmatched customer satisfaction.
Comprehensive Solutions: From the initial modular camp design to the final construction, Karmod offers comprehensive solutions, ensuring every aspect is handled with utmost precision and care.
Technological Integration: Karmod integrates cutting-edge technology ensuring efficiency, sustainability, and modernity in every project, reaffirming its position as a trailblazer in the industry.
Sustainability: In the era of environmental consciousness, Karmod prioritizes sustainable solutions ensuring your mining operations are not just profitable but also eco-friendly.
Choose Karmod for unmatched excellence in every facet of your mining operations in Oman, reinforcing your venture with reliability, innovation, and a commitment to not just meeting but exceeding expectations. Elevate your mining operations with Karmod, where excellence is not just a promise but a consistent reality.