Mining operations are no small feat, and having a well-structured mining camp is imperative for the success and seamless functionality of mining projects. A mining camp not only provides shelter for workers but is the operational hub where significant administrative work gets done. The camp includes various facilities like sleeping quarters, management offices, kitchens for meal preparations, and much more. Our brand, Karmod, is at the forefront of providing top-notch mining camp solutions. Now, an exclusive offer awaits those looking to set up or upgrade their mining camps in Paraguay. Let's dive into what makes this offer hard to resist: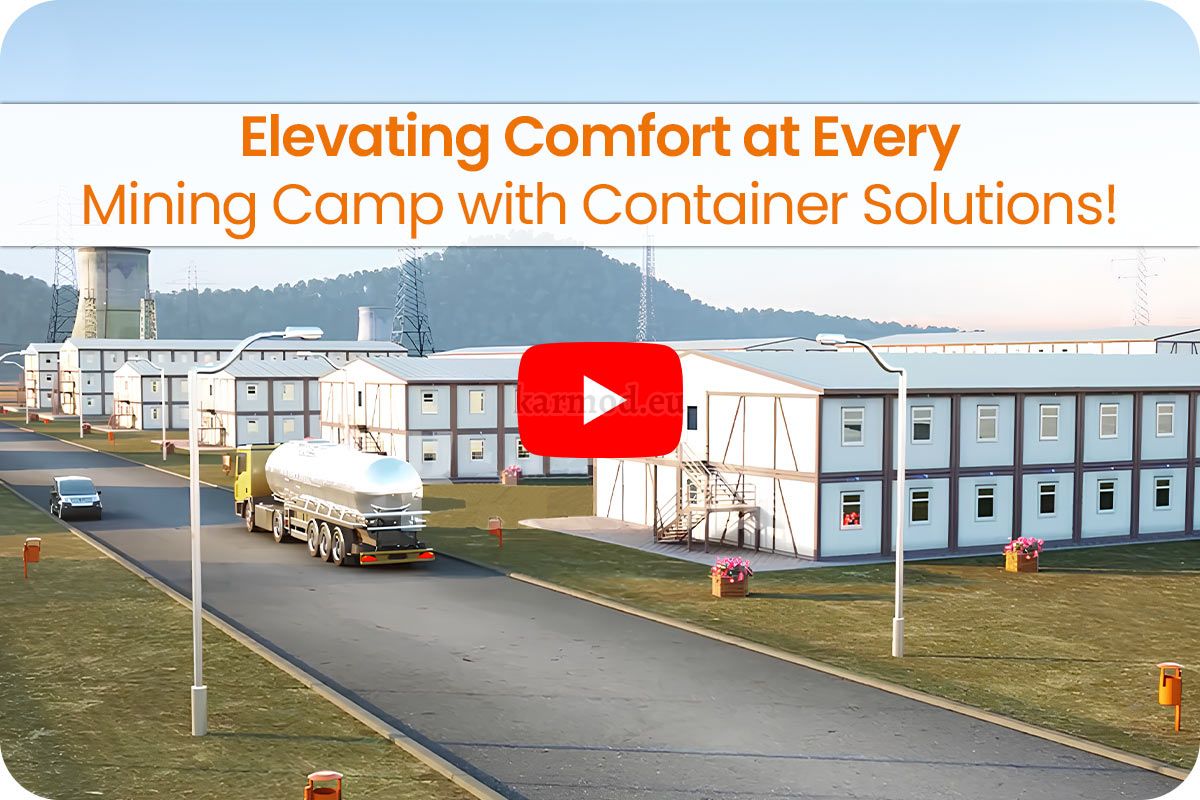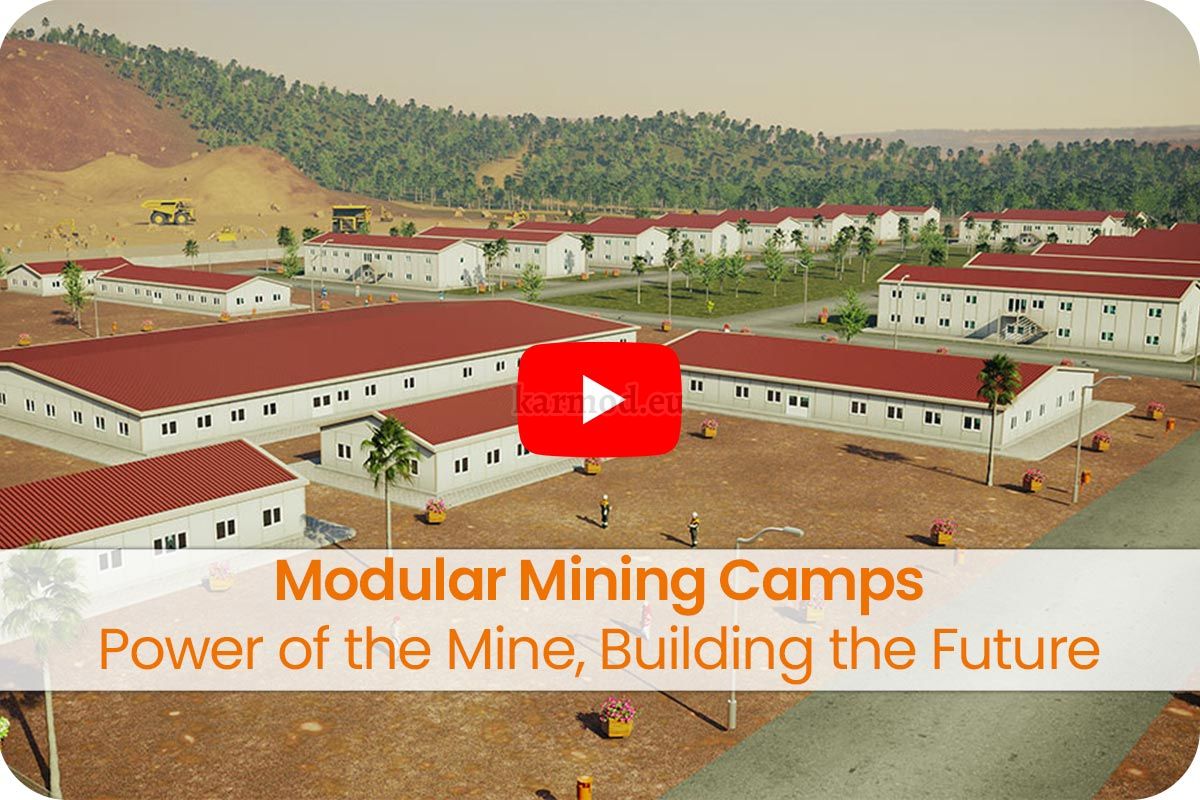 Paraguay Portable Mining Camp:

Portable mining camps are designed to be moved around easily. Karmod's design encapsulates mobility without compromising on quality, ensuring you have a fully functional mining camp that can be relocated as and when the need arises.

Paraguay Modular Mining Camp:

Modular mining camps by Karmod are engineered for those who prioritize quick installation and future scalability. These structures are pre-fabricated and can be assembled on-site in no time, allowing for operations to commence swiftly.

Paraguay Mining Camp Management:

Effective management is the backbone of a successful mining operation. The mining camp layouts by Karmod facilitate efficient management with strategically placed offices and state-of-the-art communication systems.

Paraguay Mining Camp Kitchen:

A well-fed team is a well-functioning team. Karmod ensures that the mining camps come equipped with modern kitchen facilities to provide nutritious meals, keeping the workforce healthy and productive.

Paraguay Mining Camp for Sale:

This exclusive offer is your chance to own a premium mining camp in Paraguay. With competitive pricing and unparalleled quality, making this investment will undeniably propel your mining operations towards success.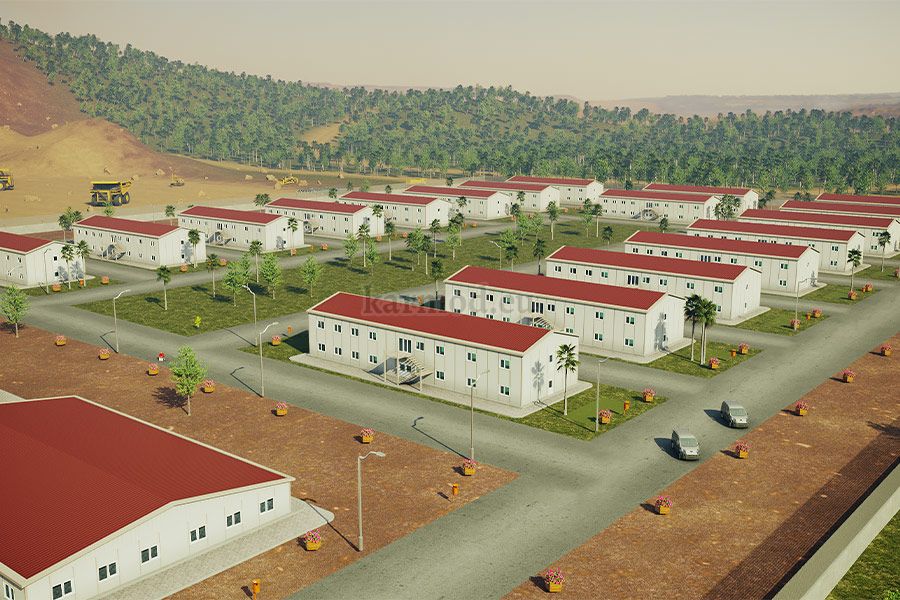 Karmod's years of experience and innovative approach in constructing mining camps make it a trusted choice for many. The camps are designed keeping in mind the harsh conditions of mining sites and ensure a comfortable living and working environment for the staff. Investing in a Karmod mining camp means investing in durability, functionality, and the overall success of your mining operations in Paraguay. Seize this exclusive offer now, and elevate your mining operations to new heights with Karmod's superior mining camp solutions.
Luxurious Mining Camp Accommodation in Paraguay
When it comes to providing a comfortable and luxurious living experience in a challenging mining environment, no one does it better than Karmod. In Paraguay, a country known for its rich mineral resources, the necessity for high-quality mining camp accommodation is paramount. Karmod takes the lead in offering luxurious accommodation solutions that not only ensure the comfort of the workers but also promote a healthy work-life balance even in remote mining locations.
The interiors of the accommodation units are meticulously designed to exude a homely ambiance while boasting modern amenities. Each unit is equipped with comfortable bedding, adequate storage space, and recreational areas to ensure that the workers can relax and rejuvenate after a hard day's work. The availability of clean and private bathroom facilities, along with well-ventilated rooms, ensures a comfortable living experience.
Moreover, the aesthetics of the mining camp accommodation is nothing short of luxurious. From the color schemes to the high-quality materials used, every aspect reflects a blend of comfort and luxury. This luxurious experience, coupled with the serene natural beauty of Paraguay, creates a living environment that motivates and keeps the workforce in high spirits, which in turn positively impacts productivity and overall project success.
Masterful Construction of Paraguay Mining Camp Buildings
The robustness of mining camp buildings is a testament to the masterful construction capabilities of Karmod. The company takes pride in crafting buildings that are not only structurally sound but are also designed to withstand the harsh and often unpredictable weather conditions in Paraguay. The quality of construction ensures the longevity of the mining camp buildings, minimizing maintenance costs and ensuring uninterrupted mining operations.
The construction process involves the use of top-grade materials and innovative construction techniques that comply with all the necessary safety and quality standards. The buildings are designed to provide maximum functionality, ensuring that every square foot is utilized efficiently.
Furthermore, the construction timeline is another area where Karmod shines. The use of pre-fabricated and modular construction methods significantly reduces the time required to erect the mining camp buildings. This fast-track construction ensures that the mining projects can commence operations without any unnecessary delays, thereby adhering to project timelines and budget constraints.
The meticulous planning, unparalleled construction expertise, and the dedication to delivering excellence make Karmod the go-to choice for masterfully constructed mining camp buildings in Paraguay. By choosing Karmod, you are not only investing in superior quality buildings but are also ensuring a safe, comfortable, and productive environment for your mining operations.
Elevate Your Expectations with Karmod's Mining Camp Design in Paraguay
In the rugged terrains of Paraguay where mining operations unfold, a sanctuary for miners is not just a need but a prerequisite for operational success. Karmod steps into this realm with a promise to elevate your expectations through its innovative mining camp designs. Let's delve into how Karmod is revolutionizing the mining camp scenario in Paraguay:
Modular Magic: The centerpiece of Karmod's mining camp design is its modular camp approach. Modular designs ensure a swift setup, high-quality construction, and a blend of functionality with comfort. The ability to expand or reconfigure the modular units as per the evolving needs of the mining project adds a layer of future-proofing to the investment.
Ergonomic Excellence: The layouts are meticulously planned to promote a smooth flow of operations. From the sleeping quarters to the recreational areas, and from the kitchens to the management offices, every segment of the camp is designed with ergonomics in mind.
Safety Centric: Mining sites are prone to numerous hazards. Karmod's designs prioritize safety with features like fire-resistant materials, well-ventilated spaces, and secure locking systems. The objective is to provide a haven where miners can rest assured, literally.
Sustainable Solutions: Incorporating green building practices, Karmod's mining camp designs contribute to reducing the carbon footprint of the mining operations. Energy-efficient structures, waste management systems, and the use of sustainable materials reflect Karmod's commitment to environmental responsibility.
Aesthetic Appeal: While functionality is paramount, the aesthetic aspect is not compromised. The pleasing aesthetic of the camps aids in uplifting the spirits of the inhabitants, fostering a positive work and living environment.
Through a blend of modular innovation, safety, sustainability, and aesthetic appeal, Karmod's mining camp designs in Paraguay are indeed elevating the standards and expectations in the mining accommodation sector.
Unmatched Excellence: Karmod, Your Premier Choice for Paraguay Mines
Navigating the challenges of setting up a mining operation in Paraguay requires a partner who exemplifies excellence. Karmod stands as that unmatched choice, providing comprehensive solutions for Paraguay mines. Here's why Karmod stands out:
Holistic Solutions: From planning to execution, Karmod provides an all-encompassing solution. Whether it's designing the layout of the mining camp or constructing robust buildings to withstand the elements, Karmod's expertise covers it all.
Quality Assurance: The hallmark of Karmod's service is its unwavering commitment to quality. Every building, every unit, and every piece of furniture reflects a high standard of quality ensuring durability and comfort.
Customization Capability: Every mining project has its unique requirements. Karmod's ability to tailor solutions to meet the specific needs of each project is unparalleled. From modular mining camps to portable units, the range of customizable solutions is vast.
Timely Deliveries: In the mining sector, time is of the essence. Karmod's proven track record of adhering to timelines without compromising on quality is a significant advantage, ensuring your mining operations commence as per schedule.
Cost-Effectiveness: Balancing quality with cost-effectiveness, Karmod provides value-engineered solutions that are budget-friendly without cutting corners on essential features.
With a legacy of unmatched excellence, innovative solutions, and a customer-centric approach, Karmod emerges as the premier choice for mining camps in Paraguay, ensuring your mining venture is set on a solid foundation from the get-go.