Welcome to the opportunity of a lifetime! Embrace the chance to own your Peru mining camp today with Karmod. Delve into the world where luxury meets functionality in the remote terrains of Peru. Navigate your mining operations seamlessly with the unmatched assurance from Karmod, a global leader in top-notch modular construction solutions.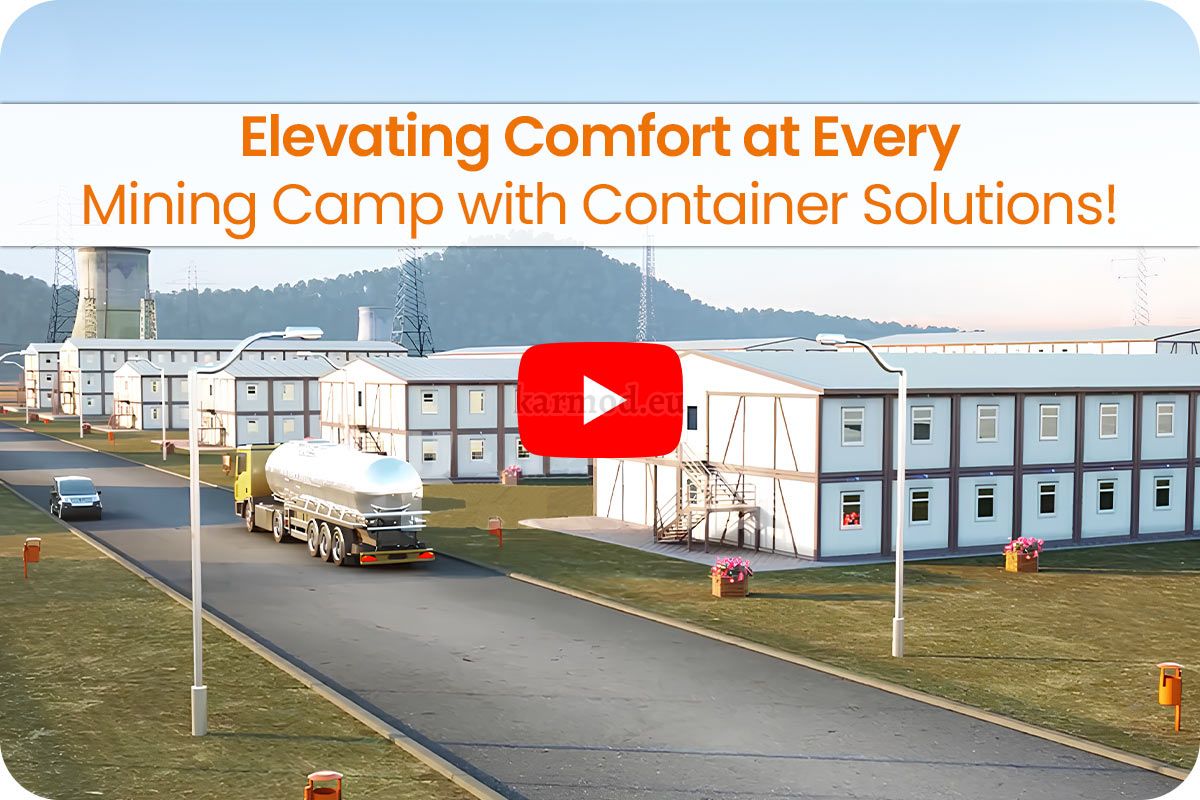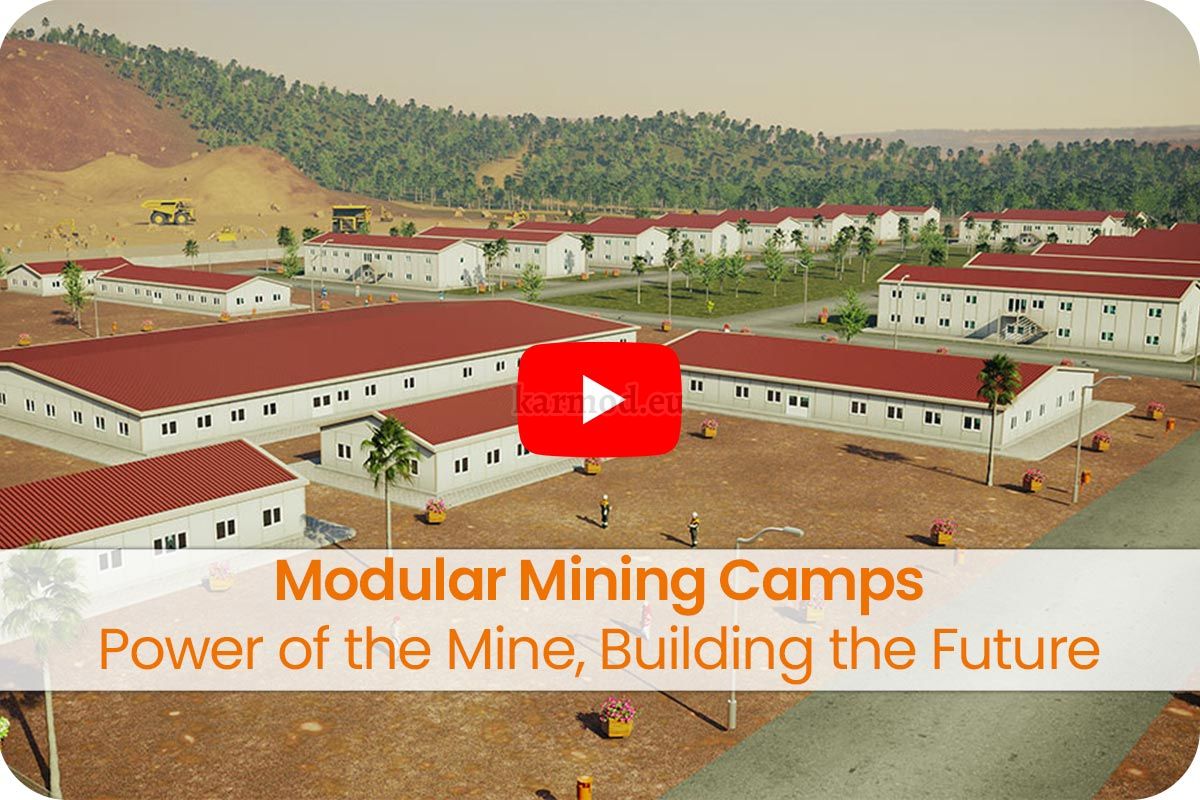 Peru Portable Mining Camp
When it comes to mobility and convenience, Karmod's Peru portable mining camp stands out. We know the essence of time and flexibility in mining operations. Our portable mining camps are designed to be easily assembled and disassembled, ensuring minimal downtime and enhanced operational efficiency. They're not just buildings; they are a promise of reliability and comfort even in the most remote mining locations in Peru.
Peru Modular Mining Camp
In the realm of innovation and sustainability, Karmod's Peru modular mining camp sets the bar high. Our modular camps are crafted with precision, utilizing advanced technology to ensure durability, comfort, and ease of maintenance. The modular design allows for scalability, letting your camp grow as your mining operations expand.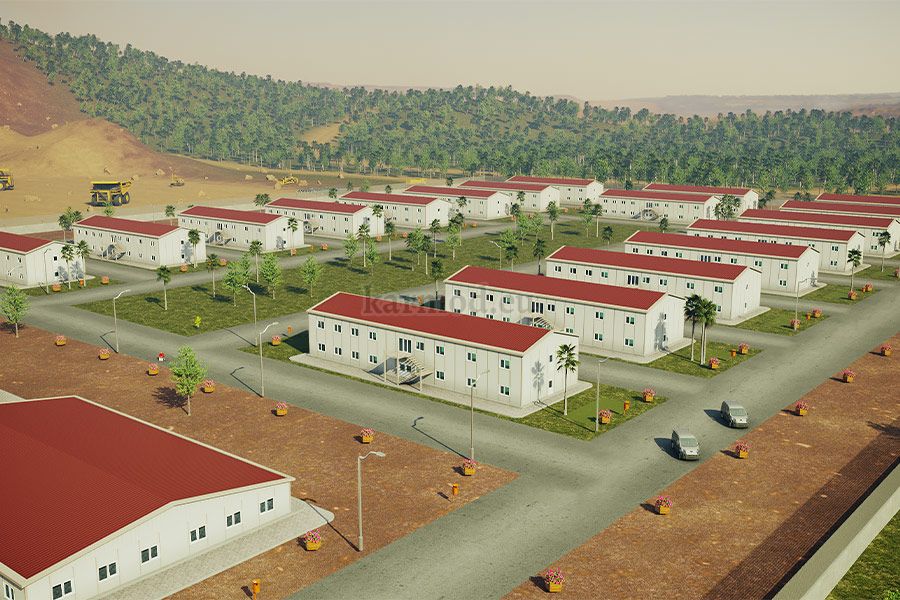 Peru Mining Camp Management
Efficient management is the backbone of a successful mining camp. Karmod integrates superior Peru mining camp management services to ensure your operations run smoothly. Our dedicated team of experts works tirelessly, ensuring every aspect of the camp management is handled with utmost professionalism, from logistics to the welfare of your personnel.
Peru Mining Camp Kitchen
Offering more than just accommodation solutions, Karmod understands the significance of wholesome meals in keeping your workforce healthy and motivated. Our Peru mining camp kitchen facilities are second to none, ensuring your team has access to nutritious and hygienic food, fueling their energy for heightened productivity.
Peru Mining Camp for Sale
The exclusive offer stands tall - your opportunity to own a Peru mining camp is here and now. With Karmod, you're not just purchasing a mining camp; you're investing in quality, reliability, and the unmatched support of a global leader in modular construction. Seize the chance to elevate your mining operations in Peru with Karmod's exceptional mining camp solutions.
In Karmod, you're choosing a partner dedicated to meeting your needs, exceeding your expectations, and ensuring the success and sustainability of your mining operations in Peru. The path to superior mining operations begins here. Make the choice for excellence with Karmod!
Luxurious Mining Camp Accommodation in Peru
Elevate your living standards with the luxurious mining camp accommodation in Peru offered by Karmod. Nestled in the scenic expanse of Peru's mining regions, Karmod's accommodations blend luxury with the utmost comfort, providing a serene retreat after a day of hard work. The accommodations are designed with modern aesthetics, ensuring every moment spent inside is one of absolute comfort and relaxation. These living spaces are not only about luxury; they also epitomize practicality and safety. Sturdy construction and innovative design ensure these accommodations withstand the toughest of environments, keeping you safe and secure. Karmod is committed to ensuring you have a home away from home in the heart of Peru's mining territory. Luxurious living in the rugged terrains of Peru is not just a dream but a tangible reality with Karmod's exquisite mining camp accommodations.
Masterful Construction of Peru Mining Camp Buildings
The construction of mining camp buildings in Peru is a task that Karmod undertakes with masterful precision and care. The sophisticated construction techniques utilized by Karmod guarantee the durability and robustness of each building. Employing state-of-the-art technology, Karmod ensures every structure is built to withstand the demanding conditions of mining areas, providing long-lasting and reliable shelter for all your operational needs. Beyond the structural integrity, Karmod's Peru mining camp buildings are models of functional design and sustainability. Environmental friendliness is woven into the fabric of each construction, ensuring your operations stay green and sustainable. Karmod's expertise ensures the seamless integration of every facility within the mining camp, enhancing efficiency and productivity. Step into a world where masterful construction meets functional design with Karmod's Peru mining camp buildings. Your operations deserve nothing short of excellence, and with Karmod, that's precisely what you get.
Elevate Your Expectations with Karmod's Mining Camp Design in Peru
Are your expectations meeting the sky? It's time to elevate them further with Karmod's groundbreaking mining camp design in Peru. Discover a harmonious blend of innovation, safety, and comfort as you embark on a journey through Karmod's state-of-the-art mining camp projects. Take a step into the future with modular camp designs, ensuring quick setup and robust structures, ready to meet the dynamic needs of your mining operations.
Innovative Design: Karmod's designs embrace innovation at every corner, guaranteeing not just functional spaces but also environments that boost productivity and well-being.
Safety First: With Karmod, be assured of top-tier safety standards. Their mining camp designs prioritize the security and safety of every individual, ensuring peace of mind alongside operational efficiency.
Ultimate Comfort: Amidst the rugged landscapes of Peru, find a haven of comfort within Karmod's meticulously designed mining camps. Every detail is crafted for optimal relaxation and convenience, making your mining camp a place of rest and rejuvenation.
Karmod's designs not only elevate your expectations but also transcend them, delivering unmatched excellence in every project.
Unmatched Excellence: Karmod, Your Premier Choice for Peru Mines
In the arena of mining camps, Karmod stands as a beacon of unmatched excellence, solidifying its position as your premier choice for Peru mines. Every aspect from construction to management exudes superior quality, ensuring your mining operations are backed by the best in the business.
Seamless Integration: Karmod's experts ensure seamless integration of every facility within the mining camp, promising smooth operations and maximized efficiency.
Sustainable Solutions: Embark on a green journey with Karmod's sustainable solutions. Their eco-friendly constructions minimize environmental impact, aligning your operations with global sustainability goals.
Robust Support: Experience the robust support of Karmod's dedicated team, ever ready to assist and ensure the seamless running of your mining camp in Peru.
Choose Karmod for an experience of unmatched excellence and make a robust contribution to Peru's thriving mining industry, ensuring success and sustainability in every venture.