In the rugged landscapes of Poland, the mining industry thrives, and with it comes the need for reliable and efficient Poland portable mining camp solutions. Introducing Karmod - a name synonymous with quality, innovation, and excellence. With the unique and highly sought-after offerings from Karmod, now is your chance to own a Poland mining camp for sale, perfectly tailored to meet the dynamic needs of modern mining operations.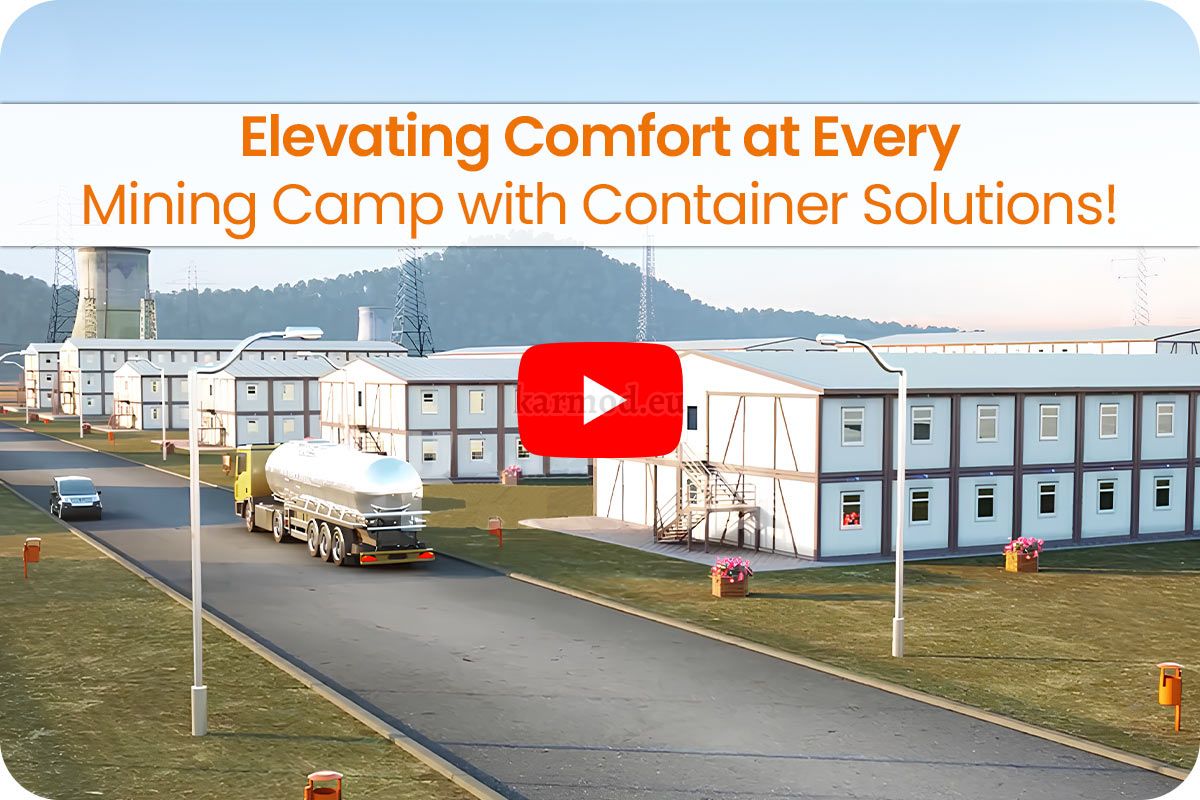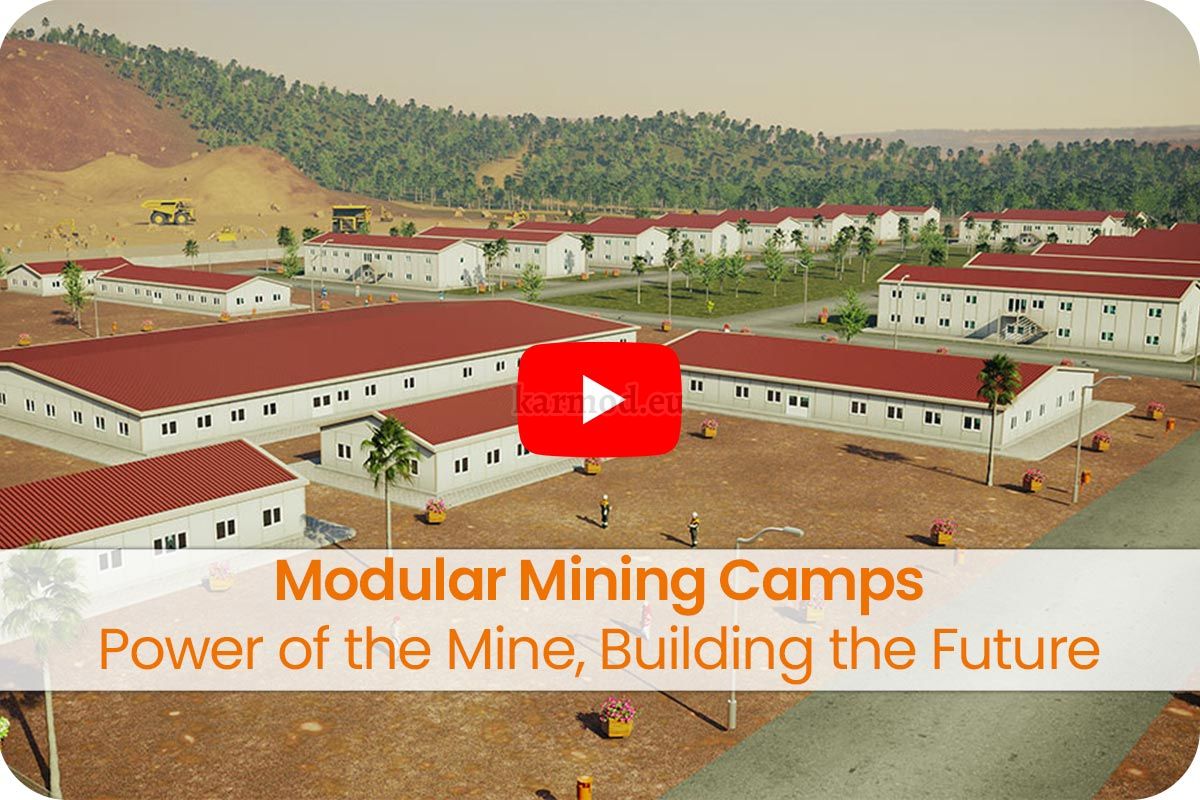 Poland Portable Mining Camp: Karmod's portable mining camps are engineered for superior mobility and reliability. Designed with attention to detail, these camps ensure utmost comfort and efficiency, making the lives of your workforce as convenient as possible, no matter the remoteness of your mining site.
Poland Modular Mining Camp: Beyond the conventional, Karmod's Poland modular mining camp solutions epitomize flexibility and modern design. The modular camps promise a swift installation process, reducing downtime and ensuring that your mining operations proceed without a hitch. This is a testimony to Karmod's commitment to providing practical and efficient solutions for the mining industry in Poland.
Poland Mining Camp Management: Effective management is the backbone of any successful mining camp. Karmod extends beyond providing physical structures by offering impeccable Poland mining camp management services. Expert teams ensure the smooth running of the camp, from maintenance to administration, so you can focus solely on your mining operations.
Poland Mining Camp Kitchen: Karmod understands the significance of having fully equipped and operational kitchens. The Poland mining camp kitchens designed by Karmod meet international health and safety standards, ensuring the well-being of your workforce, fueling their efficiency and productivity on site.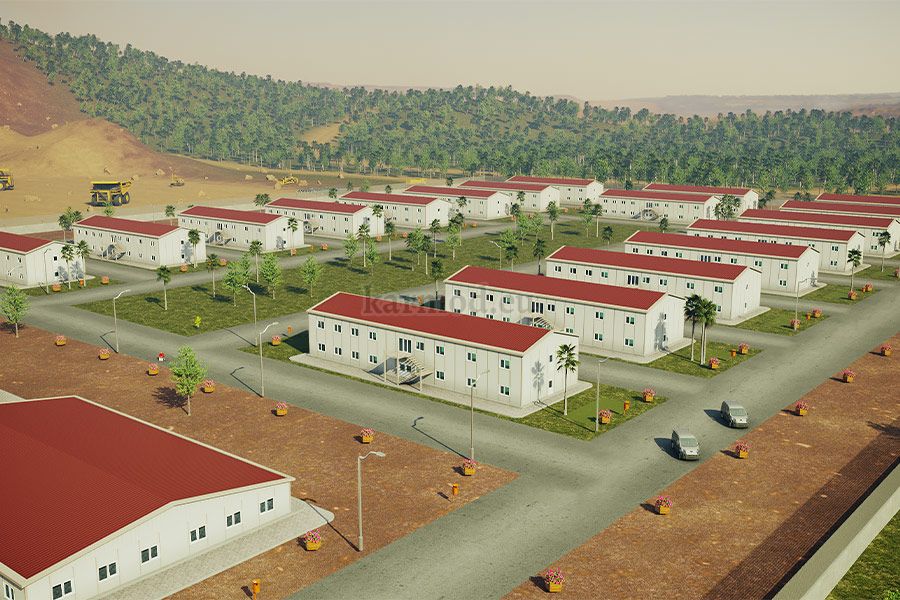 Seize this exclusive offer now. Elevate your mining operations with Karmod, where every Poland mining camp for sale is a beacon of quality, functionality, and supreme comfort. Experience the Karmod difference and ensure the success and growth of your mining venture in Poland. Trust Karmod, where excellence is not just promised, it's guaranteed.
Luxurious Mining Camp Accommodation in Poland
Step into a world where luxury and the rugged mining environment coalesce, welcome to Karmod's luxurious mining camp accommodation in Poland. Our accommodations redefine comfort and convenience within the mining landscape. Set amidst Poland's rich mining sites, Karmod's camps provide not just a place to rest, but a haven where workers rejuvenate, ensuring they are at their optimum when it's time to work. Each accommodation unit is designed keeping in mind the utmost comfort and well-being of the residents, integrated with modern amenities that make them feel at home even in the most remote mining locales. High-quality materials ensure durability and longevity, making Karmod's accommodations not just luxurious but also a practical and wise investment. Immerse in the Karmod experience where luxury meets functionality, setting a new standard in mining camp accommodations in Poland.
Masterful Construction of Poland Mining Camp Buildings
When it comes to the construction of Poland mining camp buildings, Karmod stands out with its masterful approach. The construction process is a blend of innovative design, state-of-the-art technology, and a commitment to excellence. Karmod's dedicated team of experts oversees each aspect of the construction, ensuring that every building is not just structurally sound but also tailored to the unique requirements of each mining site in Poland. Our buildings are a testament to our unwavering commitment to quality, showcasing advanced construction techniques that prioritize safety, durability, and efficiency. With Karmod, you are not just getting buildings; you are investing in masterfully constructed infrastructures that stand the test of time, enhancing the productivity and success of your mining operations in Poland. Trust in Karmod, and let us elevate your expectations with our masterful construction of Poland mining camp buildings.
Elevate Your Expectations with Karmod's Mining Camp Design in Poland
When it's about setting new standards, Karmod seamlessly blends innovation with functionality in their mining camp design in Poland. Elevate your expectations as Karmod introduces you to an environment where every detail is meticulously crafted to enhance operational efficiency and provide unmatched comfort. The architectural excellence of Karmod's designs embodies flexibility and durability, ensuring the mining camps are robust enough to withstand diverse climatic conditions while offering a homely ambiance to the inhabitants.
Discover the exceptional features of Karmod's designs:
Sustainability: Environment-friendly materials and designs that reduce carbon footprint.
Modularity: Experience the advantage of modular camp designs ensuring ease of expansion and customization.
Technology Integration: Cutting-edge technology infused designs to enhance communication and operational processes.
Karmod's mining camp design in Poland is not just about buildings; it's about creating an environment that prioritizes the welfare and productivity of every individual on the mining site.
Unmatched Excellence: Karmod, Your Premier Choice for Poland Mines
Karmod stands as a beacon of unmatched excellence in the Poland mining landscape. When it comes to delivering top-notch mining camp solutions, Karmod emerges as the undisputed choice for ensuring your mining operations in Poland are complemented with the best facilities.
Here's why Karmod is unparalleled:
Unyielding Commitment to Quality: Karmod is synonymous with excellence, ensuring every aspect from design to delivery is impeccable.
In-depth Industry Knowledge: Leverage the benefits of Karmod's extensive experience and insight into the mining industry's nuanced needs.
Comprehensive Solutions: From Poland mining camp management to mining camp kitchens, Karmod delivers a holistic solution catering to every need.
Opt for Karmod, where unparalleled excellence is a commitment, ensuring your Poland mining operations flourish with the finest facilities, unmatched support, and innovative solutions. Elevate your mining endeavor with Karmod, your premier partner in success for Poland mines.