In the thriving sector of mining, it's essential to have accommodations that are not only comfortable but also practical and efficient. Karmod is here to transform your expectations and elevate the standards of Romania mining camp management. We bring you an exclusive offer to own a Romania mining camp, where every detail, from a modular structure to comprehensive camp management, is taken care of with unmatched expertise.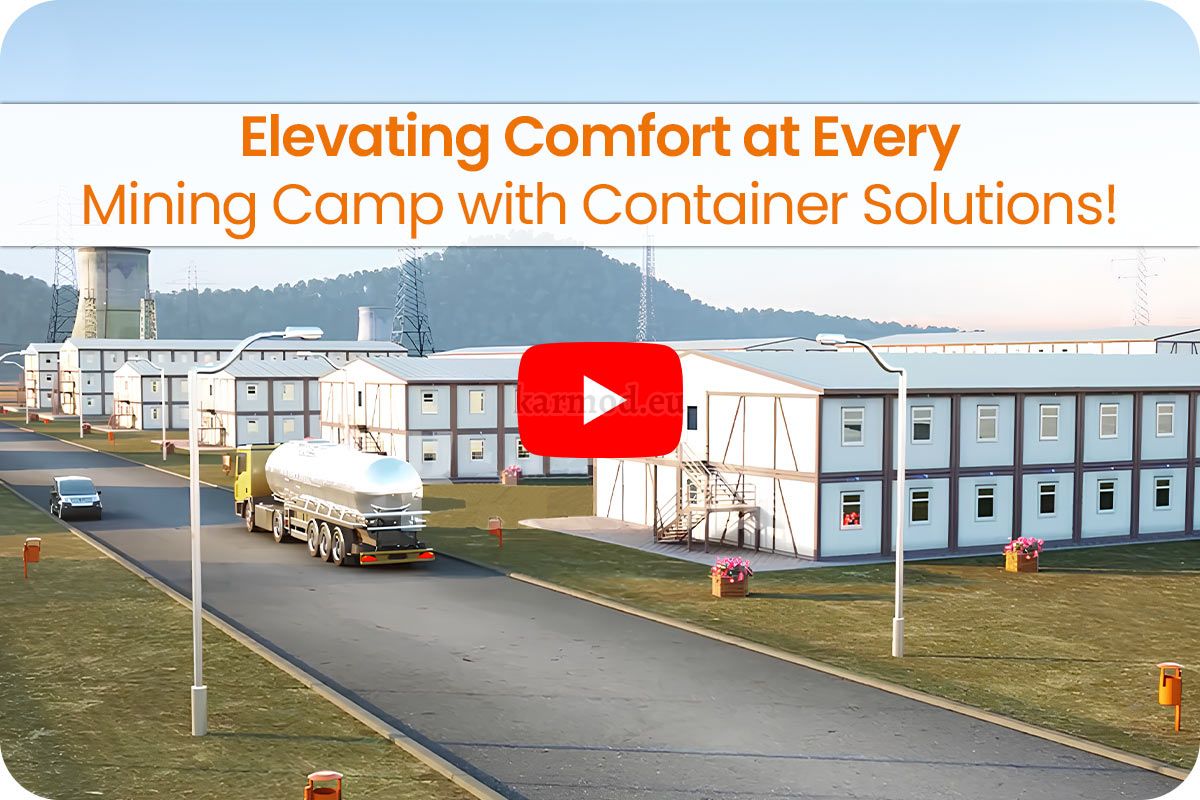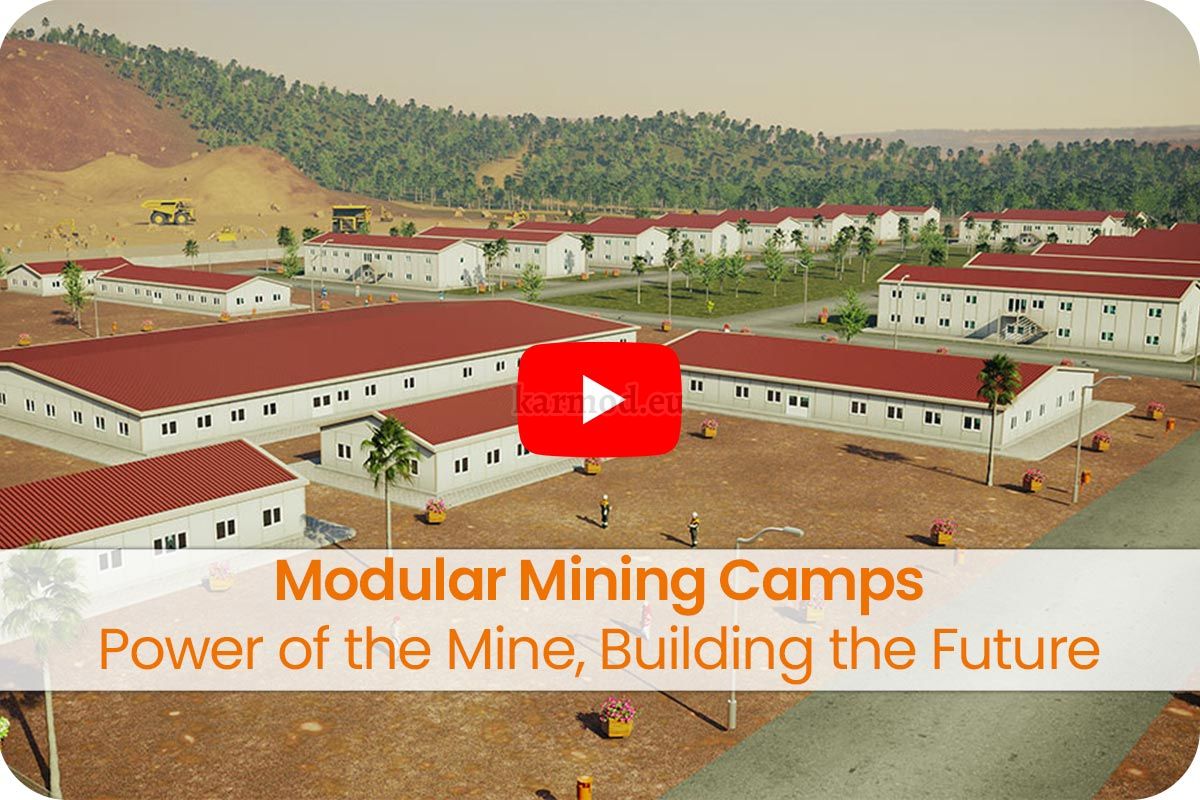 Romania Portable Mining Camp: At Karmod, the portable mining camps are designed with innovation and adaptability at the core. Lightweight yet robust materials ensure durability while offering the flexibility of easy installation and deconstruction. With Karmod's portable mining camp in Romania, you get the assurance of mobility without compromising on quality and security.
Romania Modular Mining Camp: Karmod's modular mining camp in Romania stands as a testament to architectural brilliance and cutting-edge technology. The modular designs allow for easy expansion and customization, ensuring your mining camp grows as your operations expand.
Comprehensive Management: Efficient Romania mining camp management is at the forefront of Karmod's services. Our team of experts handles every aspect, ensuring smooth and seamless operations of the mining camp from start to finish. With Karmod's meticulous mining camp management, focus on your core mining operations while we take care of the rest.
Equipped Mining Camp Kitchen: The Romania mining camp kitchen is fully equipped to handle the demands of a bustling mining camp, ensuring the well-being and satisfaction of every member of your team. With top-of-the-line appliances and design, Karmod's mining camp kitchen meets the highest standards of quality and efficiency.
Exclusive Mining Camps for Sale: Grab the opportunity to own a Romania mining camp for sale, exclusively from Karmod. Our mining camps are competitively priced without compromising on quality and efficiency, ensuring you get the best value for your investment.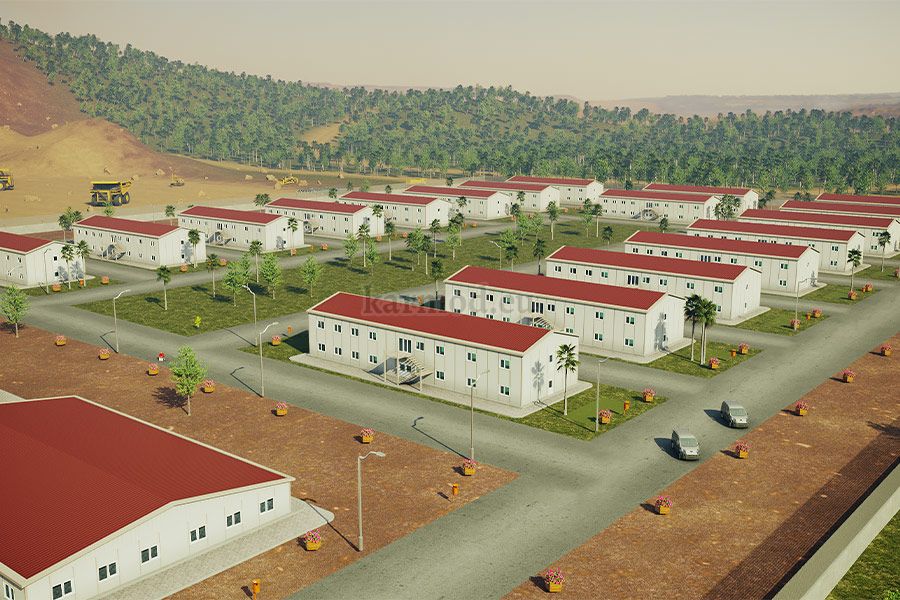 In the world of mining, where efficiency, security, and comfort are paramount, Karmod stands as the undisputed leader, offering exceptional solutions for Romania's mining camp needs. Join the league of satisfied customers who have experienced the Karmod difference. Own your mining camp in Romania now and embark on a journey of success, comfort, and peace of mind with Karmod – where excellence meets reliability.
Luxurious Mining Camp Accommodation in Romania
In the midst of Romania's vibrant mining industry, Karmod is redefining comfort and luxury with its exquisite mining camp accommodation. Imagine coming back from a hard day's work at the mine to a place where comfort meets convenience. With Karmod, experience the harmonious blend of modern architecture, advanced facilities, and a home-like environment, all set within the robust landscape of your mining site in Romania. Each accommodation unit is thoughtfully designed to offer not just a place to rest but a space to rejuvenate and refresh. High-quality materials, innovative design, and superior construction ensure a serene and comfortable living environment, complementing your relentless work spirit. With Karmod's luxurious mining camp accommodation in Romania, make every moment off-duty as productive as your time on the field. Karmod goes beyond providing shelter; we offer a living experience characterized by comfort, safety, and luxury.
Masterful Construction of Romania Mining Camp Buildings
Beyond the comfort of accommodation, the essence of a successful mining operation lies in the structural integrity of its buildings. The masterful construction of Romania mining camp buildings by Karmod is a beacon of reliability and durability in the mining industry. Drawing upon years of experience and expertise, Karmod employs innovative construction techniques to build mining camp buildings that stand the test of time and elements. Our buildings are not just structures; they are the backbone of your mining operation in Romania, ensuring the seamless functioning of every aspect of the camp. Attention to detail, adherence to the highest standards of construction, and the integration of advanced technologies make Karmod's mining camp buildings in Romania a benchmark in the industry. Ensuring safety, stability, and longevity, Karmod's masterful construction techniques lay a solid foundation for your mining operations, fostering growth, efficiency, and success. Trust Karmod for unmatched excellence in the construction of Romania mining camp buildings, and secure the future of your mining operations.
Elevate Your Expectations with Karmod's Mining Camp Design in Romania
Prepare to elevate your expectations with Karmod's innovative mining camp design in Romania. Karmod's design philosophy is deeply rooted in understanding the unique needs and challenges faced by the mining sector. Each mining camp is a harmonious blend of robustness, comfort, and modern amenities, ensuring the utmost satisfaction and safety for its occupants.
Innovative Design: Karmod's mining camp designs seamlessly integrate functionality with aesthetics. Each structure is crafted considering the terrain and climatic conditions of Romania, offering optimal performance and longevity.
Customization: Tailored to meet the diverse needs of mining operations, Karmod offers flexibility in design, ensuring each mining camp is perfectly attuned to the specific requirements and expectations.
Sustainability: Incorporating eco-friendly materials and technologies, Karmod's designs contribute to sustainable mining operations, aligning with global efforts for environmental conservation.
Technology Integration: Harnessing the power of modern technology, Karmod's mining camps feature advanced systems for communication, security, and operation, ensuring a seamless and efficient mining camp management.
Experience the revolutionary modular camp design with Karmod, where every detail is meticulously crafted to enhance the living and working conditions of your mining camp in Romania.
Unmatched Excellence: Karmod, Your Premier Choice for Romania Mines
In the realm of mining, excellence in infrastructure is non-negotiable. That's where Karmod stands out, offering unmatched excellence in developing comprehensive mining camp solutions in Romania. Karmod is your trustworthy partner, ensuring your mining operations thrive on a robust foundation.
Quality Assurance: At Karmod, the uncompromised quality of construction and materials fortify the resilience and durability of every mining camp, offering seamless operations and enhanced safety.
Comprehensive Solutions: From Romania mining camp kitchens to advanced management systems, Karmod's all-encompassing solutions ensure every aspect of your mining camp operates with impeccable efficiency.
Expertise & Experience: Leverage Karmod's extensive industry experience and expertise to navigate the complexities of establishing and managing a successful mining camp in Romania.
Customer-Centric Approach: Your satisfaction is Karmod's priority. Engage in a collaborative partnership with Karmod to realize your vision for an ideal mining camp, tailored to your specific needs and objectives.
Embrace unmatched excellence with Karmod, your premier choice for ensuring the success and sustainability of your mining operations in Romania.