The mining sector in Rwanda has seen a significant rise in activity, and with this upward trend, the demand for well-structured, efficient, and comfortable mining camps has surged. Karmod steps into this realm with a stellar offering that is tailored to meet the stringent requirements of the mining industry while offering a touch of comfort and modernity. The Rwanda mining camps for sale now present a golden opportunity for mining entities to own a piece of excellently crafted, functional space that will undeniably enhance operations.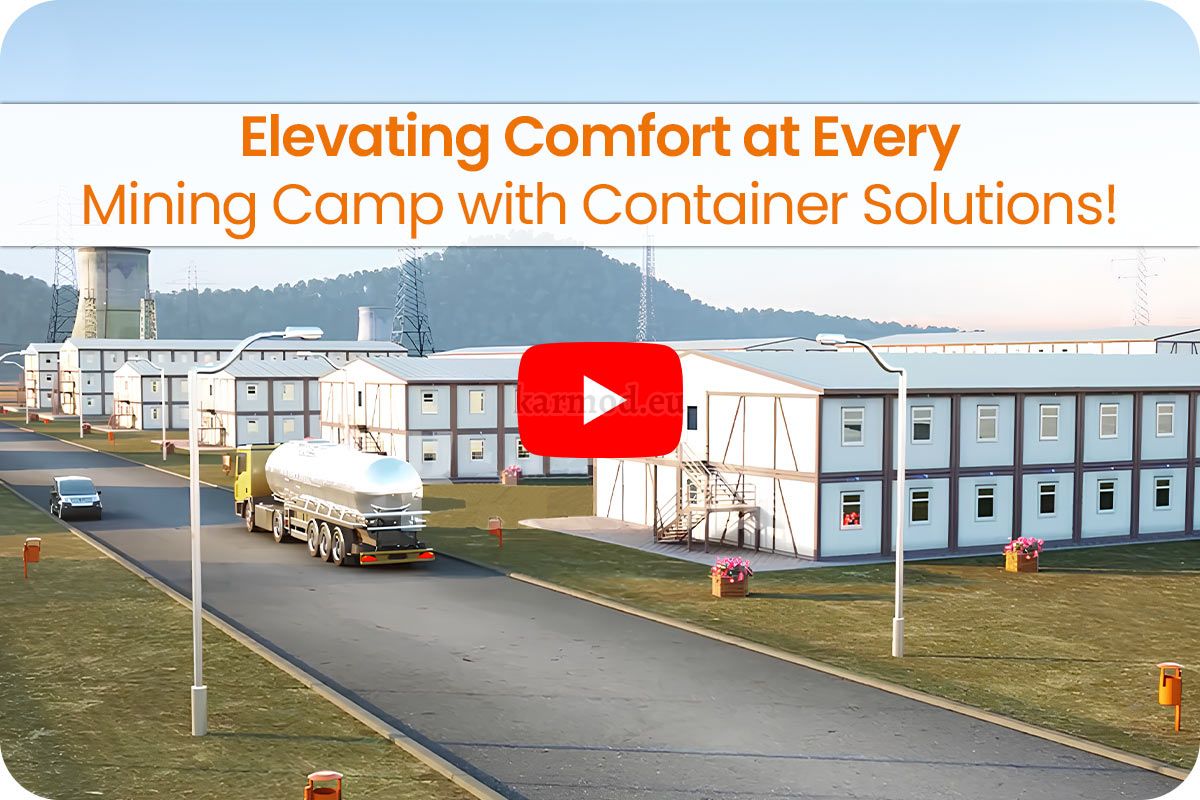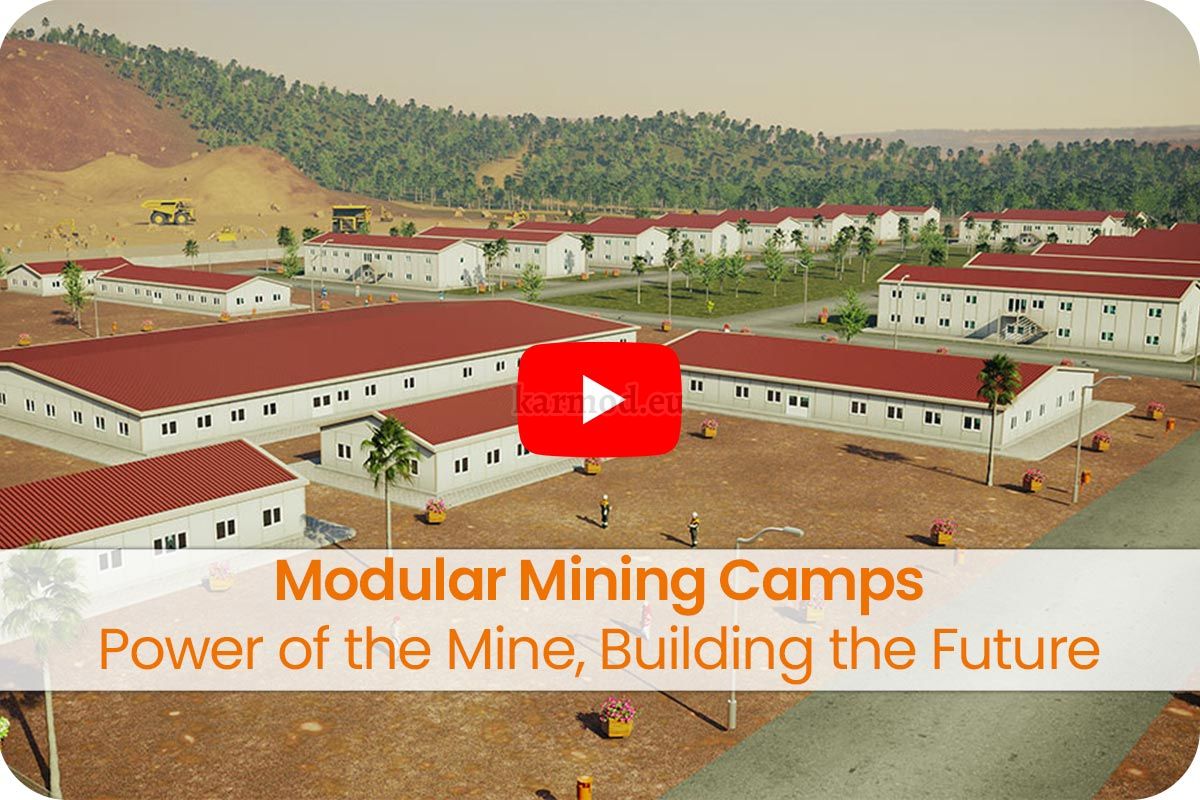 Rwanda Portable Mining Camp:

Karmod's portable mining camps are designed to be a perfect blend of functionality and portability. With a focus on easy setup and dismantling, these camps provide the much-needed flexibility in the ever-evolving mining landscapes.

Rwanda Modular Mining Camp:

Modular construction is at the heart of Karmod's innovative approach. The Rwanda modular mining camps are constructed off-site, ensuring quality and precision, and later assembled on-site in a fraction of the time traditional construction would take.

Rwanda Mining Camp Management:

Efficient management is the backbone of successful mining operations. Karmod's mining camp design considers every aspect of camp management, creating a harmonious environment that fosters productivity and well-being.

Rwanda Mining Camp Kitchen:

Proper nutrition is key to maintaining high energy levels and overall health of the mining workforce. The mining camp kitchens are designed to be spacious, hygienic, and well-equipped to handle the dietary needs of a bustling mining community.

Rwanda Mining Camp for Sale:

This exclusive offer opens a window for mining operators to secure a well-structured, durable, and comfortable living and working space in the heart of Rwanda's mining region. The camps are not only built to withstand the harsh conditions of mining environments but also designed to provide a conducive atmosphere for rest, relaxation, and productive work.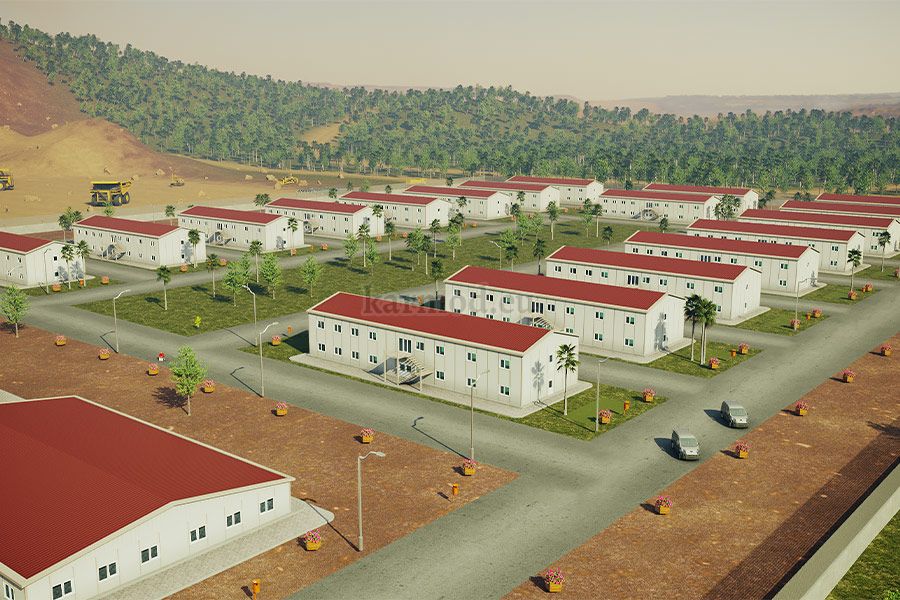 Karmod's superior construction technology, coupled with an understanding of the unique needs of the mining sector, makes these Rwanda mining camps a prudent investment. Owning a Karmod mining camp is not just about having a place for operations; it's about elevating the operational standards, ensuring the safety and comfort of the workforce, thereby contributing positively to the bottom line of the mining ventures. Now is the opportune moment to invest in a mining camp that embodies quality, durability, and modernity in Rwanda.
Luxurious Mining Camp Accommodation in Rwanda
In the heart of Rwanda's burgeoning mining sector, a notable shift towards prioritizing comfort and luxury for the hardworking miners is observed. This is where Karmod steps in, embodying a fresh wave of luxurious mining camp accommodation in Rwanda. The meticulous design, coupled with a warm, homely ambiance, challenges the conventional perception of mining camps being merely functional with little regard for comfort. Karmod's state-of-the-art accommodations ensure that every miner looks forward to a soothing retreat post a demanding day at the mines, marking a significant upgrade from the standard lodgings usually associated with mining camps.
Furthermore, the aesthetics are carefully curated to amalgamate with functionality, ensuring that the living spaces are not just about luxury but are tailored to cater to the rigorous demands of a miner's routine. The soothing interiors, modern amenities, and a touch of elegance redefines what luxury in a mining environment can look like. This initiative by Karmod isn't merely about plush living spaces, but a thoughtful stride towards appreciating the relentless endeavors of the miners.
Masterful Construction of Rwanda Mining Camp Buildings
Karmod's reputation in masterful construction isn't confined to mere words but is prominently visible in the Rwanda mining camp buildings. The edifices stand as a testimony to Karmod's unwavering commitment to quality, innovation, and meticulous attention to detail. Employing cutting-edge construction technology, every building within the mining camp is a marvel of engineering, designed to withstand the test of time and the harsh conditions of mining locales.
The utilization of contemporary construction techniques ensures rapid deployment without compromising on quality. Every structure within the mining camp is a result of exhaustive research, careful planning, and execution by a team of seasoned professionals. The solid construction, coupled with modern designs, ensures that the buildings are not merely structures but a haven of safety and efficiency for every individual who steps inside.
The essence of Karmod's masterful construction lies in a blend of advanced technology with a profound understanding of the unique demands of the mining industry in Rwanda. This combination leads to the creation of mining camp buildings that are not just structurally sound but are aesthetically pleasing, encapsulating a conducive environment for both productive work and restful leisure.
Elevate Your Expectations with Karmod's Mining Camp Design in Rwanda
In the realm of mining, creating a haven that caters to both functionality and comfort is a meticulous task. Karmod, with its avant-garde approach, has adeptly risen to this challenge, offering exemplary mining camp design in Rwanda. Their innovative layouts are not just about creating shelter but about establishing a conducive environment that caters to the holistic needs of the mining personnel.
Innovative Modular Designs: The cornerstone of Karmod's success lies in their modular camp designs. This ingenious approach facilitates rapid construction, ensuring that mining operations get up and running in the shortest time possible. Moreover, the modular design allows for easy expansion, a crucial feature for the dynamic needs of mining operations.
Robust Construction: Every structure by Karmod is built to endure the harsh realities of mining environments. The robust construction, married to modern engineering practices, ensures that the mining camps are safe, durable, and built to last.
Optimized Functional Spaces: The mining camp design is meticulously planned to ensure optimized utilization of space. Every inch is crafted with a vision - be it the recreational areas, sleeping quarters, or the management offices.
Eco-friendly Practices: Environmental sustainability is at the core of Karmod's design philosophy. The mining camps are designed to have minimal impact on the natural surroundings, showcasing a perfect blend of human enterprise and nature's bounty.
Customizable Options: Understanding the diverse needs of the mining industry, Karmod offers a myriad of customization options. This allows for a mining camp design that is in harmony with the unique operational needs of each mining project in Rwanda.
Karmod, through its innovative approach, has indeed elevated the expectations when it comes to mining camp design in Rwanda, setting a high benchmark in the industry.
Unmatched Excellence: Karmod, Your Premier Choice for Rwanda Mines
The quest for a reliable, experienced, and innovative construction partner for Rwanda mines unequivocally leads to Karmod. With a proven track record of unmatched excellence, Karmod stands as the premier choice for providing comprehensive construction solutions in the mining sector.
Cutting-edge Technology: Karmod employs the latest in construction technology to deliver projects that are not only aesthetically appealing but also structurally sound and functionally efficient.
Seasoned Expertise: With years of experience under their belt, Karmod has garnered invaluable insights into the unique challenges and requirements of the mining sector in Rwanda. This seasoned expertise is reflected in every project they undertake.
Client-centric Approach: At the heart of Karmod's operations is a strong commitment to client satisfaction. Their client-centric approach ensures that every project is tailored to meet and exceed the client's expectations.
Competitive Pricing: Delivering top-notch quality without causing a dent in your budget is a hallmark of Karmod's offerings. Their competitive pricing models coupled with superior quality makes them an irresistible choice for Rwanda mines.
On-time Delivery: In the time-sensitive mining industry, Karmod's adherence to deadlines and on-time project delivery is a breath of fresh air. This punctuality, blended with exceptional quality, sets them apart from the rest.
Choosing Karmod for your Rwanda mining camp construction is an investment in quality, reliability, and unmatched excellence. With Karmod, you're not just getting a service provider; you're gaining a partner committed to the success of your mining venture in Rwanda.