In the rugged terrains of Saudi Arabia where mining opportunities abound, a reliable and comfortable base is a necessity. With Karmod, set your expectations high as we introduce you to the world of superior quality Saudi Arabia portable mining camps. We know the ins and outs of the unique challenges faced by mining operations in Saudi Arabia, ensuring that every detail is accounted for in our innovative and comprehensive mining camp solutions.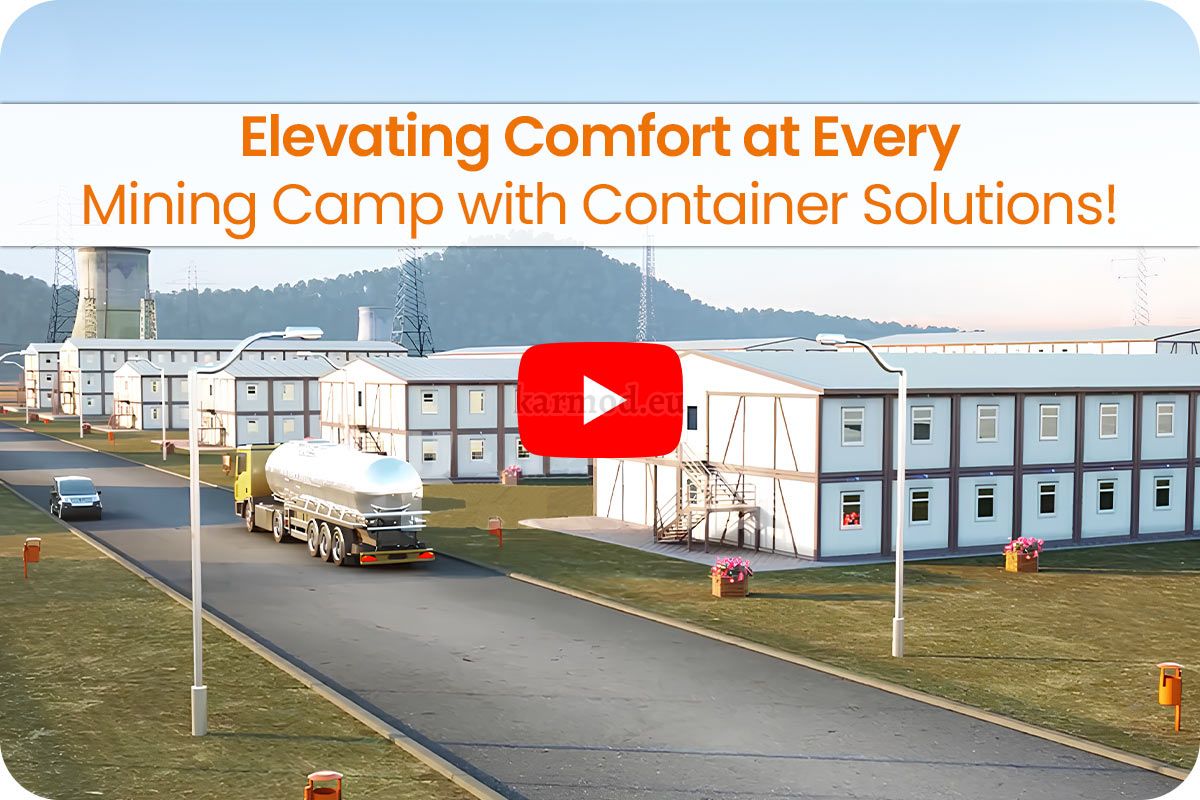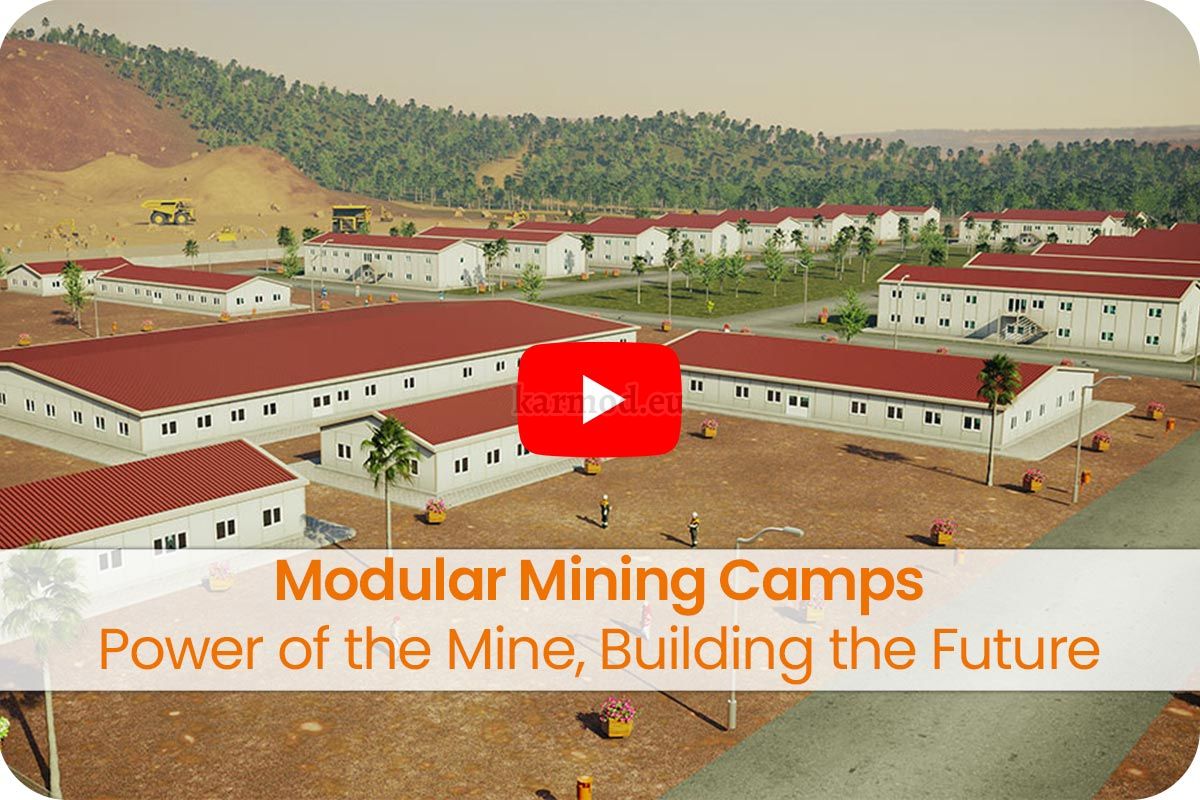 Unparalleled Portable Mining Camps: Our Saudi Arabia portable mining camps are designed for convenience and resilience. Easily transported and installed, these units bring you unmatched functionality and comfort even in the most remote mining sites.
Innovative Modular Design: Explore the heights of innovation with our Saudi Arabia modular mining camp options. Our modular camps are a testimony to our commitment to quality and cutting-edge design, ensuring that your team has a sturdy, secure, and comfortable living and working environment.
Efficient Management Solutions: At Karmod, we understand the importance of seamless operations. Our Saudi Arabia mining camp management services ensure your mining camp runs efficiently, with every aspect meticulously handled by our experienced team.
State-of-the-Art Camp Kitchens: No detail is too small for our attention. Our Saudi Arabia mining camp kitchens are designed for optimal functionality, ensuring your team has access to nutritious and satisfying meals as they work on pivotal mining projects.
Premium Camps for Sale: Seize the opportunity to own a world-class mining camp in Saudi Arabia. Our Saudi Arabia mining camps for sale offer you the chance to have a permanent base that stands the test of time, weather, and operational demands.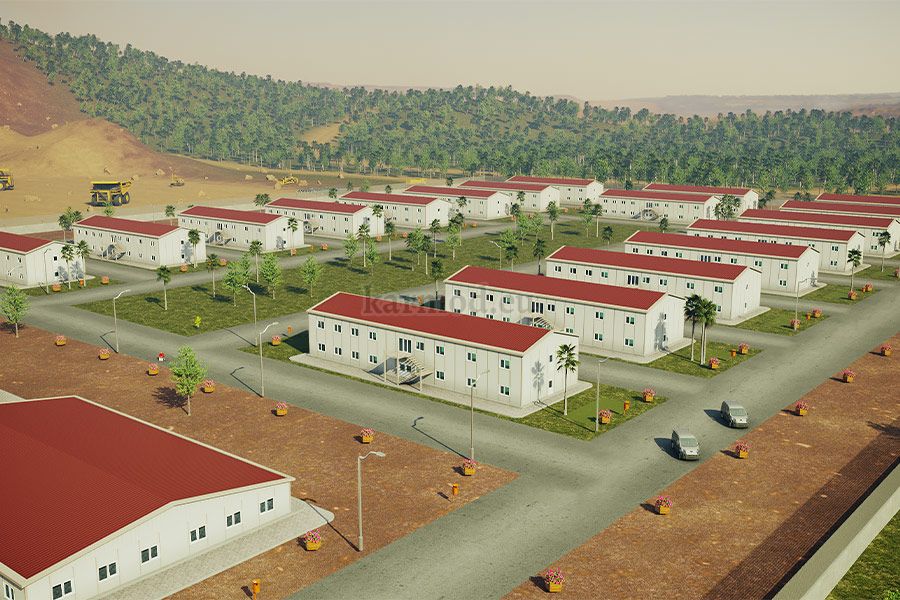 Why choose Karmod for your mining camp needs in Saudi Arabia? We bring to the table years of experience, unmatched expertise, and a relentless commitment to customer satisfaction. From the initial design to final implementation, Karmod is your trusted partner, guiding you at every step to ensure your mining camp in Saudi Arabia is nothing short of perfection.
Explore the world of possibilities with Karmod. Secure your Saudi Arabia mining camp today and set the foundation for successful, efficient, and safe mining operations. Experience the Karmod difference, where innovation, quality, and customer satisfaction reign supreme.
Luxurious Mining Camp Accommodation in Saudi Arabia
In the vast expanse of Saudi Arabia's mineral-rich landscapes, providing luxurious mining camp accommodation is not just a goal but a standard with Karmod. For every hardworking team, a comfortable, spacious, and well-equipped living space is essential for maintaining optimal productivity and well-being. Karmod's Saudi Arabia mining camps redefine luxury, offering superior living conditions with modern amenities and cutting-edge designs. Here, every accommodation unit is crafted to ensure the highest levels of comfort and safety for its occupants. The layouts are thoughtfully planned to promote convenience, ease of movement, and relaxation after a long day's work, ensuring every team member feels at home even in the remotest mining sites.
Embrace the blend of luxury and functionality with Karmod's exceptional mining camp accommodations in Saudi Arabia. Beyond just a place to rest, these accommodations are havens of comfort in the heart of Saudi Arabia's vast mining landscapes, assuring restful sleep and rejuvenated wakefulness for each day's work. With Karmod, indulge in the finest of living spaces, where every detail speaks of luxury, comfort, and utmost care.
Masterful Construction of Saudi Arabia Mining Camp Buildings
Karmod's excellence shines through in the masterful construction of Saudi Arabia mining camp buildings. Our expertise in creating robust, durable, and high-quality buildings for mining camps is unmatched. We prioritize using premium materials and innovative construction techniques to ensure every building can withstand the harsh conditions of mining environments while offering optimum functionality and comfort.
Every Saudi Arabia mining camp building by Karmod is a masterpiece of engineering and design. Our team of skilled professionals is dedicated to ensuring each construction project is executed flawlessly, adhering to the highest standards of quality and safety. From sturdy accommodation units to fully equipped kitchen and dining facilities, each building is crafted to meet the specific needs and expectations of our clients in the mining industry.
Reliability and precision are at the heart of Karmod's construction ethos. With our extensive experience and unwavering commitment to excellence, ensure your Saudi Arabia mining camp buildings stand as testaments to quality, durability, and innovation, fostering a conducive and efficient environment for successful mining operations. Trust Karmod to bring your mining camp vision to life with masterful construction, personalized solutions, and unparalleled support every step of the way.
Elevate Your Expectations with Karmod's Mining Camp Design in Saudi Arabia
Immerse yourself in the realm where exemplary design meets practicality. At Karmod, we bring forth our innovative and superior mining camp designs in Saudi Arabia, crafted meticulously with your expectations and needs in the forefront. Our designs are not just about structures; they echo the synergy of flexibility, safety, and luxury. We understand that a well-designed mining camp is pivotal for efficient operations and the well-being of the staff. Hence, we never compromise on the quality and thoughtfulness of our design.
Tailored Designs: Our mining camp designs are tailored to blend seamlessly with the Saudi Arabian landscape, ensuring optimal functionality and minimal environmental impact.
Innovation at Core: The modular camp designs by Karmod integrate cutting-edge technology and innovative solutions, promising not only stability and durability but also unmatched convenience and comfort.
Safety Ensured: With Karmod, rest assured that the mining camp designs prioritize the safety and security of your team, conforming to the highest international standards.
Elevate your expectations with Karmod, where every mining camp design in Saudi Arabia is a testament to our commitment to excellence, innovation, and the well-being of your workforce.
Unmatched Excellence: Karmod, Your Premier Choice for Saudi Arabia Mines
When it comes to establishing a sturdy, secure, and comfortable mining camp in Saudi Arabia, Karmod stands out as your premier choice. Our unmatched excellence in providing top-notch mining camp solutions assures you of a reliable and robust setup for your mining operations.
Comprehensive Solutions: From the initial design phase to the final construction, Karmod offers a comprehensive solution for your mining camp needs in Saudi Arabia.
Unparalleled Support: We are steadfast in providing continuous and unmatched support to ensure the smooth running and maintenance of your mining camp.
Commitment to Satisfaction: Our dedication to your satisfaction is unwavering. We go the extra mile to ensure every aspect of the mining camp aligns with your expectations and requirements.
Choose Karmod for an exceptional mining camp experience in Saudi Arabia, reflecting a partnership built on trust, excellence, and a deep understanding of your mining camp needs. Our commitment to unparalleled quality and support makes us the preferred choice for mining operations in Saudi Arabia, guaranteeing success and growth in every endeavor.