The mining industry in Senegal is a bustling realm of opportunity. As the demand for mining operations burgeons, the necessity for well-established, functional, and comfortable mining camps is more pronounced than ever. Enter Karmod, a brand synonymous with quality and reliability, now offering an exclusive range of Senegal mining camps for sale.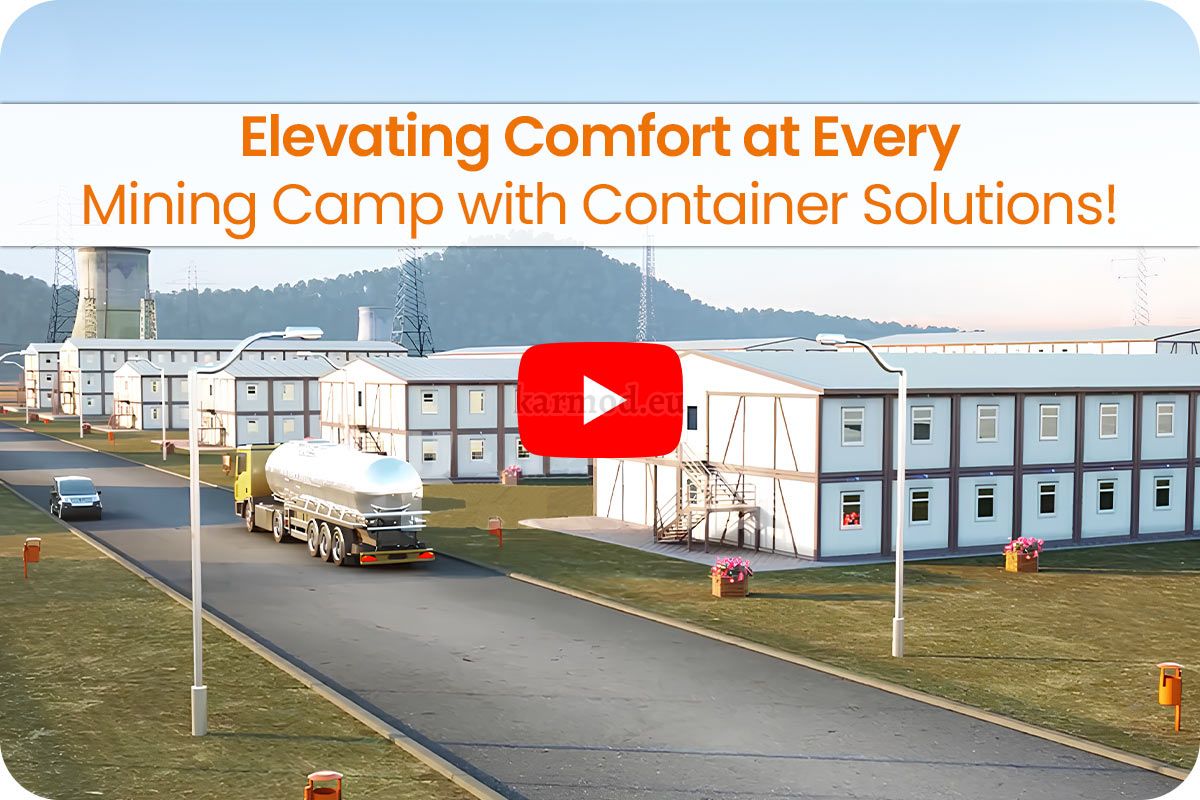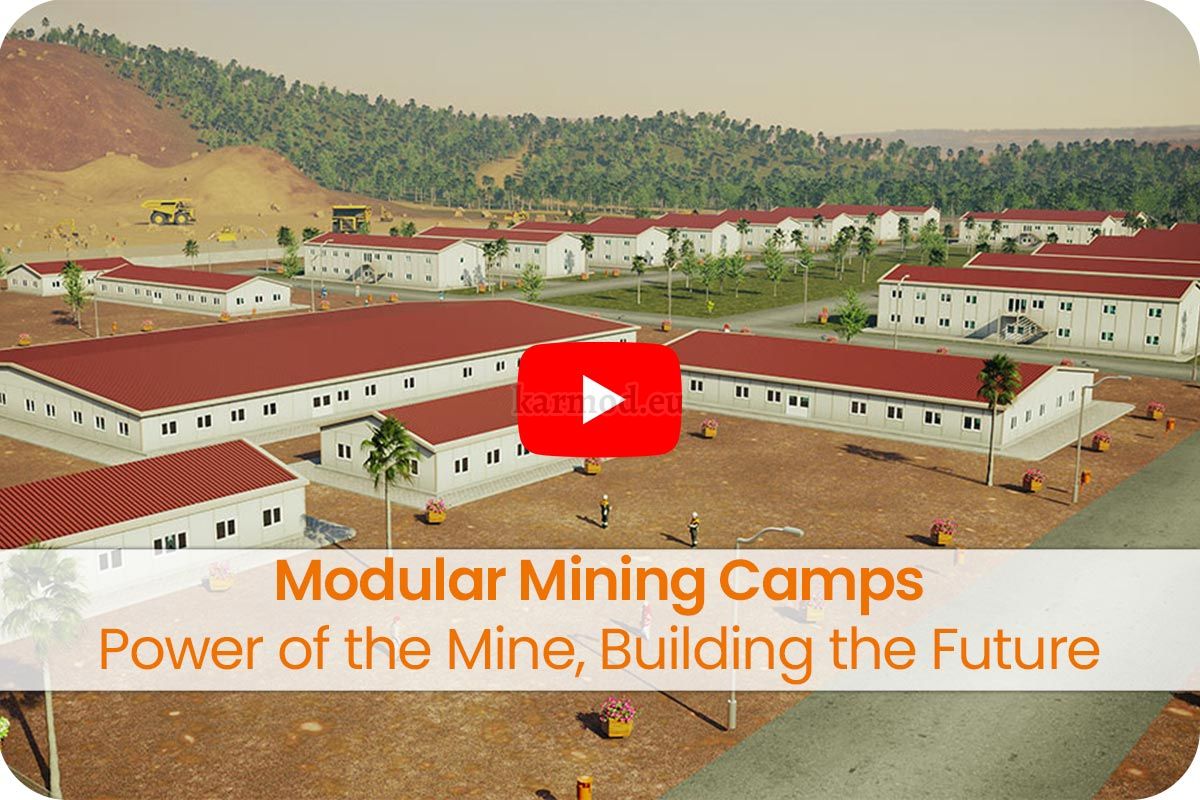 Senegal Portable Mining Camp: The ease of set-up and mobility is a distinctive feature of Karmod's portable mining camp. It's designed for operations that require a swift setup, ensuring that mining activities commence with minimal delay. The portable nature of these camps offers a flexibility that's invaluable in the unpredictable terrain of mining sites.
Senegal Modular Mining Camp: Modular mining camps by Karmod are a testament to modern, efficient, and sustainable construction. The pre-fabricated structures are easy to assemble and disassemble, making them a long-term yet flexible solution. It's an investment that pays dividends in operational efficiency and miner satisfaction.
Senegal Mining Camp Management: Effective management is the backbone of a successful mining operation. Karmod provides comprehensive mining camp management solutions ensuring smooth operations, safety compliance, and a comfortable living and working environment. Our camps are designed with management efficiency at the forefront.
Senegal Mining Camp Kitchen: A well-fed crew is a happy and productive crew. The mining camp kitchens by Karmod are designed to cater to the culinary needs of the mining staff. With modern amenities, hygienic conditions, and efficient layouts, meal preparations and distribution become hassle-free endeavors.
Senegal Mining Camp for Sale: Karmod is offering an exclusive opportunity to own premium quality mining camps in Senegal. This offer encapsulates Karmod's commitment to bolstering the mining industry in Senegal by providing top-notch accommodation solutions.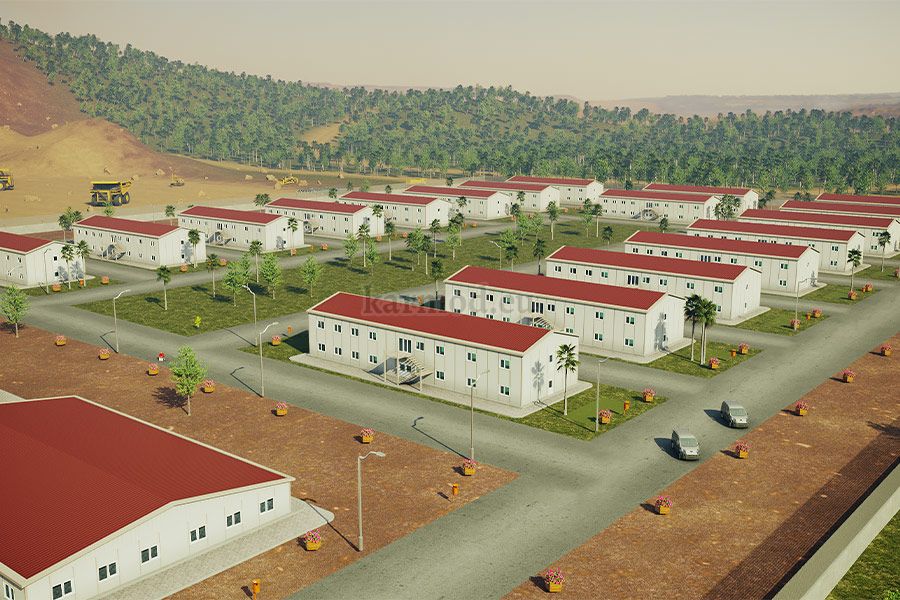 The mine camp offerings by Karmod are a blend of meticulous design, modern technology, and robust construction, tailored to withstand the rigorous demands of mining operations in Senegal. Aligning with Karmod for your mining camp needs is an investment in comfort, efficiency, and reliability, catalyzing the pace towards achieving your mining objectives in the heartland of Senegal's mineral wealth.
Luxurious Mining Camp Accommodation in Senegal
In the heart of Senegal's burgeoning mining sector, a new benchmark for luxury and comfort is being set by Karmod's mining camp accommodations. This isn't just a place for miners to rest after a long day; it's a haven of comfort designed to rejuvenate and reenergize for the challenges ahead. The blend of modern architecture, superior materials, and a keen eye for aesthetics sets Karmod's accommodations apart in a league of their own. Each unit reflects a commitment to quality and the well-being of every inhabitant, ensuring not just a place to rest, but a space of solace amidst the rigorous mining environment.
Masterful Construction of Senegal Mining Camp Buildings
The blueprint of durability and functionality resonates through the masterful construction of Karmod's Senegal Mining Camp Buildings. Employing cutting-edge technology and engineering expertise, each structure is crafted to endure the harsh conditions of mining sites while providing a safe, robust, and comfortable shelter. The ingenuity in construction extends to the efficient use of space, ensuring each unit is optimized for living, working, and recreational purposes. The enduring construction is not just a shelter but a statement of Karmod's dedication to superior quality and the relentless pursuit of excellence in fostering conducive environments for mining operations in Senegal.
Elevate Your Expectations with Karmod's Mining Camp Design in Senegal
Karmod is here to redefine what a mining camp can be with its innovative design in Senegal. Gone are the days of cramped, uncomfortable living quarters. Welcome to a new era where functionality meets comfort in a seamless blend, elevating daily living to a new level of excellence. Here's how Karmod is changing the game:
Innovative Layouts: Karmod's layouts are designed not just to provide shelter, but to create a sense of home, with ample space, modern amenities, and a conducive environment for rest, relaxation, and social interaction.
Modular Camp Efficiency: The use of modular camp structures ensures a quicker setup, better quality control, and an adaptable layout to meet the unique needs of each mining project.
Sustainable Practices: Incorporating eco-friendly materials and energy-efficient designs, Karmod is not only creating a comfortable living space but also minimizing the environmental footprint of each mining camp.
Safety First: With a prime focus on safety, each structure is built to withstand the harsh conditions of mining locales, ensuring a secure haven for every inhabitant.
Unmatched Excellence: Karmod, Your Premier Choice for Senegal Mines
In the competitive mining industry of Senegal, choosing Karmod for your mining camp solutions is choosing unmatched excellence. Here's what sets Karmod apart:
Tailored Solutions: Understanding that every mining project is unique, Karmod offers tailored solutions that cater to specific needs, ensuring optimal functionality and comfort.
Quality Assurance: Karmod's reputation for quality is well-earned with a stringent quality control process ensuring that every unit delivered is up to the mark.
Expertise: With years of experience in the field, Karmod's team of experts is adept at designing and constructing mining camp buildings that not only meet but exceed industry standards.
Customer Satisfaction: The journey doesn't end with the delivery of your mining camp. Karmod ensures a seamless experience from the first point of contact to the after-sales service, affirming customer satisfaction at every step.
With Karmod, you're not just getting a mining camp; you're investing in a promise of excellence and a hassle-free experience from start to finish.