In the vast landscapes of South Africa, mining is an essential and burgeoning industry. Karmod stands at the forefront, offering an exclusive chance to own your South Africa mining camp with unmatched standards and quality. Here, the emphasis is not just on providing a space but delivering a comprehensive experience tailored to meet and exceed the industry's demanding needs. Karmod guarantees South Africa portable mining camp solutions that are not only efficient but also scalable to your operations' extent and complexity.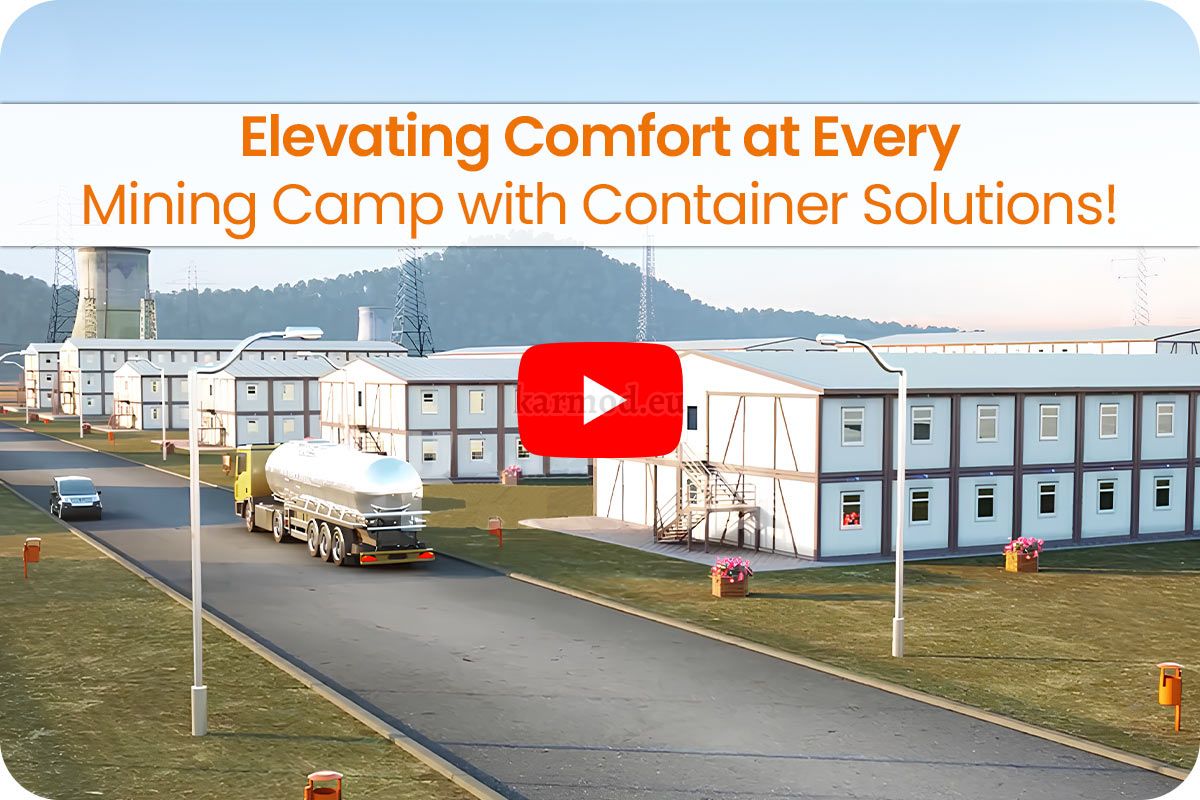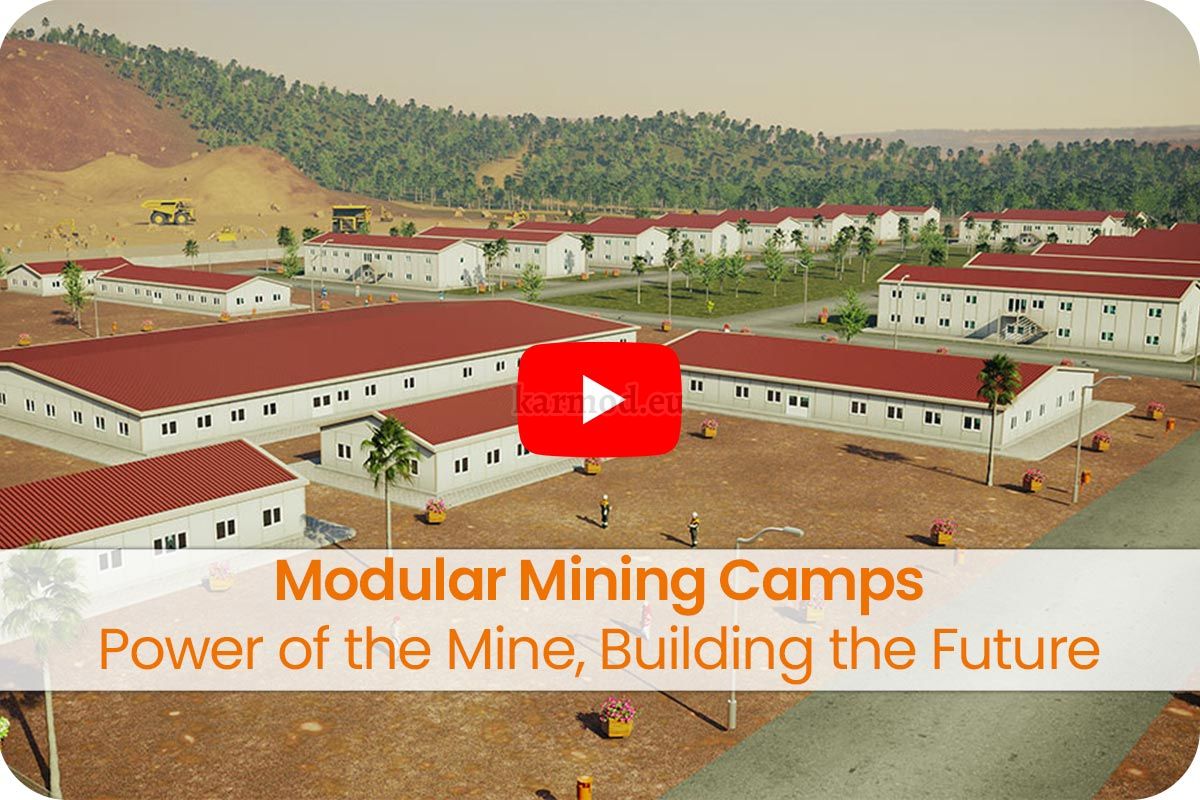 South Africa Portable Mining Camp: Experience the ultimate flexibility and mobility with Karmod's portable mining camps. Designed with precision and a keen understanding of the unique terrain and conditions of South Africa, these portable units offer unparalleled ease of use, durability, and comfort.
South Africa Modular Mining Camp: Karmod's modular mining camp solutions in South Africa are revolutionizing the way mining operations are set up and managed. The integration of innovative design, cutting-edge technology, and superior materials ensure that Karmod's modular camps stand as the epitome of functionality and efficiency.
Exemplary Mining Camp Management: Ensuring smooth South Africa mining camp management is a task Karmod is well-equipped for. With a dedicated and experienced team at the helm, each aspect of your mining camp is managed with unmatched expertise, ensuring seamless operations and heightened productivity.
Exceptional Mining Camp Kitchen: A well-fed team is a productive team. At Karmod, this belief translates into providing exceptional South Africa mining camp kitchen facilities. Ensuring your team has access to nutritious and delicious meals in a clean, hygienic environment is a priority.
South Africa Mining Camp for Sale: Don't miss the chance to own a top-notch mining camp in South Africa. This exclusive offer ensures you have the very best in terms of location, facilities, and management, guaranteeing the success and growth of your mining operations.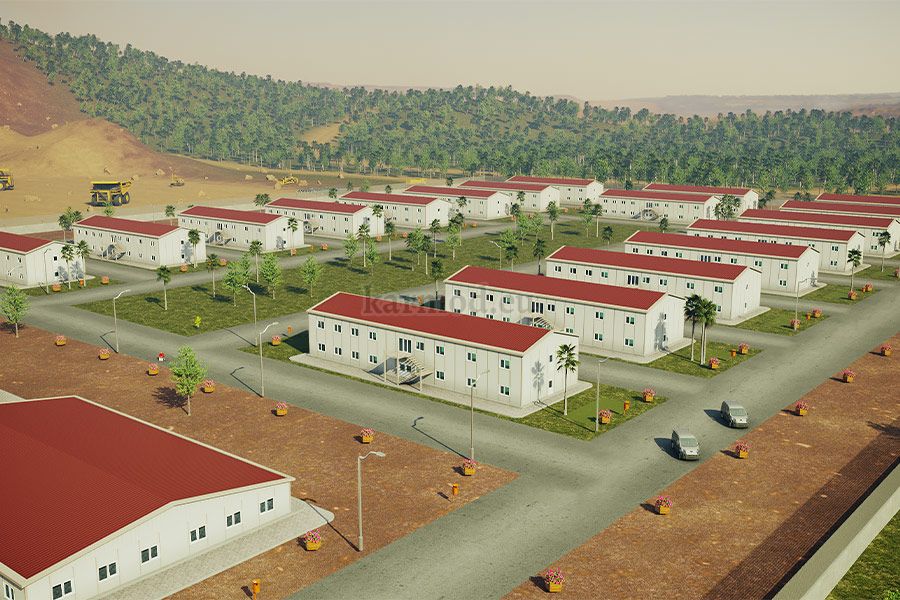 Karmod's emphasis on quality, innovation, and customer satisfaction ensures your investment in a South Africa mining camp is not just a purchase but a long-term partnership for growth and success. Elevate your mining operations with Karmod and ensure your team works in an environment that is as efficient, comfortable, and effective as possible. The journey towards unparalleled mining success in South Africa begins with Karmod. Own your mining camp now and propel your operations to unmatched heights.
Luxurious Mining Camp Accommodation in South Africa
In the expansive mining terrains of South Africa, comfort and luxury are not just options but necessities for ensuring optimal productivity and satisfaction. Karmod transcends the typical accommodations, providing luxurious mining camp accommodation in South Africa, where every detail speaks of comfort, quality, and refinement. Amidst the rugged landscapes, Karmod creates oases of luxury and tranquility. The spacious and well-designed accommodations offer not just a place to rest, but a haven of relaxation, where each moment spent reenergizes and rejuvenates. Incorporating modern designs with robust construction, the accommodations are tailor-made for the challenging environments of mining camps, ensuring durability without compromising on comfort and luxury.
Masterful Construction of South Africa Mining Camp Buildings
Constructing mining camp buildings in the challenging terrains of South Africa requires not just expertise but a masterful approach, a characteristic ingrained in every project undertaken by Karmod. The company's commitment to excellence is evident in the masterful construction of South Africa mining camp buildings, where every structure stands as a testament to quality, durability, and innovation. Utilizing advanced technology and high-quality materials, Karmod ensures that each building is constructed to withstand the test of time and elements. The buildings reflect a perfect amalgamation of form and function, ensuring optimal efficiency and sustainability in every aspect. The cutting-edge construction techniques employed guarantee not just the robustness of the structures but also adherence to environmental and safety standards, making Karmod the undisputed choice for masterful mining camp construction in South Africa.
Karmod's services in South Africa epitomize the highest standards of luxury, comfort, and construction excellence, reflecting the company's unwavering commitment to contributing positively to the burgeoning mining industry of the nation.
Elevate Your Expectations with Karmod's Mining Camp Design in South Africa
Get ready to elevate your expectations with Karmod's ingenious mining camp design in South Africa. At Karmod, we believe that optimal productivity begins with an exceptional living and working environment. Our meticulously planned and executed mining camp designs uniquely blend aesthetics, functionality, and sustainability, creating spaces that enhance comfort, safety, and efficiency.
Innovative Design: Karmod is at the forefront of integrating innovative solutions that cater to the specific needs of each mining camp, ensuring a harmonious balance between the environment and operational demands.
Sustainability: Committed to promoting sustainability, Karmod's designs incorporate eco-friendly materials and energy-efficient systems, minimizing the ecological footprint of each mining camp.
Safety First: Prioritizing the safety of every individual, Karmod's mining camp designs adhere to the highest standards of safety and security, providing peace of mind in even the most challenging environments.
Experience the elevation of expectations with Karmod's unparalleled mining camp designs in South Africa. Be a part of a community where every element is crafted for excellence and where your utmost satisfaction is our prime accomplishment.
Unmatched Excellence: Karmod, Your Premier Choice for South Africa Mines
Embrace unmatched excellence with Karmod, your premier choice for South Africa mines. Karmod's commitment to delivering superior quality, innovative design, and exceptional customer service positions it as the leading choice for mining camp solutions in South Africa.
Modular Camp Excellence: Our modular camp solutions are custom-designed to meet the diverse needs of mining operations, ensuring flexibility, scalability, and optimal efficiency.
Quality Assurance: At Karmod, uncompromising quality is embedded in every aspect, from design and materials to construction and service, guaranteeing longevity and exceptional value.
Comprehensive Solutions: Beyond construction, Karmod offers comprehensive mining camp management solutions, ensuring seamless operations and unmatched comfort and convenience.
Embark on a journey of unmatched excellence with Karmod, where your vision for a robust, efficient, and luxurious mining camp in South Africa is transformed into reality. With Karmod, experience the epitome of excellence and innovation, making every mining venture a resounding success.