Embarking on a mining venture in Tanzania? Ensure the comfort and efficiency of your mining operations with Karmod's exceptional mining camps. Seize the exclusive offer now and own a top-notch Tanzania mining camp that's engineered for ultimate comfort, efficiency, and safety. Let's delve deeper into the specifics: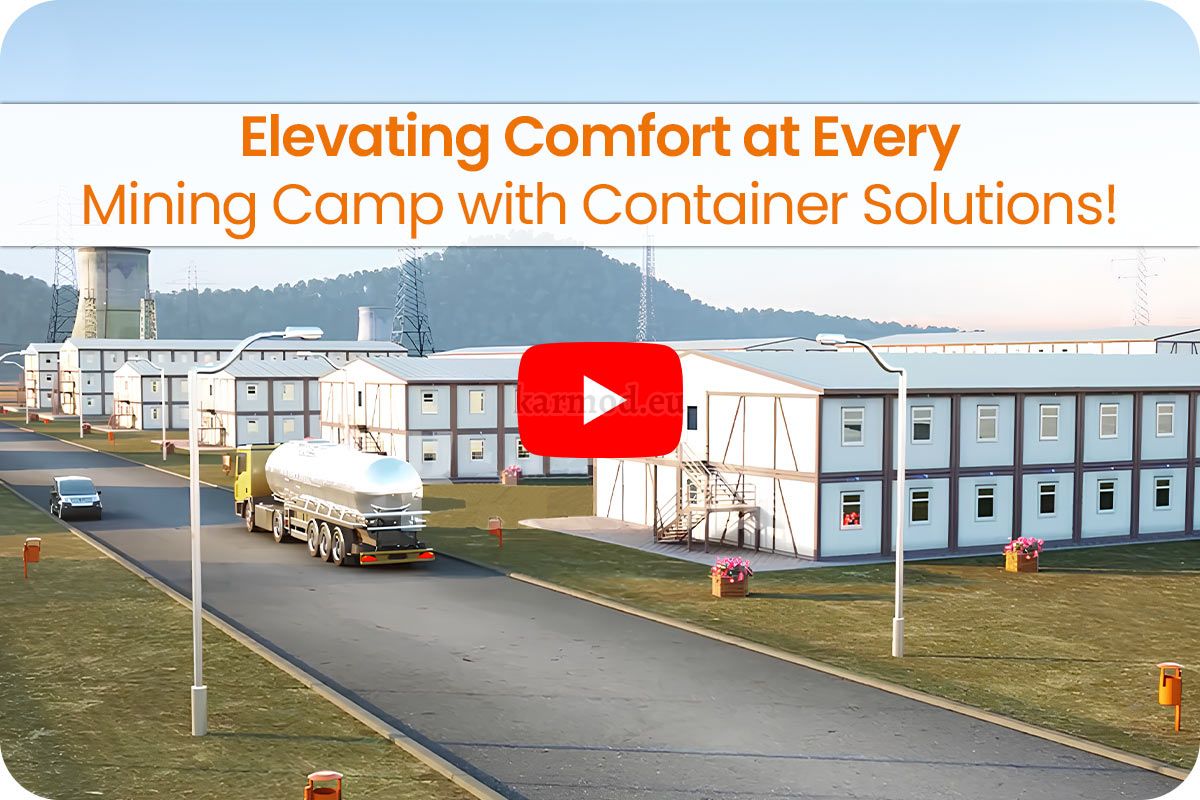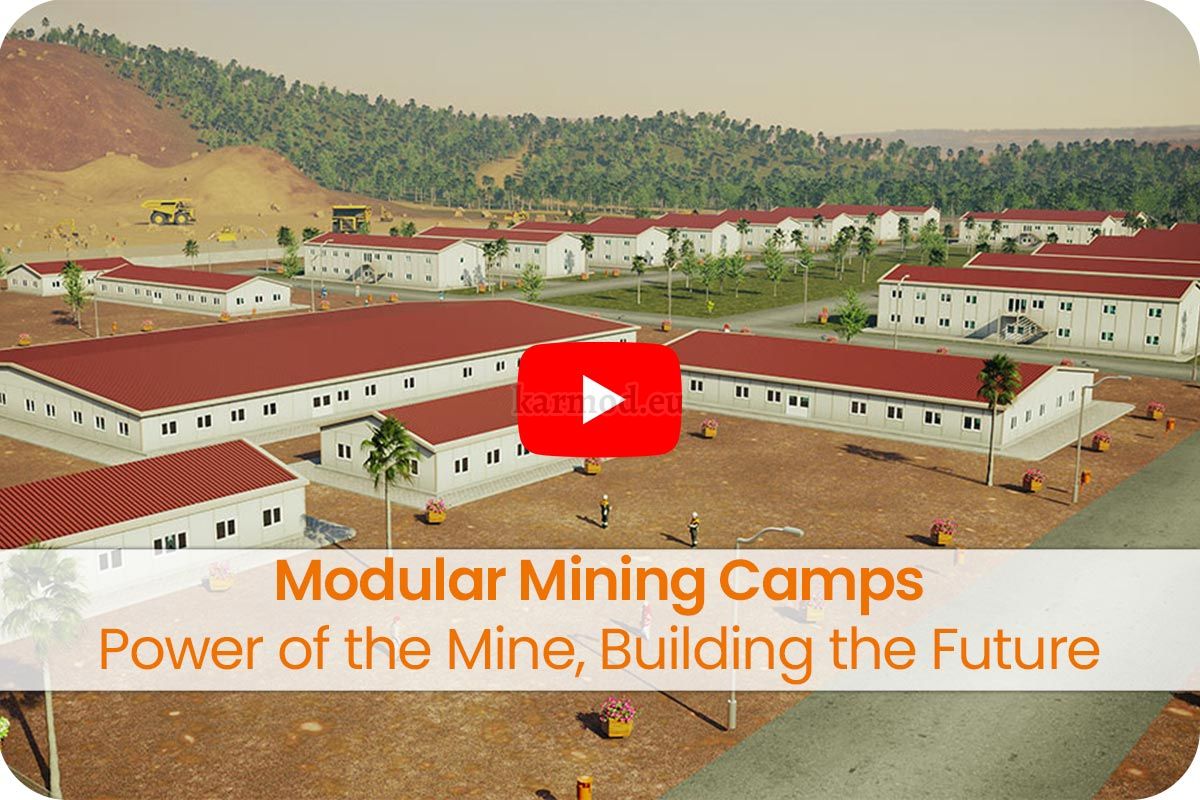 Tanzania Portable Mining Camp: Karmod's portable mining camps are a testament to flexibility and comfort. Designed with the unique demands of the mining industry in mind, they are easy to install and move, ensuring you have functional accommodations wherever your operations take you.
Tanzania Modular Mining Camp: With an emphasis on robust design and modern aesthetics, Karmod's modular mining camps in Tanzania are a beacon of innovation and comfort. These modular solutions ensure that setting up a functional and comfortable living and working space is seamless and quick.
Tanzania Mining Camp Management: Efficient management is central to the success of any mining camp. Karmod provides comprehensive mining camp management services in Tanzania, ensuring that every aspect of your mining camp runs smoothly and efficiently, from logistics to residential facilities.
Tanzania Mining Camp Kitchen: Good nutrition is essential for the hard-working staff at mining sites. Karmod understands this and ensures that every Tanzania mining camp kitchen is equipped with modern amenities for the preparation of healthy and hearty meals, ensuring your team is well-fed and ready for the day's tasks.
Tanzania Mining Camp for Sale: Now is your golden opportunity to own a Karmod mining camp in Tanzania. Benefit from an exclusive sale offer and ensure your mining operations are backed by the comfort, efficiency, and robust support that a Karmod mining camp provides.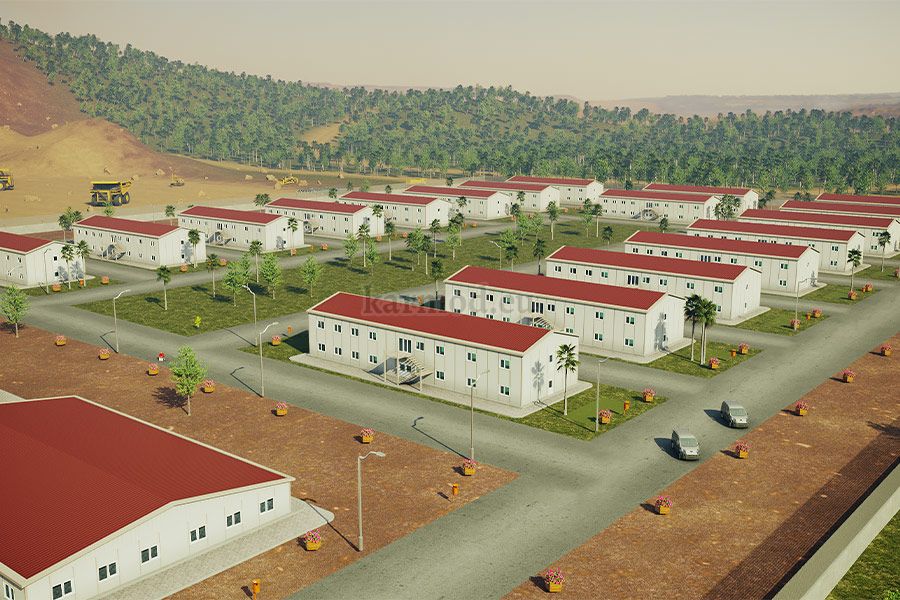 In every aspect, from the portable and modular design to efficient management and top-notch kitchen facilities, Karmod stands as a reliable partner for your mining operations in Tanzania. With Karmod, not only are you investing in a physical structure but also in enduring quality, unparalleled support, and the assured comfort of your team. Take the step today – elevate your mining operations with a Karmod Tanzania mining camp and experience the difference of true quality and innovation. Your ultimate mining success starts with Karmod!
Luxurious Mining Camp Accommodation in Tanzania
In the heart of Tanzania, where mining stands as a robust pillar of economic progress, Karmod emerges as the quintessential provider of luxurious mining camp accommodation. Understanding the essence of comfort and luxury in enhancing productivity, Karmod is dedicated to delivering high-end accommodations that redefine the standards of living within the industrial confines of mining camps. Tailored to meet the diverse needs of individuals, the accommodations are crafted with meticulous attention to detail, ensuring that each living space is not just a shelter but a haven of comfort amidst the bustling mining environments. The seamless fusion of functionality and luxury in the design architecture speaks volumes about Karmod's commitment to providing exceptional living spaces. The expansive and well-ventilated interiors, paired with modern amenities, guarantee a relaxing and rejuvenating experience for every occupant. This emphasis on luxurious comfort is not just an option but a standard at Karmod, reinforcing the belief that every individual deserves unparalleled living conditions even in the most demanding work environments.
Masterful Construction of Tanzania Mining Camp Buildings
When it comes to the construction of Tanzania mining camp buildings, Karmod's mastery and expertise are unrivaled. Embarking on a journey of architectural excellence, each mining camp building is a testament to innovative design, robust construction, and sustainable practices. The masterful construction process begins with a comprehensive understanding of the unique terrains and climates of Tanzania, ensuring the buildings are adeptly suited for the environment. High-quality materials, paired with cutting-edge construction technology, are employed to guarantee the resilience and longevity of each structure. This robustness does not come at the expense of design elegance. Karmod ensures each building is aesthetically pleasing, harmoniously blending with the natural landscapes while standing as a beacon of modern architectural finesse. The interior spaces are thoughtfully designed to optimize comfort, functionality, and efficiency, ensuring the mining camp buildings cater to every conceivable need. With Karmod, experience the epitome of masterful construction, where every building is more than a structure; it's a masterpiece of architectural brilliance tailored for the mining environment in Tanzania.
Elevate Your Expectations with Karmod's Mining Camp Design in Tanzania
In the vast landscapes of Tanzania, where mining operations proliferate, elevating expectations for mining camp designs is not just a possibility; it's a reality with Karmod. Reimagine the concept of mining camps with Karmod's innovative and contemporary designs, meticulously curated to blend practicality with unmatched comfort. Bid goodbye to the conventional and embrace the exceptional as Karmod's design philosophy breaks the mold, providing mining camps that are a symphony of efficiency, innovation, and comfort. The expertly crafted designs take every aspect into account, ensuring an environmentally responsive and sustainable modular camp that stands resilient in Tanzania's diverse climate. The focus is on creating spaces that foster productivity, well-being, and rest, essential elements for the hardworking individuals in the mining industry. Elevate your expectations as Karmod transcends the ordinary, offering a glimpse into the future of mining camp designs in Tanzania, where every detail echoes a commitment to excellence, innovation, and comfort.
Unmatched Excellence: Karmod, Your Premier Choice for Tanzania Mines
Step into a world where excellence is not just pursued; it's achieved. Welcome to the realm of Karmod, where unmatched excellence in mining camp solutions reigns supreme. As the beacon of quality and innovation in Tanzania, Karmod stands unrivaled in delivering comprehensive solutions for mining camps. From conception to completion, every project reflects Karmod's unwavering commitment to excellence. Beyond just buildings, Karmod creates environments that enhance efficiency, safety, and comfort, ensuring the optimal functioning of mining operations. The bespoke designs, infused with modernity and practicality, resonate with the specific needs of Tanzania mines, ensuring every solution is a seamless fit. Why settle for the ordinary when you can opt for unmatched excellence? Make Karmod your premier choice for mining camp solutions in Tanzania and experience the remarkable difference of working with a leader committed to transcending expectations and consistently delivering superior quality, innovative solutions, and unrivaled customer satisfaction in the realm of Tanzania mines.