In the evolving world of mining, having a base that is not only sturdy and reliable but also convenient and comfortable is essential. Karmod's offer in Togo embodies all these qualities, presenting an incredible opportunity to own your mining camp, specifically tailored to meet the high standards of mining operations.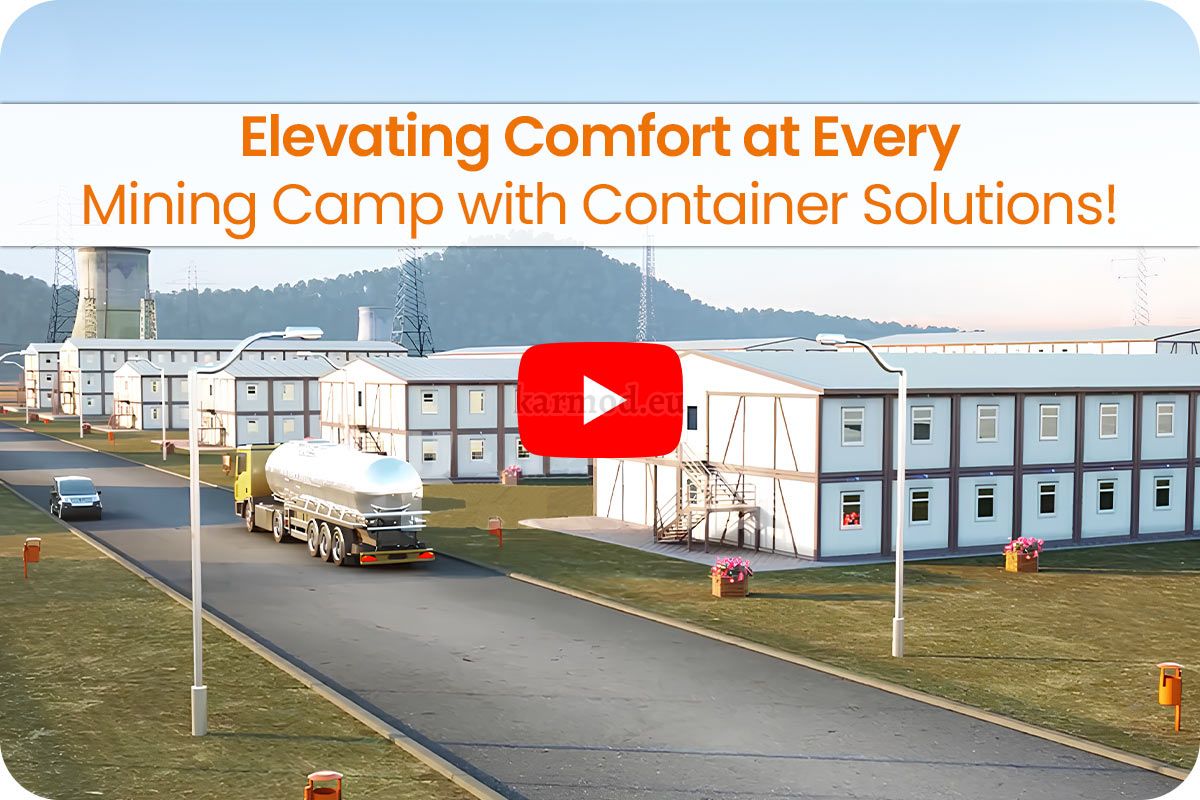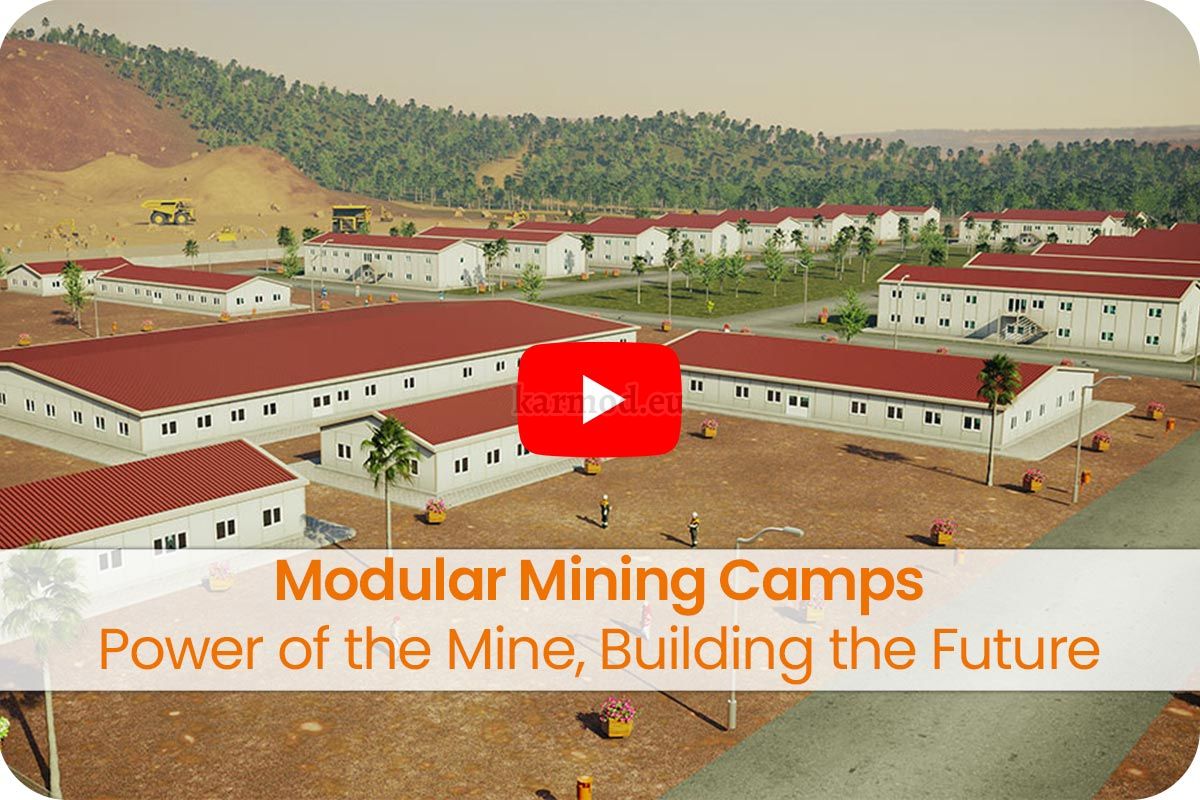 Togo Portable Mining Camp
The Togo portable mining camp by Karmod is a beacon of mobility and efficiency. Designed with precision, these portable camps ensure that you can set up your operations seamlessly, without compromising on comfort and safety. The portability aspect ensures you can move your base as and when the need arises, ensuring flexibility and adaptability in the dynamic mining environment.
Togo Modular Mining Camp
Karmod's expertise shines brightly in the Togo modular mining camp designs. The camps are constructed with high-grade materials ensuring durability and resilience against various environmental factors. The modular design allows for easy expansion, allowing your camp to grow as your operations expand.
Togo Mining Camp Management
Effective management is at the heart of every successful mining operation. Karmod ensures smooth Togo mining camp management by integrating advanced features and technologies into the camp designs. These include seamless communication systems, advanced security, and surveillance systems, ensuring the smooth and efficient running of your mining operations.
Togo Mining Camp Kitchen
Karmod understands the importance of a well-fed workforce. The Togo mining camp kitchen designs prioritize hygiene, efficiency, and convenience, ensuring your team always has access to nutritious and delicious meals. The kitchens are equipped with modern appliances and are designed for high-volume cooking, ensuring timely meals for all workers.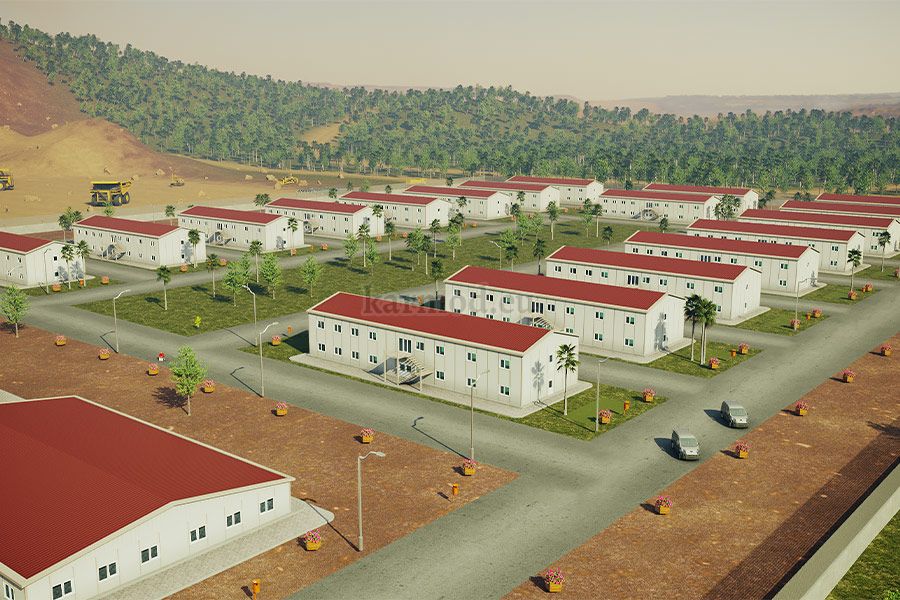 Togo Mining Camp for Sale
Seize the exclusive offer now! Own your Togo mining camp, designed and constructed by the esteemed experts at Karmod. Enjoy the unparalleled combination of comfort, convenience, and functionality, ensuring the optimal environment for your mining operations in Togo.
In conclusion, Karmod stands as a symbol of excellence and reliability in the world of mining camps. Each camp is a harmonious blend of modern design, innovative technology, and practicality, ensuring the success and growth of your mining operations in Togo. Opt for Karmod and experience the difference that world-class design and construction bring to your mining operations. Make the smart choice today and elevate your mining operations to unprecedented heights with Karmod's Togo mining camps for sale.
Luxurious Mining Camp Accommodation in Togo
Experience the epitome of luxury and comfort with Karmod's exceptional mining camp accommodations in Togo. Forget the cramped and uncomfortable living conditions traditionally associated with mining camps. Karmod is redefining standards, offering lavish accommodations that guarantee the utmost comfort and peace of mind for every worker. Each living space is meticulously designed to ensure ample space, maximum privacy, and superior comfort, allowing workers to relax and rejuvenate after a hard day's work. High-quality, resilient materials are used in the construction, ensuring the longevity and sustainability of the accommodation units. These luxurious accommodations are not just places to rest but a haven of comfort and safety in the midst of bustling mining operations.
In Karmod's luxurious mining camp accommodations in Togo, every minor detail is handled with utmost precision, ensuring that the living conditions exceed expectations. The accommodations are equipped with modern amenities, including air conditioning, high-speed internet, and advanced security systems, ensuring a comfortable and connected living experience. The integration of green technologies also ensures energy efficiency and a reduced carbon footprint, reflecting Karmod's commitment to environmental sustainability. Choose Karmod for unparalleled luxury and comfort in mining camp accommodations in Togo. Let every worker enjoy the comfort they deserve, enhancing productivity and overall well-being in your mining operations.
Masterful Construction of Togo Mining Camp Buildings
Step into a world where masterful construction meets functional design with Karmod's Togo mining camp buildings. The company's seasoned team of architects, engineers, and builders bring to life mining camp buildings that are not only structurally sound but also thoughtfully designed to cater to all the needs of a bustling mining camp. Each building stands as a testament to Karmod's unwavering commitment to quality, durability, and excellence in design.
With Karmod, experience the brilliance of masterful construction, where every building is crafted to withstand the test of time and various environmental elements. The Togo mining camp buildings by Karmod are built using high-grade materials, ensuring durability and robustness in every structure. Modern construction techniques and technologies are employed, guaranteeing the efficiency and reliability of every building. Functional design is at the forefront, ensuring each building caters to the diverse needs of the mining camp, from comfortable accommodations and efficient office spaces to spacious dining areas and more.
Karmod's Togo mining camp buildings stand as landmarks of quality, resilience, and functional excellence. Trust in the expertise of Karmod to deliver masterfully constructed buildings that add value, efficiency, and comfort to your mining operations in Togo. Elevate your mining operations to new heights with the strength and excellence of Karmod's masterful construction. Your journey to success in mining begins with Karmod's superior mining camp buildings in Togo.
Elevate Your Expectations with Karmod's Mining Camp Design in Togo
The mining industry in Togo is now witnessing a significant shift. With Karmod's innovative mining camp design, you can elevate your expectations and embrace new levels of quality, efficiency, and sustainability. Gone are the days of basic and uncomfortable living and working spaces in mining camps. Karmod's pioneering designs blend robustness with luxury, delivering mining camp solutions that are as comfortable as they are functional.
Innovation at Its Core: At the heart of Karmod's designs is innovation. Their modern, cutting-edge designs prioritize the well-being and comfort of every worker, ensuring that every individual feels valued and taken care of.
Sustainability and Eco-Friendly: Karmod's designs include eco-friendly and sustainable solutions. The use of green technology ensures minimal environmental impact, aligning your operations with global eco-friendly standards.
Customized Solutions: Karmod provides customized mining camp designs, tailored to meet the unique needs and demands of your operations in Togo. From the layout to the smallest details, everything is designed keeping your specific requirements in mind.
Use of Advanced Technology: Karmod utilizes advanced technology in their designs, ensuring efficient and smart solutions that make life easier and more comfortable in the mining camps.
Your mining camp can now be a hub of efficiency, comfort, and innovation with Karmod's mining camp design in Togo. Elevate your expectations, choose Karmod, and let every aspect of your mining camp reflect excellence and innovation.
Unmatched Excellence: Karmod, Your Premier Choice for Togo Mines
In the realm of mining camp solutions in Togo, Karmod stands out with unmatched excellence. Making your choice for Karmod's mining camp solutions is a step towards ensuring the success, productivity, and well-being in your mining operations.
Unwavering Quality: Karmod is synonymous with quality. Every modular camp constructed by Karmod is built to withstand the harshest conditions while offering maximum comfort and efficiency.
Comprehensive Mining Camp Management: With Karmod, you are not just getting buildings; you are getting a comprehensive mining camp management solution that covers all aspects – from accommodation and office space to mining camp kitchens.
Post-Sale Support: Karmod's commitment to your satisfaction goes beyond the sale. Their post-sale support ensures that your mining camp continues to operate smoothly, with immediate assistance available for any issues or concerns.
Affordability Meets Luxury: With Karmod, affordability and luxury go hand in hand. Get the best of both worlds as you opt for luxurious and comfortable mining camp accommodations without breaking the bank.
Choose Karmod for unparalleled excellence in every aspect of your mining camp in Togo. Make the decision today and join the league of leading mining companies that trust Karmod for their mining camp solutions. Your journey towards unmatched excellence in Togo's mining industry begins with Karmod, your premier choice for Togo mines.