In the resource-abundant terrain of Venezuela, there's an increasing need for durable and efficient mining camp solutions. The pursuit for invaluable minerals beckons a seamless, swift, and substantial setup. Here's where Karmod, a pioneer in innovative solutions, proudly presents an unparalleled offer to own your Venezuela mining camp. Let's explore the multifaceted aspects that make this opportunity not just a purchase but a long-term investment for consistent operational success: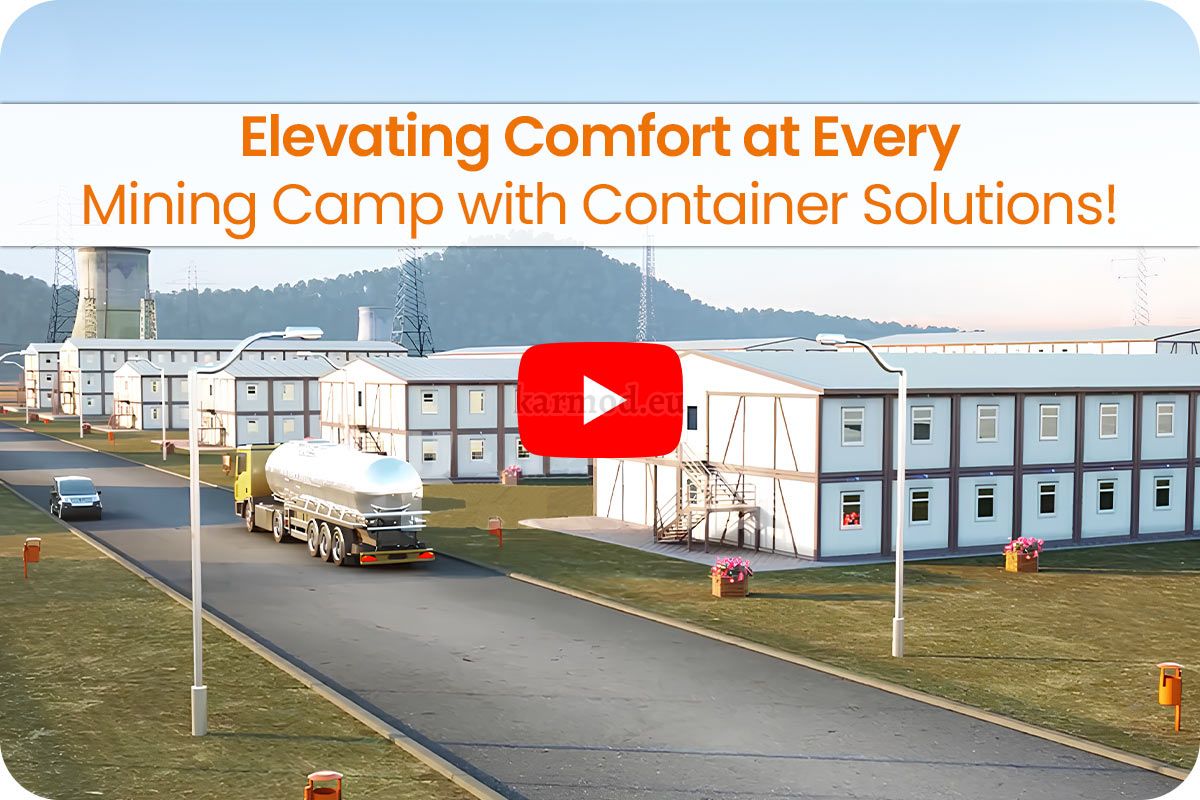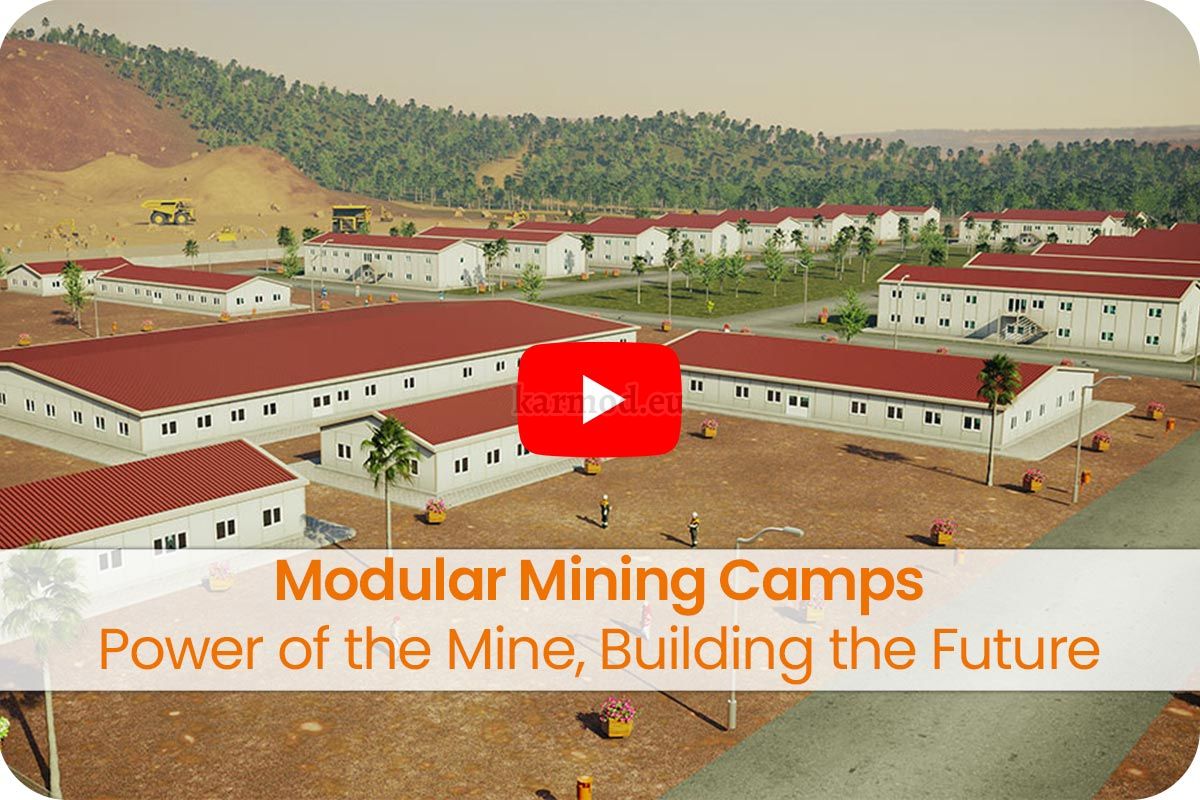 Venezuela Portable Mining Camp: Unpack the future of mining operations with Karmod's portable mining camp solutions in Venezuela. Designed for utmost convenience, these portable camps ensure you can focus on mining, while living and operational spaces are taken care of, maintaining comfort without compromising functionality.
Efficient Modular Mining Camp: Karmod's Venezuela modular mining camp embodies efficiency and rapid setup. Precision-engineered to ensure every square inch offers utility and comfort, the modular camps stand as a testament to innovative construction solutions that align with the pressing demands of the mining industry.
Smooth Mining Camp Management: Simplify Venezuela mining camp management with Karmod. The design architecture fosters seamless operations, ensuring a hassle-free mining expedition. The camps are structured to promote organized operations, ensuring that the focus remains unswervingly on mining activities.
State-of-the-art Camp Kitchen: Karmod's Venezuela mining camp kitchen setups contribute to the overall wellness and morale of your team. Modern, fully-equipped, and designed for large-scale meal preparations, these kitchen setups ensure your team is well-nourished and ready for the tasks ahead.
A Wise Investment - Mining Camp for Sale: Karmod's Venezuela mining camp for sale is a strategic investment in longevity and unwavering support for your mining operations. The unmatched quality and robust construction promise enduring performance, safeguarding your investment for years to come.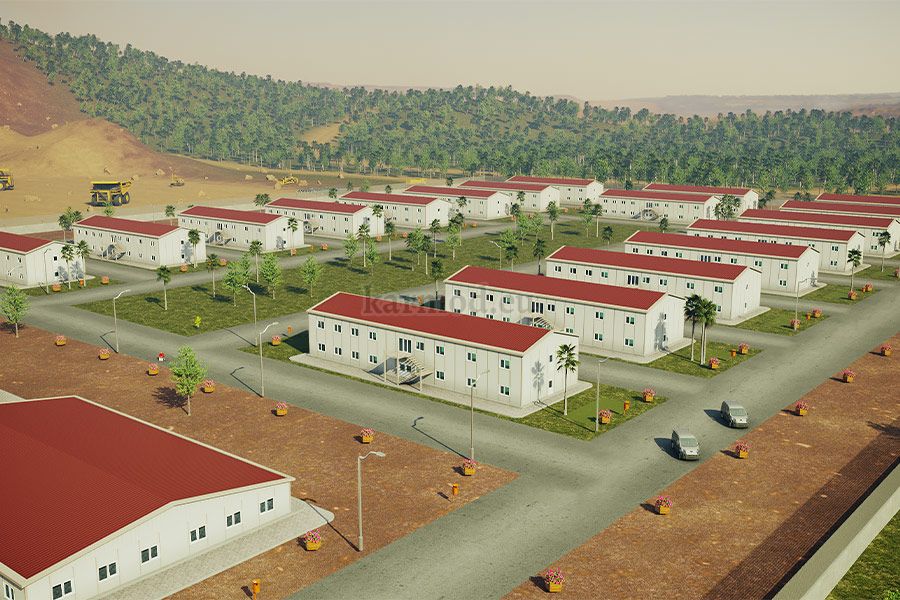 Empower your mining operations in Venezuela with Karmod by your side. Seize the opportunity to own a state-of-the-art mining camp in Venezuela, setting the cornerstone for relentless mining success. Choose excellence, choose reliability, choose Karmod – steering your mining venture to uncharted territories of success and sustainability in Venezuela. The future of mining in Venezuela begins with Karmod's comprehensive camp solutions. Don't let this exclusive offer pass by – secure your mining future now!
Luxurious Mining Camp Accommodation in Venezuela
In the vibrant and resource-rich environment of Venezuela, mining activity flourishes, necessitating high-standard living accommodations for the dedicated workforce. Karmod stands tall as the epitome of providing luxurious mining camp accommodation in Venezuela, ensuring not just the availability of essential amenities but also guaranteeing comfort and safety. Nestled amidst the bustling mining sites, Karmod's accommodations are an oasis of relaxation and tranquility, allowing workers to rejuvenate after a long day of work. The residential units are crafted with attention to every minor detail, ensuring that each aspect radiates comfort, convenience, and luxury, turning a mere living space into a homely abode amidst the industrial landscape. The comprehensive facilities integrated into the accommodation, ranging from modern kitchens to recreational areas, assure an enhanced living experience, ensuring the well-being and satisfaction of the workforce.
Masterful Construction of Venezuela Mining Camp Buildings
Karmod's reputation transcends borders, particularly renowned for the masterful construction of Venezuela mining camp buildings. The company blends innovative design with robust construction, offering structures that withstand the test of time and diverse environmental conditions. The seamless fusion of cutting-edge technology and exceptional craftsmanship amplifies the resilience and durability of the buildings, assuring long-term functionality and minimal maintenance. Beyond the pragmatic construction aspects, Karmod infuses aesthetic elegance into the buildings, presenting a harmonious balance between utility and sophisticated design. The architectural excellence of Karmod's mining camp buildings in Venezuela not only elevates the operational efficiency but also contributes to enhancing the visual appeal of the industrial setup. Entrust the construction of your mining camp buildings in Venezuela to Karmod, a name synonymous with quality, reliability, and architectural brilliance.
Elevate Your Expectations with Karmod's Mining Camp Design in Venezuela
The landscape of mining camp designs has been revolutionized by Karmod, bringing forth innovation, efficiency, and comfort all harmoniously blended together. With Karmod's exceptional mining camp design in Venezuela, elevate your expectations and embrace the future of mining accommodations. The designs stand as a testament to Karmod's unwavering commitment to delivering excellence and ensuring the utmost satisfaction of every client.
Innovative Design: Experience the fusion of practicality and innovative design with Karmod. The structures are meticulously planned to optimize space, functionality, and comfort. The creative and efficient layouts ensure seamless operations and a cohesive living and working environment.
Advanced Technology: Karmod incorporates cutting-edge technology in their design processes, ensuring the delivery of modern, efficient, and environmentally friendly mining camp accommodations. Every detail is fashioned to meet the highest standards of quality and sustainability.
Modular Camp: The modular camp design exemplifies flexibility and rapid installation without compromising on durability and comfort. This feature allows for easy expansion and customization, making it an ideal choice for diverse mining operations.
Customer-Centric Approach: Karmod places immense value on understanding and fulfilling the unique needs and expectations of each client, ensuring the delivery of mining camp designs that resonate with individual demands and specifications.
Unmatched Excellence: Karmod, Your Premier Choice for Venezuela Mines
In the realm of mining camp construction and design, Karmod stands out as a beacon of unmatched excellence and reliability. Choosing Karmod for your Venezuela mines signifies a partnership with a globally recognized brand committed to delivering unparalleled quality, innovation, and customer satisfaction.
World-Class Quality: Karmod's mining camp constructions manifest world-class quality, ensuring robust and enduring structures that withstand diverse environmental challenges. The superior materials and construction techniques guarantee optimal performance and longevity.
Comprehensive Solutions: From planning to execution, Karmod offers comprehensive solutions for mining camp construction, ensuring a hassle-free and efficient process, saving you time and resources.
Expert Team: Entrust your projects to the expertise of Karmod's seasoned team, each member dedicated to ensuring the flawless execution of every aspect of the mining camp construction.
Global Network: Join the expansive global network of satisfied Karmod clients, who have experienced first-hand the unparalleled service and quality offered by the esteemed company.
In Karmod, find a partner dedicated to propelling your mining operations to new heights of success and efficiency. Experience unmatched excellence in every facet of your Venezuela mining camp with Karmod, your premier choice for ensuring the growth and prosperity of your mining endeavors in Venezuela.